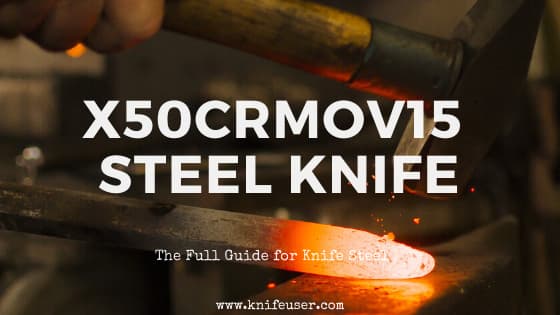 If you ever bought some kitchen knives, or you were shopping for a knife set, there's probably a good chance you might end up with some X50CrMoV15 kitchen knives. These German knives are quite popular, which grabbed my intention and I wanted to know more about the steel, therefore I decided to make an X50CrMoV15 Steel Review.
So if you're interested in X50CrMoV15 knives, stick around and keep reading. I gathered some good pieces of information and answered some common answers (like "What is it?" "What is its chemical composition?" "What is its hardness?" "How hard is it?" "Is it good or not?" and other questions) in this blog post. So let's dive in!
What is X50CrMoV15 steel?
X50CrMoV15 is a German High/mid-range martensitic stainless steel mainly used in high-quality kitchen knives, it's high in Chromium, which makes it great for corrosion resistance.
X50CrMoV15 steel composition
As you can see, the chemical composition of the X50CrMoV15 is a mixture of high Chromium, Carbon, and Vanadium, which makes the steel greet for corrosion resistance with good hardness and toughness.
x50crmov15 hardness (Rockwell Hardness)
The maximum hardness of the x50crmov15 is 56 HRC.
If you find rouble understanding the terms "Rockwell Hardness" or "HRC", feel free to read this blog post where I explained their meanings.
x50crmov15 steel properties
According to the chemical composition and the HRC of the steel, the x50crmov15 Steel has the following features:
x50crmov15 Edge Retention: With more than 0.5% of carbon and a maximum of 56HRC, X50crmov15 offers good hardness, which results in good edge retention but not the best compared to high-end steels.
x50crmov15 Corrosion Resistance: With 15% of chromium X50crmov15 offers great corrosion resistance.
x50crmov15 Wear Resistance: The mixture of Vanadium and carbon offers the steel a good Wear resistance.
x50crmov15 Sharpness: The rule says the harder the steel, the harder to sharpen it, X50crmov15 isn't hard to appoint to be a struggle while sharpening it, it's easy to sharpen.
x50crmov15 Toughness: X50crmov15 is pretty tough, the steel offers more toughness than hardness.
x50crmov15 steel equivalent
x50crmov15 steel is so similar to the German 4116 Steel, they both have close chemical composition (high in chromium, and close amount of Vanadium and Carbonà, they both offer great corrosion resistance, great toughness, and good hardness. They fall in the same price range, and they're mainly used in the kitchen knives industry.
Is x50crmov15 steel good for Knives?
The answer is yes, its good for knives, in exception of edge retention the steel offers great corrosion resistance, great toughness and good hardness. It's very suitable for kitchen knives, and it's a high-quality steel that will offer you a high-quality experience, but it will need to be sharpened from once in a while. So keep sharpening rocks with you, you'll need them!
In this section, we're going to compare our steel with other steels, and for this, I use four criteria; Edge Retention, Corrosion resistance, Ease of Sharpness, and Toughness, and I use a scale or note from 1 to 10.
| | X50CRMOV15 | 440C |
| --- | --- | --- |
| EDGE RETENTION | 1/10 | 2.5/10 |
| EASE OF SHARPNESS | 9/10 | 7/10 |
| CORROSION RESISTANCE | 6/10 | 7/10 |
| TOUGHNESS | 6/10 | 5/10 |
440C has higher edge retention, lower toughness, and higher corrosion resistance compared to the X50CRMOV15 steel.
If you're into a fan of kitchen knives, and you'd like to have some high-quality set knives that you would be proud of, I would recommend you to go for the X50crmov15 knives. They're not expensive, and they're perfectly suited to be in your kitchen, and personally, I'm not a die-hard fan of kitchen knives, but I like to enjoy some "quality" in my kitchen. So a tough steel with great corrosion resistance would always be my choice.
If you have another opinion about x50crmov15 steel, feel free to leave a comment about it, I'll gladly discuss it with you.