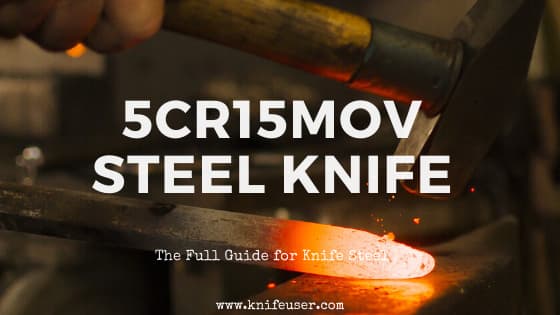 If you're a chef or just a kitchen lover, you'll be looking for the best steel for your kitchen knife, and there is a big chance you bump into the 5CR15MOV, and you're going to wonder "What is this steel," well I'm going to answer that by 5cr15mov Seel Review.
So if you're reading this, it means you wish to know more about the 5Cr15MoV, luckily I did some hours of research and gathered all information in this one blog while answering on common questions (like What is it? What is its chemical composition? What is its hardness? How hard is it? Is it good or no ? and other questions), so let us dive in.
5Cr15Mov is a low-end stainless Steel (it's a Chinese copy of the famous german X50CrMoV15), high in Chromium for corrosion resistance. It was made for the knife industry, especially for kitchen knives.
5Cr15MoV steel composition
The chemical composition of 5Cr15MoV is a mixture of high carbon an small amounts of other types of metals.
5Cr15MoV has a maximum Rockwell hardness of 54 Hrc.
If you find trouble understanding the terms "HRC" or "Rockwell Hardness," please read the following article.
5Cr15MoV steel properties
According to the chemical composition and the HRC of the steel, the 5Cr15MoV Steel has the following features:
5Cr15MoV Edge Retention: 5Cr15Mov offers a decent/good edge retention, it's not very hard, and it has a low portion of Carbon in it.
5Cr15MoV Corrosion Resistance: Offers a great corrosion Resistance, with more than 15% of chromium.
5Cr15MoV Wear Resistance: Medium to good wear resistance.
5Cr15MoV Sharpness: The rule says the harder the steel, the harder to sharpen it, 5Cr15Mov is easy to sharpen since it's not so hard as steel.
5Cr15MoV Toughness: good toughness. It can endure low to mid of the tough work.
5Cr15MoV steel equivalent
5Cr15MoV first equivalent would be the german X50CrMoV15, they have similar chemical composition, they both have good corrosion resistance and toughness, they 're easy to sharpen and not very hard steel, and they fall in the same price range (20 -40 USD).
Is 5Cr15MoV steel good for Knives?
The answer depends on which types of knives, it's a good steel for kitchen knives since it has a good corrosion resistance and it's easy to sharpen so that it will be a great knife for kitchen chef and fisherman, but if you intend to use it for an EDC knife or outside usage (like hunting, hiking, camping) I wouldn't recommend it, it's not a very hard knife, it doesn't hold an edge for long ( which is understandable it's alow-budget steel).
SOG Small Fixed Blade Knife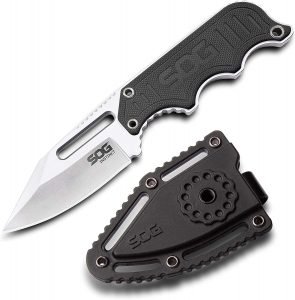 "A great little knife" this what many users call the SOG, and I share the same opinion, the knife is a combination of great ergonomics, lightweight, strength and efficiency. But how? First, it comes with 2.3" satin polished clip point blade with great for corrosion resistance and hardness, second is the ergonomics of this knife, with the index finger choil and the thumb ramp, this knife is comfortable in hand and can be dragged very fast off sheath, and finally, the G10 handles that offers the knife more resistance and strength. Therefore I want to salute SOG for taking a low-end steel and making glow in a knife like this. So if you're looking for a small EDC knife or even a neck knife, the SOG is your choice.
After reviewing this knife, all I think of is how come some big knife brands are using it for EDC knives or even hunting knives, where toughness and edge retention is needed, and their prices are high compared to the price of the steel. I searched on Youtube and you'll see many people not happy about their 5Cr15MoV knife, it doesn't mean 5cr15mov is a bad steel, but the knifemakers misused it, the only suitable usage would be for kitchen knives and soft cutting.
If you have another opinion about the 5Cr15MoV Steel, please share it in the comments below.