No matter where you are cooking, the one thing you need above all else is good tools. The difference between a good camping trip and a great one is the quality of the food that is cooked over the fire.
However, with good food, comes the need for good preparation, and for good preparation, you need a good, sturdy knife.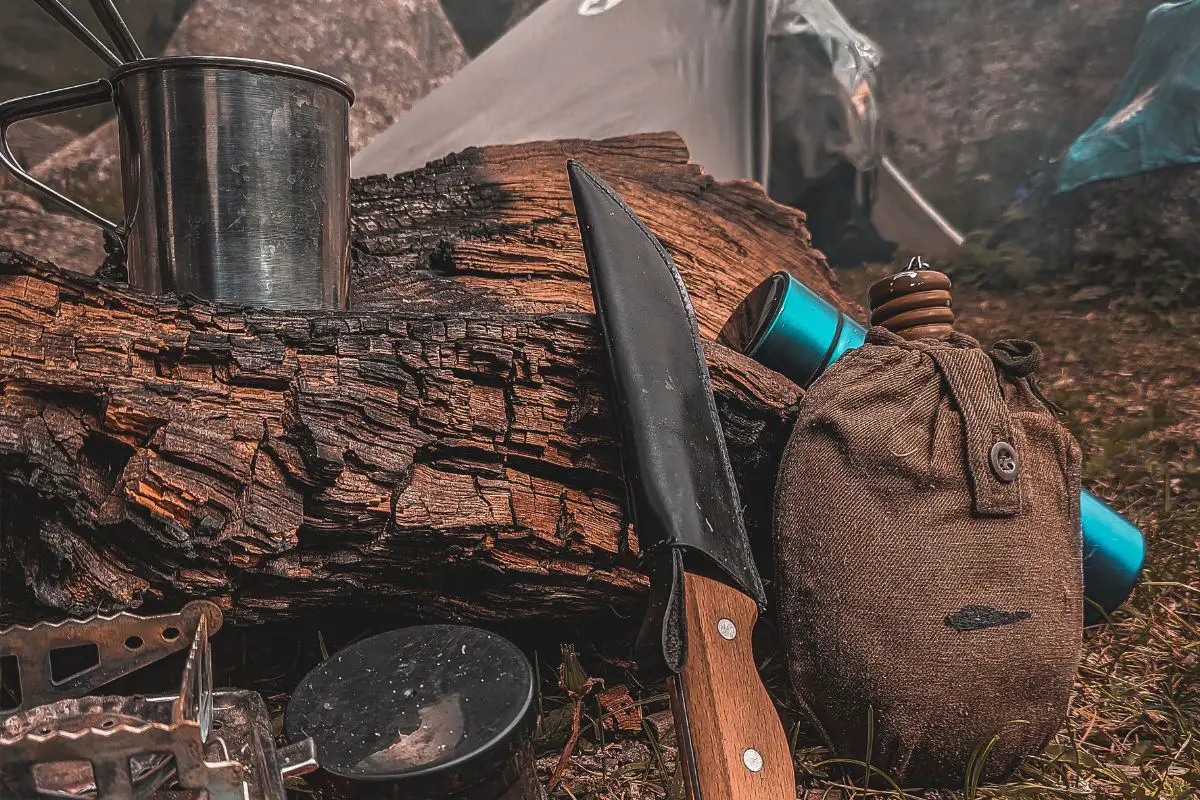 While you might be tempted to just pack your favorite kitchen knife, cooking outdoors is a lot more intense for a knife than a kitchen environment which can lead to damage and dulling of your blade.
If you are planning on cooking in the great outdoors with as little equipment and home comforts as possible, you will need to invest in a strong, purpose-built camping chef knife.
In this article, we have compiled some of the best camping chef knives on the market.
All the knives in this list are more than capable of withstanding use on a tree stump and cutting through even the thickest cuts of meat. We have also included a helpful buyer's guide to help you purchase the best camping chef knife.
The first knife featured on this list is the Condor Bush Slicer knife. The best thing about this knife is the fact that it can pretty much do anything that you need it to on your camping trip.
Whether you need to chop wood, cut your food, stir the ingredients in your pan, start a fire to cook on, or as a makeshift spatula.
With this knife, it is the only blade that you need to pack for your entire trip which helps to reduce the amount of stuff that you have to take. Perfect for those camping trips that involve a hike to the camping spot.
The most misleading thing about this knife is the word "slicer" in its name.
While this knife can slice, it won't be very pretty, but that doesn't matter when you're cooking over a campfire that you built yourself.
Despite its name, the Condor Bush Slicer actually makes a great bush chopper knife. The blade is made from 1075 stainless steel which makes it resilient enough to withstand some fairly brutal treatment on your trip.
The more rough you are with the blade, the more likely you are to have to reprofile it at some point, but with this knife, that time will be way in the future.
Pros
Multipurpose
Resilient blade
1075 stainless steel
Can manage your entire campsite
Cons
Not as good at slicing as name suggests
Although many celebrity endorsed items can be a bit subpar and feel like nothing more than a money grab, this folding sheath knife from Bear Grylls breaks that stereotype.
The partially serrated high carbon drop point fixed blade provides you with the ability to cut or slice through anything, from sticks to make kindling to start a fire, to the meat that you want to cook on that fire.
The handle is made from heavy duty textured rubber which provides a good amount of grip, no matter what conditions you are using the knife in.
The orange color of the trim on the handle also makes it easy to keep track of your knife, even when you place it down on a surface that matches the dark color of the blade.
The sheath that comes with this knife not only provides a handy means of storing your blade, it also allows you to protect the knife from dulling.
The sheath is made of nylon and is Lightweight, military-grade, and mildew resistant which ensures that it is durable and will withstand any camping conditions.
It has also been designed to facilitate both horizontal and vertical carrying.
When you purchase this knife, you will also get Bear Grylls Priorities Of Survival pocket guide which is packed with helpful information and tips to help you make the most of your knife.
Pros
Folding design and sheath makes transport easy
Sheath made from durable, high quality materials
Partially serrated blade
Comes with handy survival guide
Cons
Sheath loops can break easily
If you are a knife connoisseur, you will be familiar with Off-Grid and their offerings to the knife world. The Grizzly camping chef knife is yet another great offering from the brand.
The knife looks appropriately grizzly and rugged and will make you feel like you are truly living the off-grid lifestyle.
Despite the rugged and rough aesthetic of this knife, it is actually capable of cutting and slicing incredibly smoothly.
Although, this is exactly what users have come to expect from Off-Grid products. The great design of this knife doesn't stop at the blade, the handle has also been designed with food prep in mind.
The handle is thick and easy to grip, especially when you are cutting through a thick piece of meat. It also features a slight thumb ramp on the top to ensure comfort while you are using it.
The blade is made from AUS-8 steel which is a good enough option for the usage of this knife and has a high level of corrosion resistance which is great when you are staying out in the open.
While this type of steel might feel a little old fashioned or outdated, it still performs adequately enough and maintains a great edge on the blade.
This knife does come in a sheath, however, that sheath does not feature any belt loops.
This is a purposeful design feature to ensure that users are aware that this isn't a knife that is suitable for long hikes.
Because of the thin, sharp nature of the blade, it is best kept for food preparation only rather than any other camping requirements such as chopping wood or gathering kindling.
Pros
Typical Off-Grid quality and design
Rugged and comfortable handle design
Sheath included
Perfect blade edge for food preparation
Cons
No clips or loops on the sheath
The 192 Vanguard fixed blade knife from Buck Knives is one of the most structurally sound knives on this list.
This knife features full tang construction that ensures that it is durable and can withstand almost any abuse that you or the outdoors can inflict on it.
Unlike other knives on this list, the handle isn't made from rubber or any other particularly grippy material, instead it is made from solid walnut wood.
The contours of the wood handle have been designed to ensure that it is as ergonomic as possible and provides a comfortable and stable grip for the user.
While the lack of rubber grip may make some users a little nervous, the plus side is that walnut wood is likely to be much more durable in the long term than rubber which can begin to disintegrate over time.
The 192 Vanguard knife comes with a durable, genuine leather sheath to allow for safe carrying of the knife around your campsite and on hikes.
It also provides safe storage of the blade when you are not using it. The leather sheath has an integrated belt loop that allows you to conveniently carry the knife when looking for food or firewood.
As with all Buck Knives products, the 192 Vanguard comes with a forever warranty because the company believes in the integrity and durability of its products.
Pros
Full tang construction
Durable walnut wood handle
Ergonomic design
Durable leather sheath
Cons
Blade requires regular sharpening
Another fixed blade knife option on this list is the Benchmade Bushcrafter 162 knife.
This tool is stated as being made for the trail, designed to be robust, durable, and capable of handling even the toughest conditions and treatment in outdoor environments.
This robust durability is evidenced in the construction of the blade which is created with American-made CPM-S30V steel.
This steel possesses high levels of corrosion resistance which is ideal for using in environments that can often be damp.
This knife also has great edge retention which means that you don't have to worry about having to resharpen the blade during the course of your camping trip.
The handle of this knife is also designed to be ultra durable and suitable for use in any conditions. The handle is made from resin-soaked fiberglass which is incredibly moisture resistant.
It is also designed to remain stable and consistent across various situations, temperatures, and climates.
This knife also comes with a leather sheath that features an integrated belt loop for easy and convenient transportation.
Pros
High levels of corrosion resistance
Great edge retention
Moisture resistant handle
Consistent performance in all climates
Cons
Sheath is of a lower quality compared to the knife
The Civivi Kepler fixed blade knife is one of the best designed knives on this list and on the market as a whole. The handle in particular makes this knife incredibly useful for food preparation.
There is a lot of knuckle clearance on the handle of this knife that allows the user to get a fairly comfortable pinch grip on the knife.
No matter how big your hands are, you should find the handle of this knife comfortable.
The blade of this knife is shaped almost like a cleaver knife which helps provide a larger variety of cutting uses for this tool.
The blade is made from stainless steel and is similar to the blade of the Grizzly knife mentioned above.
When using this knife, it is obvious that the edge of the blade hasn't been designed with food prep in mind.
Therefore, the results that you get when using this knife to cut food items is a more rustic look rather than neatly prepared dishes. This is great if you want to magnify the rustic, off-grid feel of your camping trip.
Pros
Large amount of knuckle clearance on handle
Strong pinch grips are possible with handle design
Versatile blade design
Stainless steel blade
Cons
Does not provide pretty food results
This knife from Messermeister is one of the only knives on this list that actively identifies itself as a chef knife.
The handle on this knife is definitely on the larger side, especially for a folding knife. This can be a good thing for anyone who has larger hands and struggles to find knives that fold which have a handle big enough to be comfortable.
However, if you have smaller hands, this handle might feel bulky and difficult to command the blade with.
The blade on this knife has been shaped to work well as a food preparation tool, however, users report that the edge of the blade when the knife is delivered is not overly sharp.
This is a minor inconvenience that can be fixed with a little bit of sharpening but can be a disappointing start. However, once the blade has been sharpened, it seems to hold the edge well.
One of the best things about purchasing this knife is the things that come with the tool as standard.
Not only do you get a handy carrying pouch with a sturdy zipper closure, you also get a folding chopping board. The chopping board can be incredibly useful and can help the knife to retain its edge even longer.
All of these things pack down small and can easily fit in an average backpack without providing too much bulk or taking up too much space.
Pros
Purpose-built chef knife
Retains edge once sharpened
Carrying pouch included
Comes with foldable cutting board
Cons
Handle may be too bulky for some users
Buyer's Guide
There are many aspects that make up a knife that need to be considered when purchasing a knife for a specific purpose.
There are many different things that can affect the usefulness or comfort of a tool.
Below we have laid out some of the things that you should consider when making a decision about which knife to purchase for your camping trips.
Transportation
One of the most important aspects of a knife that need to be considered is how easy they are to transport.
This can be pertaining to transporting the knife from home to the campsite, or transporting the knife around your campsite when looking for wood or food.
Ultimately, you want a knife that is compact and comes with a means to transport it safely.
The minimum requirement of purchasing a knife is that it has a sheath to protect yourself and any other belongings that you are transporting the knife with.
If you are especially tight on space, a folding knife is a great choice because it can take up half the space of a fixed blade.
Durability And Versatility
A camping chef knife is an investment that you will want to last for many camping and survival trips.
The durability of a knife is incredibly important. If a blade or handle are made from materials that are not going to last or cannot withstand the conditions that they will face outdoors, it is not going to be a good investment.
Similarly, a versatile knife means that you can get away with bringing less blades on your trip, or even only have to bring one. This helps to reduce the amount of things you have to keep track of or carry.
Edge
While a thin and sharp edge might seem like the only thing to consider when purchasing a knife, it is also important to select a knife that can retain its edge throughout the rough usage that it is subjected to when used outdoors.
The easiest way to know if a knife has good edge retention is to check out the reviews of a tool before making a purchase.
Knuckle Clearance
The knuckle clearance of the knife is incredibly important for ensuring that the handle is comfortable to use.
Often this can be ensured by checking the measurements of the handle. However, if you are new to knives, it can be difficult to judge on measurements alone.
In this case, visiting a knife store can help you learn what type of handle is most comfortable for you.
Final Thoughts
There are many knives on the market that are capable of being used as a camping chef knife.
However, the ones mentioned in this article are some of the best on the market and are a good place to start when looking for a new tool.