If you're a knife maker or a knife user, you probably heard about the W2 Steel. It's a very famous knife in the custom knife industry, while I was searching for some custom knives on Etsy, I bumped into a craftsman that uses only the w2 Steel in his knives since I had zero clues about it, I did some researches, and yes decided to do a W2 STEEL REVIEW.
So if you're like me interested in the W2 Steel, make sure to read this blog post, I answered some common questions (like What is it? What is its chemical composition? What is its hardness? How hard is it? Is it good or no ? and other questions) So let's dive in.
W2 is water hardening Carbon Steel high in carbon (more than 1%), Water hardening steels are called group W Steels (W1, W2, and W3), W2 is used in the knife making industry, known for its edge retention and toughness.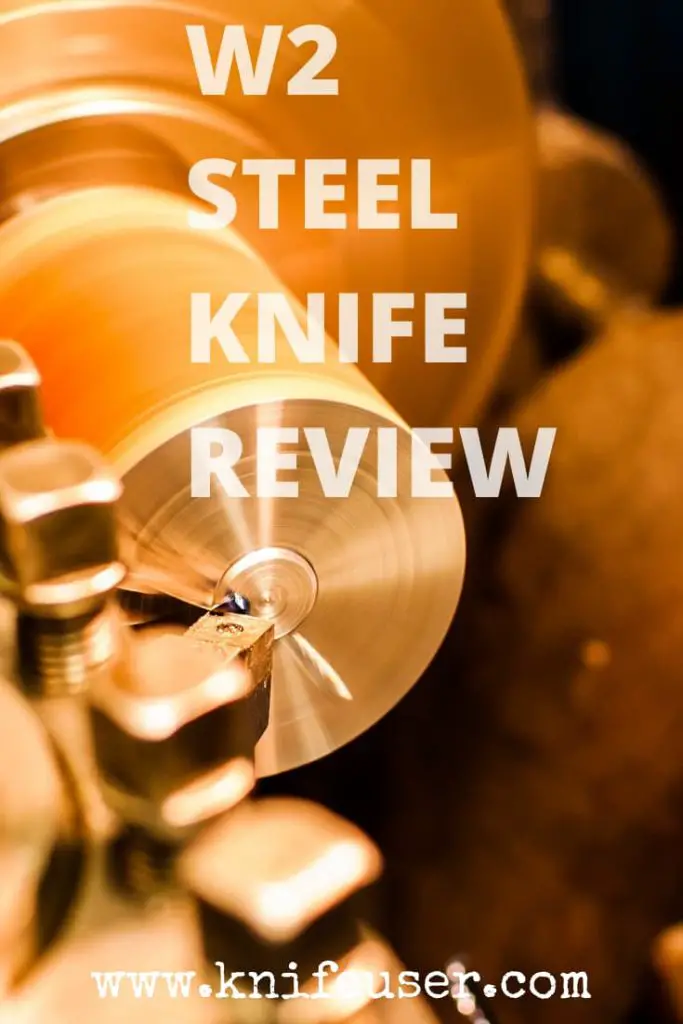 As you can see, the chemical composition of the W2 Steel is of high carbon and low Chromium (0.15%), which makes it a carbon Steel.
W2 steel hardness (Rockwell Hardness)
W2 Steel can reach a maximum of 65 HRC.
If you wish to know more about the terms "HRC" or "W2" Steel, read this article right here.
According to the chemical composition and the HRC of the Steel, the W2 Steel has the following features:
W2 Edge Retention: W2 Steel can reach a maximum of 65HRC, so if it's well hardened to a 62Hrc, it's going to be very hard Steel with great edge retention.
W2 Corrosion Resistance: The corrosion resistance of the W1 is very low, due to the low amount of Chromium in it.
W2 Wear Resistance: good wear resistance, but not the greatest, the Steel should be taken care of to avoid dull.
W2 Sharpness: The rule says the harder the Steel, the harder to sharpen it, and the W2 is very hard Steel and sharpen it won't be easy.
W2 Toughness: W2 Steel has good toughness, but it depends on the hardness if you try to reach above the 63 HRC hardness, it's going to cost you a lot of toughness.
W2 chemical composition is close to the 1095 steel. They are both carbon plates of Steel, we can't consider 1095 as 100% equivalent to the W2 Steel, but they both offer great hardness and toughness (W2 is a bit tougher and harder than 1095), they're both low in corrosion resistance and wear resistance.
Is W2 Steel good for Knives?
It depends on the usage, but I general the answer is Yes, it has great hardness and toughness, so if you're looking for a fixed blade that can handle a lot of damage, W2 would be a great choice, but it has a low corrosion resistance and wear resistance, so you should take good care of it to avoid rust and dull, and especially if you're looking for a kitchen knife, fishing knife, or diving knife, I wouldn't recommend it there're better steels for this usages.
If you're a fan of carbon knives, you already know that "the corrosion resistance" doesn't scare you, because low corrosion resistance doesn't mean its bad, it just needs more care (oiling and cleaning after usage), many users prefer carbon knives over stainless steel to enjoy the full toughness of a knife if you're too, I'll gladly recommend you to try a custom W2 knife, you will love it!
If you have another opinion about the W2 steel you'd like to share, feel free to leave a comment, I'll be happy to discuss knives with you.