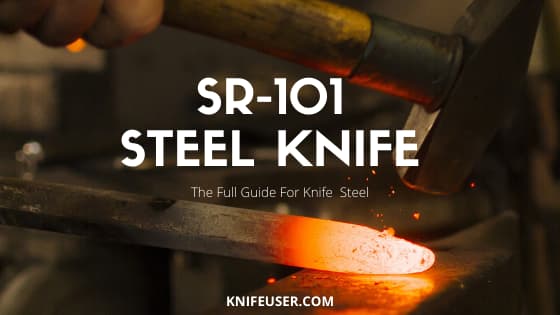 If you ever heard or used one of the buss knives, you would know that there are some quite typical knives made by the  BUSSCOMBAT company, one of these knives is a combat knife built by the SR101 Steel, so I was wondering, what is this steel? Is it good for knives? what is its chemical composition? How hard it is? and other questions.
If by any chance you had the same experience and you want to know more about this steel, look no more, I did some research and gathered a great piece of information that might answer your questions about the  SR-101 Steel, so if you're still interested to know more about it, let us dive in!.
SR101 Steel is a high carbon alloy used for hard and combat knife, it's initially a modification of the 52100 Steel, this modification was brought by the company BUSSCOMBAT, but it's not a big of modification both steels are still close ( don't be fooled by the marketing of "Modified steel"). The steel is mainly used for knives and swords.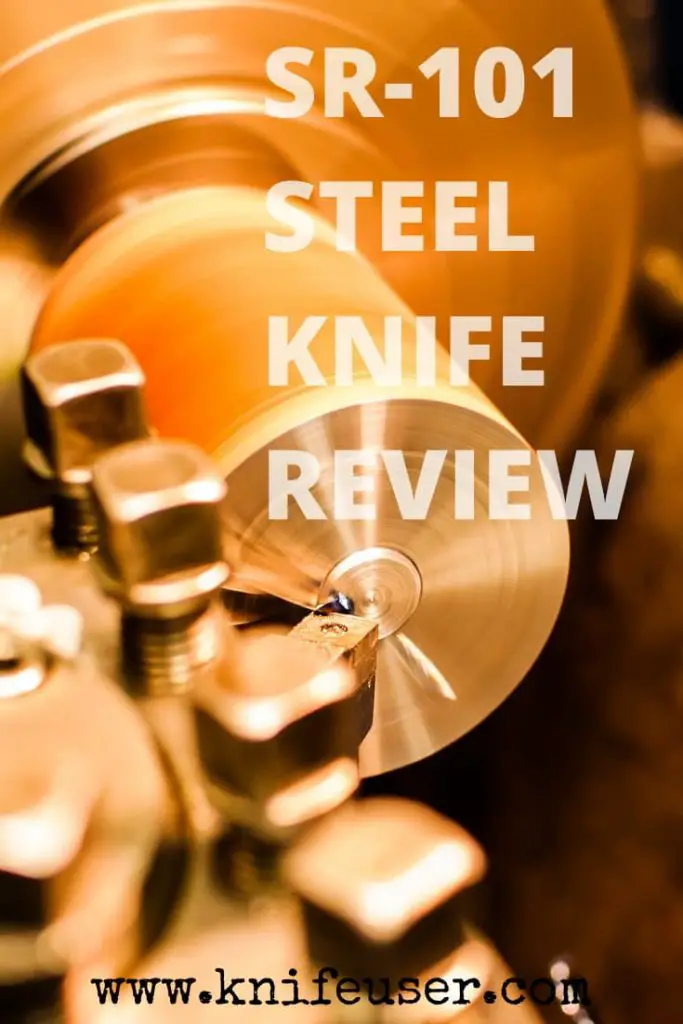 As you can see, SR101 steel has a mixture of Carbon, Chromium, and Manganese, which makes it a hard alloy with enough strength.
SR101 hardness (Rockwell hardness)
According to the chemical composition and the HRC of the steel, the SR101 Steel has the following features:
SR101 Edge Retention: with a maximum HRC  of 60, and 1% of carbon, this steel offers a good hardness and comes with good edge retention.
SR101 Corrosion Resistance: with only 1,45% of chromium the sr101 is far to be stainless and has low corrosion resistance.
SR101 Wear Resistance: Good wear resistance great for resisting damages.
SR101 Sharpness: The rule says the harder the steel, the harder to sharpen it, the SR101 is a hard steel that wouldn't be so easy to sharp.
SR101 Toughness: Good toughness thanks to the mixture of Carbon, Chromium, Manganese, and Silicon.
As we already mentioned the SR 101 is modified steel close to the  52100 Steel, they both have good hardness, strength, and low corrosion resistance (the 52100 Steel is quite harder than the SR-101).
Is SR101 steel good for Knives?
The answer is Yes, Is it the best? NO, if you wish to use as a survival knife, EDC knife, or batoning knife, the SR101 would be a great pick, but I wouldn't' recommend it for a wet environment, it has low corrosion resistance, so if you're a chef, hunter, or fisherman avoid using it, if not just go for it but don't forget to always oil and clean your knife.
In case you want to compare 1095 Steel With SR101, In my opinion, the SR101 OFFERS Better Edge Retention, Better toughness, they both have low corrosion resistance, and finally, 1095 is easier to sharpen.
We reached the end of our article, and to sum it up, the SR101 is not a very known steel, but if you end up using, don't worry it's not a bad one, but avoid using it in a wet environment, and finally don't forget to take care of your knife (oiling and cleaning). I hope I did bring some good pieces of information to you.