Spyderco Manix 2 VS Paramilitary 2 – Full comparison of PARAMILITARY 2 VS MANIX 2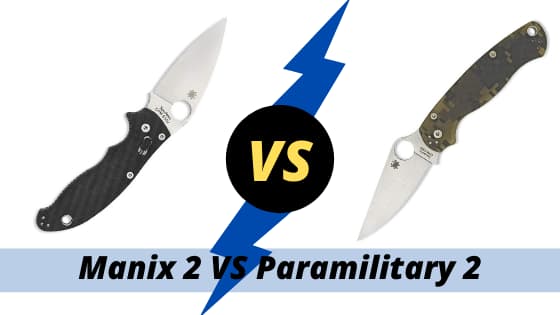 Spyderco has a lot history of taking chances and pushing the envelope, from popularizing the pocket clip on knives, their one-handed opening hole, and their maximum of constant quality Improvement that lets them keep their models fresh, one of these models are the  Spyderco Manix 2 and Spyderco Paramilitary 2, these two are very known knives in the knife industry, and the common question is which one to pick in a Manix 2 VS Paramilitary 2 Battle.
So I did have the same question, and I tried to answer it, by reviewing both knives, showing their differences and their similarities, so if you're interested in knowing more about the PARAMILITARY 2 VS MANIX 2 you're in the right place, so let us dive in.
Spyderco Manix 2 VS Paramilitary 2 – A Head-to-Head Comparison
| SPECS | Manix 2 | Paramilitary 2 |
| --- | --- | --- |
| Overall Length | 8" | 8 9/32" |
| Blade Length | 3 3/8"  | 3 7/16"   |
| Blade Steel | | |
| Knife Weight | 5 Oz  | 3.75 Oz |
| Blade Style | Leaf shape  | Sheepfoot |
| Price | | |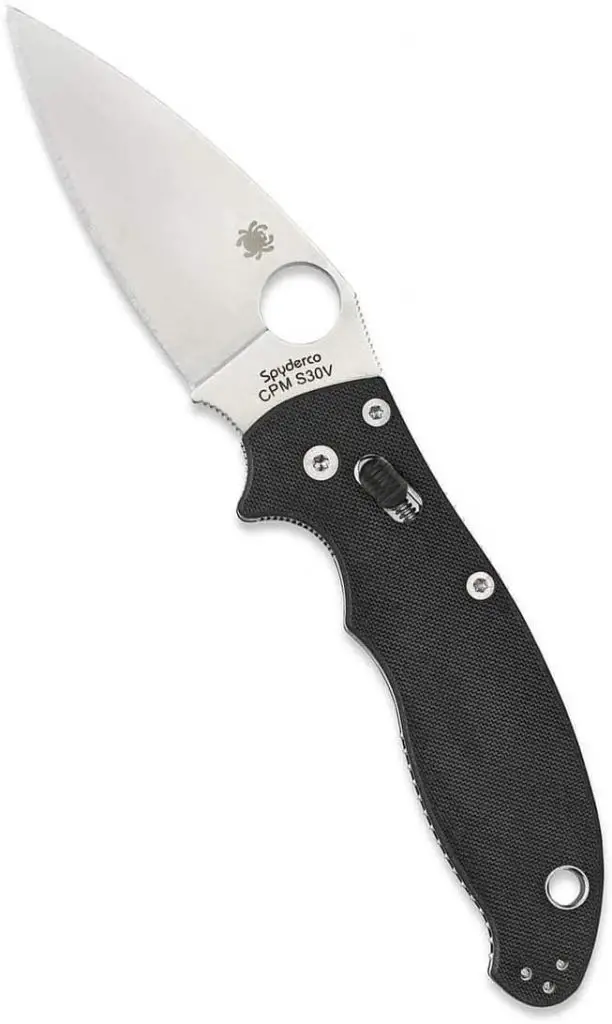 The Manix 2 comes with a 3 3/8" leaf shape blade made from the CPM S30V, it offers great edge retention, great wear resistance, and great corrosion resistance, the blade is paired with the famous g10 handle, which offers the knife a very distinctive look and a large resistant grip.
The American Made Manix 2 is a true workhorse of the Spyderco line up that covers everything from EDC, hard use, and even combat and tactical roles, it has a large ball bearing that gives the lock its name pressed into the tang of the knife by a sturdy spring, it has polymer tabs sticking out both sides of the knife to enable easy and ambidextrous use, including flicking action to open and close the blade, the knife has plenty of grip even without the signature choil.
Spyderco Paramilitary 2 Review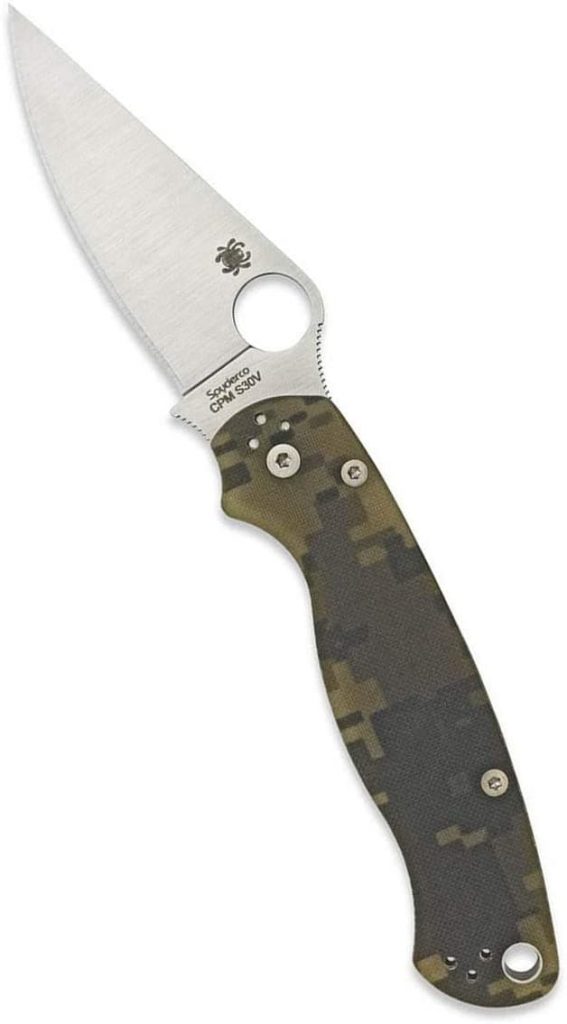 This Model is an offshoot of Spyderco military folder, but this design has actually eclipsed that groundbreaking model in its popularity, it comes with a  3 7/16" sheep foot blade made from CPM S30V, that offers great edge retention great wear-resistance, and great wear resistance, it has a plenty of grip on its own, and the choil allows for choking up even closer, it features G10 handle
The Spyderco Para 2, is an American made knife, know for the Pressure Lock, this lock has a tab of metal that interlocks with the tang of the knife, but in terms of how you use it, you can think of it as a spine-mounted liner lock, this makes the one-handed opening and closing easier for right-handers (Left-handed version is available don't you worry about it), and it even allows blade flicking for faster opening and closing.
What are the Similarities of Spyderco Manix 2 VS Paramilitary 2?
Steel: they Both have the CPM S30V that offers great edge retention, great wear resistance, and toughness, and comes with high corrosion resistance.
Design: They both offer the same design with the signature choil and thumb spine.
Handle: Both knives come with G10 handles in different colors.
Blade Length: Both knives have a close blade length.
PARAMILITARY 2 VS MANIX 2 – Some Key Differences
Lock System: The Manix 2 Features a ball bearing lock, on the other hand, the Para 2 comes with a compression lock.
Now I'm sure that you did notice that both knives are very similar, and the only difference would be the Locking Mechanism, so if you need to choose in a battle of Manix 2 VS Paramilitary 2, your choice would be based on your Locking mechanism preference, now for my case, I do prefer the Paramilitary 2 for the Compression lock, I find the locking mechanism faster and fluid especially when you're in one-handed situations, but it doesn't mean that the Manix 2 is bad, since it's my personnel opinion, and the best way to choose is to own both knives and compare by yourself, at the end every one of us has his own knife experience.