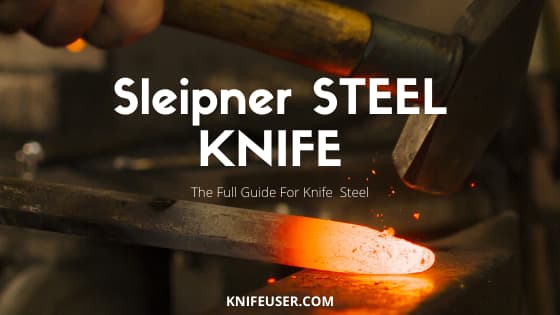 Lately, I was checking a knife from LION STEEL and it was made from Sleipner Steel, the knife was good but what about the steel, I needed to know more, so I did some research and answered some questions like what is this steel, how hard it is, what's chemical composition, and properties.
If you're looking to know these answers too, look no more you'll find all the information I gathered in this blog post, so if you're still interested all you have to do is to keep reading.
Sleipner Steel is tool steel made by Uddeholm, It's a new-gen D2 Steel with improved hardness, toughness, and edge retention, the steel is used for knife making and tooling, you might find some articles considering it as stainless steel but it's not and I'll show you why later in the article.
Sleipner steel composition
As you can see, the Sleipner steel has a mixture of Carbon, Chromium, Molybdenum, and Manganese, which makes it tool steel, not stainless steel (to be considered as stainless steel must have a minimum of 13% Chromium).
Sleipner hardness (Rockwell hardness)
Sleipner hardness is between 62-64 HRC.
If you wish to know more about the meaning of "HRC" or "Rockwell hardness" read this blog post.
Sleipner steel properties
According to the chemical composition and the HRC of the steel, the Sleipner Steel has the following features:
Sleipner Edge Retention: With a maximum hardness of 64HRC, the steel offers a good hardness and comes with a good edge retention but not the best ( didn't reach the edge retention of a premium steel)
Sleipner Corrosion Resistance: Medium or quite good corrosion resistance with 7.8% of chromium.
Sleipner Wear Resistance: Great wear resistance, the mixture of carbon and Molybdenum offers great strength and shock resistance.
Sleipner Sharpness: The rule says the harder the steel, the harder to sharpen it, Sleipner is a hard steel that won't be easy to sharpen.
Sleipner Toughness: Great toughness thanks to the mixture of Carbon, Chromium, Manganese, and Molybdenum.
Sleipner steel equivalent
Is Sleipner steel good for Knives?
Yes it is, it offers great strength and hardness with good corrosion resistance. It would be a great pick as a survival knife, hunting knife, camping, or even EDC knife, but don't forget it's not a "complete" stainless steel so you should take care of it (oil it and keep it dry), and for the edge, retention doesn't expect a "premium" edge retention (again don't get fooled by the marketing modified new-gen steel doesn't always mean high premium steel).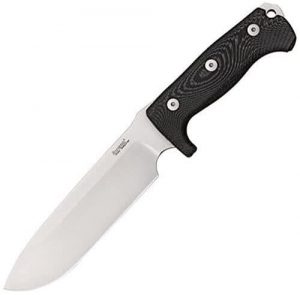 It's a great knife from Lion Steel, it has a 12 3/8"  Sleipner full tang Drop point blade, black micarta handle with an integrated guard, and a lanyard hole. It comes with a Black Kydex & nylon belt sheath, It's a great choice for campers, survivalists, hunters, and even for EDC.
We reached the end of this article, to sum it up, the Sleipner steel is definitely not a bad choice for your knife, yet it's not the best, it's better for hard usages and resistance demanding tasks, and can be used in a wet environment too, but it didn't reach the balance of high premium steel like the M390 or ZDP 189, in all I can place it as the best of the medium entry steel over there, and finally, remember being new-gen steel doesn't mean you're premium steel.