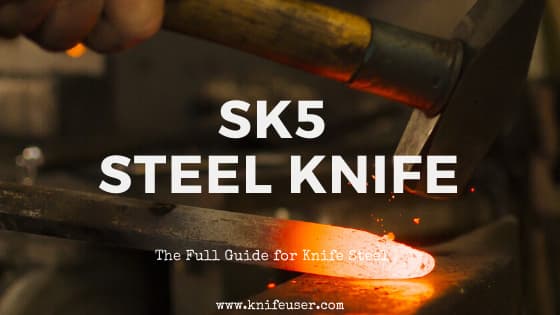 If you're a fan of Ontario Knives or Cold Steel Knives, you probably saw their SK-5 or SK5 survival knives, and if you wondered "What is SK5 Steel?", I did too. Therefore I decided to answer this question by making an SK5 Steel Review.
So if you're reading this, it means you're looking for more info about the SK5 Steel, I have good news for you I did some hours of research and gathered all the possible information  I could get in this blog post through answer some common questions (like "What is it?" "What is its chemical composition?" "What is its hardness?" "How hard is it?" "Is it good or not?" and other questions) So let's dive in.
Sk5 is a Japanese low/mid-range Carbon steel. It's used in a wide range of tools (Razor blades, utility knives, scalpel blades, long edged tools, cutting tools) due to its workability, hardenability, price, and other features.
As you can see, the chemical composition of the SK5 is a mixture of high carbon (close to 1% of Carbonà, which makes carbon steel.
Sk5 is not stainless steel. Steel is considered stainless once it has 11% or more of Chromium in it, which is not the case for the SK-5 (it has a maximum of 0.30%).
Sk5 steel hardness (Rockwell Hardness)
The maximum hardness of the SK5 Steel is 65 HRC.
If you find trouble understanding the terms "Rockwell hardness" or "HRC", please read the following blog post.
According to the chemical composition and the HRC of the steel, the AEB L Steel has the following features:
Sk5 Edge Retention: SK5 offers impressive edge, being carbon steel with close to 1%, makes it very hard steel with great edge retention.
Sk5 Corrosion Resistance: sk5 offers decent corrosion resistance, not a bad one, but it must be taken care of to avoid future rust and corrosion.
Sk5 Wear Resistance: Great wear resistance, thanks to the fine grain and Carbon carbides.
Sk5 Sharpness: The rule says the harder the steel, the harder to sharpen it, SK5 can get very hard (62-63 HRC), which makes sharpening a bit hard.
Sk5 Toughness: Sk5 is very tough steel with great impact resistance, the steel offers a great balance between hardness and toughness at the cost of corrosion resistance (you can't have those three in one steel).
Is Sk5 steel good for Knives?
In general YES, Sk5 steel is great carbon steel for knives, it offers great toughness and hardness, which makes a great choice for survival and hunting knives, (even kitchen knives, you might need some toughness in your kitchen), but you have to take good care of it, especially if you use it in wet environment due to its low corrosion resistance.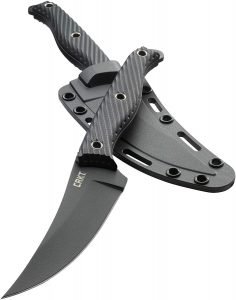 A fantastic tactical knife! With an 4.6" Plain Edge SK5 High Carbon black finish coated blade, comes with a G10 handle for more comfort and resistance, it was designed basically for tactical/survival situations, What I really like about this knife is the combination of the shape and its power, it looks small for some reason, but in fact, it's not it' a large fixed blade, this blade will offer you great edge retention, great toughness and excellent wear resistance, which just perfect for outdoor activities or any activities that required a rock-solid blade, but it has decent corrosion resistance, so if you end up having one don't forget to take care of it (oiling and cleaning after usage and you'll be just fine).
Personally, I love the SK5 Steel it holds an edge for a good time, it comes great as an EDC knife, and the price is very affordable (you can get an Skt-5 knife for 20-40 USD sometimes 10Usd with hard discount), and I guess many knife users share my opinion (especially the Diehard Carbon knife fans). So if you intend or to buy/own one, I totally recommend it, you'll enjoy a very tough steel that's ready to cut and cut hard!.
If you have another opinion about the SK5 steel, feel free to leave a comment I'll gladly answer you.