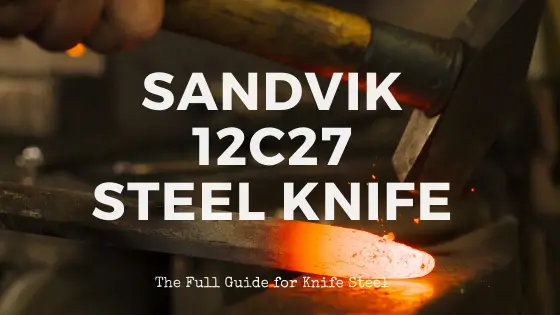 If you're interested in custom knives, I m sure you already heard of the Sandvik 12c27 Steel or the Sandvik 12c27 knives, and if you're reading this blog post, it means you're interested in knowing more about this steel.
Well, I have some good news to you, I gather all the pieces of information about the Sandvik 12c27 in this blog post just for you, I 'll try to answer all the possible questions about it (What is it? What is its chemical composition? It hardness and other matters).
 Just before you start reading, I'd like to remind you, I'm not an expert, I'm just a user who loves to research about knives! Therefore, have an excellent read!
What is Sandvik 12c27 Steel
It's a low-end Swedish martensitic stainless chromium steel, belt and optimized for knives, so you'll generally find in kitchen knives, hunting knives, fishing knives and also for ice drills and skate blades.
Sandvik 12c27 Stainless Steel Chemical composition
The presence of more than 12% of chromium makes the Sandvi 12c27 a stainless steel, with 0.6% of carbon, which is a bit higher compared to low-end steels.
What is the hardness(HRC) of Sandvik 12c27 steel
What are the Sandvik 12c27 Stainless steel properties
According to the chemical composition and the HRC of the Sandvik 12c27 stainless steel, it offers:
Edge Retention: with a 56 HRC, and a good amount of carbon, the 12c27 steel will provide a great edge retention for a knife.
Corrosion Resistance: 13.5% of Chromium offers the 12c27 steel high corrosion resistance, so if you're using as knife steel, it would great for hunting or fishing.
Wear Resistance: 0.6% of carbon with a small amount of phosphorus gives the steel high strength and, of course, a great wear resistance.
Sharpness: the Swedish steel has a great combination of hardness and toughness, which results in a hard steel knife that can be easily sharpened.
Machinability:  I m not an expert concerning machinability; according to the manufacturer company, its good for machinability, and at the same time the steel has Sulfur, which increases machinability.
Toughness: the 12c27 offers a great toughness thanks to the Chromium in it.
Is Sandvik 12c27 stainless steel Good for knives?
Being low-end steel that's so close to mid-range steels, it offers good edge retention toughness, hardness, wear resistance and corrosion resistance, which is great for knives.
So the answer is Yes, its good for knives, especially if you wish to have a hunting or finish knife, its great for an outdoor/humid environment.
Best Sandvik 12c27 Knives
1. Morakniv Kansbol Fixed Blade Knife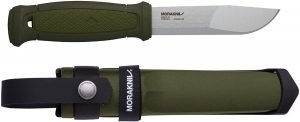 A beautiful fixed blade knife from the Swedish company MORAKNIV, they're for a long history of knifemaking, I liked their product a lot, the Kansbol comes with a 4.3" blade, with a square-ground spine (so it can be used as a striker), and of course, its made from the 12c27 stainless steel, the knife is purely designed for outdoor activities, like hunting, camping or even fishing, it comes with a plastic sheath or a multi-mount system ( I prefer the multi-mount system, their plastic sheath isn't that great), the handle is very comfortable designed to perform in wet and cold conditions. If you're a looking for 12c27 knife for your outdoor activities, this is your knife.
2. CRKT Swindle EDC Folding Pocket Knife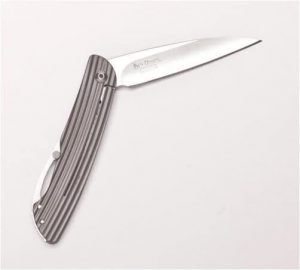 Another win from CRKT wasn't expecting they will use the 12C27 for their steel, but they did, good for us, they brought us the SWINDLE, it's a tremendous looking folding pocket knife, comes with 3.2" blade, a that has a plain edge and a hollow grind, the knife is Stain finished and has a stainless steel handle.
Now let's see why I like it, first, it looks good, the design is just great, second is the ergonomy of the knife, it has a frame lock mechanics and the IKBS fast and smooth flipper style opener, the blade is comfortable in hand, you enjoy to have it as your EDC knife.
Sandvik 12c27 Stainless Steel Equivalent
According to its Hardness, chemical composition, and its price, I may say it's in the same range of the Japanese AUS 8 (which is a mid-range steel), and slightly superior to the 440C, they're all great steels for knives, if you ever think of purchasing theme(the knives), you'll end up with a range of 30-100 USD which is normal.
Based on my experience searching knives, and their steel, the 12c27 is one of those hidden steels, I guess it is still not popular enough, many knife users have a little or no information about it, but based on the people who Used and some friends on forums, they find it a very significant steel that needs to be more under the light, it has a great potential, and it gives an excellent knife experience compared to it price.
And as always, the comments option is open for all opinions, lets discuss knives!