Ontario Rat 1 Vs Rat 2 – A Full comparison of RAT 1 VS RAT 2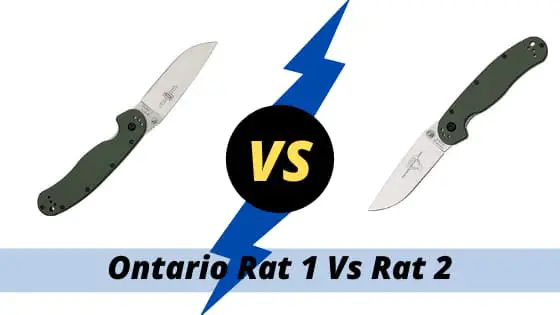 Today we're going to take a look at two of the famous pocket knives and pitting them against each other, The Ontario Rat 1 Vs the Ontario RAT 2, so these two knives are of the most frequent recommendation that I like to give for inexpensive pocket knives that you can depend on, In fact, that even the budget competition has really stepped up the game in recent years, these two are both often used as a point of comparison because their design and quality have been consistently good since their introduction.
But the question would in a battle choice of RAT 1 VS RAT 2, which to go for? well To help you answer that, I did review both knives and bring up their similarities and differences, so if you're still interested to find more about it, you're in the right place so let's dive in.
Ontario Rat 1 Vs Rat 2 – A Head-to-Head Comparison
| SPECS | ONTARIO RAT 1 | ONTARIO RAT 2 |
| --- | --- | --- |
| Overall Length | 8.62"  | 7" |
| Blade Length | 3.6" | 3"   |
| Blade Steel | | |
| Knife Weight | 5 Oz  | 2.7 Oz |
| Blade Style | Drop Point  | Drop Point  |
| Price | | |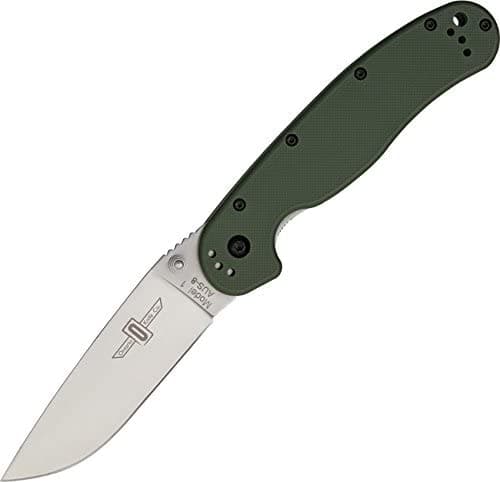 The Ontario 1 is from Randall"s Adventure training, is a drop point folding knives, that comes with a 3.6" blade made from the AUS 8, it has good edge retention, good wear resistance, and high corrosion resistance, it offers a full flat grind on the blade so that it can slice well and still maintain a good balance of strength for more strenuous activities, you can get this knife with a D2 Steel, which will offer you more edge retention and less corrosion resistance, now speaking about ergonomics the knife features an index choil and a thumb ramp at the back, it has a dual thumb stud for an easy knife opening, it has a full liner lock and comes with a Nylon 6 handle.
This knife should be able to tackle a wide variety of chores throughout your daily grind, it can even transition pretty to things like food prep skinning, and even some self-defense in a pinch.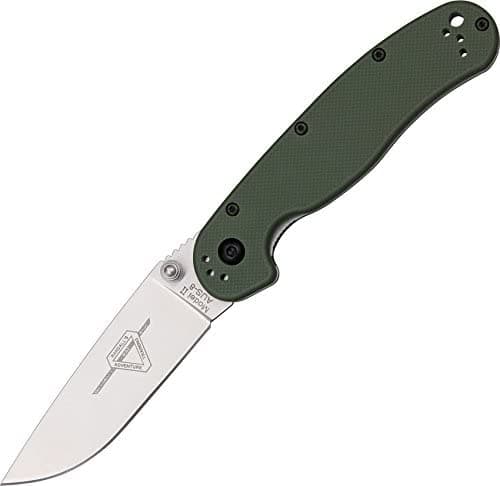 "This Review is already Used in My previous RAT 2 Review, so if you already did read it, you can skip this part".
This is another designer from Randall's Adventure Training, that RAT 2 is a very famous folding knife very know for its low price and great performance, it comes with 3" drop point blade made from the AUS 8 steel, this steel has good edge retention, good wear resistance and great corrosion resistance, it has a nice built Black fiberglass reinforced nylon (FRN) handle, a dual thumb stud, a lanyard hole and offers 4 position pocket clip.
Now you should know that the RAT 2, is known to be part of the best low entry small folding knives in the market, so I really just can't complain but you should know that the less you pay doesn't always mean that you didn't lose any good in your knife, remember you have an AUS 8 steel, so your edge retention won't be the best, but it will do the work.
What are the Similarities between Ontario Rat 1 Vs Rat 2?
Steel: Both knives come with AUS 8 Steel, they can also have D2 steel.
Design: Both knives have very close design since they were made by the same people.
Handle: Both RAT 2 and RAT 1 have an FRN handle.
Ontario Rat 1 Vs Rat 2 – Some Key Differences
Blade Lenght: Ontario RAT 1 has a 3.6" blade, meanwhile the RAT 2 has a 3" blade length.
Both knives are Identical, the RAT 2 is a modified version of the RAT 1 in terms of blade length, so if you're wondering which one to choose, it depends mainly on your state law, if it doesn't allow more than a 3.5" blade length, then the Ontario RAT 2 is your choice, if not you can have both of theme, they're accessible low budget knives, that you won't regret owning them, and the choice you should consider would be to choose between D2 steel and AUS 8 steel since D2 offers better edge retention but low corrosion resistance, and AUS 8 offers better corrosion resistance and low edge retention, so depending on your usage pick the right steel for your knife.