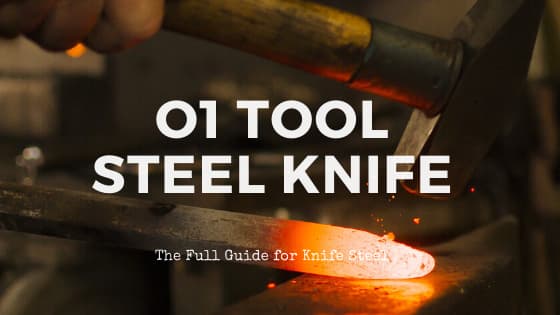 If you're familiar with the oil-hardening tool, I'm sure you already heard of the O1 tool steel or the 01 tool steel, many knifemakers forge knives, blades using this tool steel, and if you're reading this blog post right now, it means that you're looking for more details.
Luckily, I 've been in the same position as you, and I wanted to know more about the O1 steel, and how good is it for my knives, therefor I answer many questions(What is it? What is its chemical composition? What is its hardness? How hard is it? Is it good and many others).
It's a low-end oil hardening tool steel, and It belongs to the O group steels (O1, O2, O6, O7), it's a very popular steel used by custom makers and mass makers. The O1 tool steel is commonly used for cutting tools like knives and blades.
O1 Tool Steel Chemical composition
The O1 tool is considered low-end with high carbon and manganese, which makes it great for hardness and wear resistance.
O1 steel is tool steel, and it's Not stainless steel, it needs a minimum of 12% of chromium to be considered stainless steel.
What is the hardness of O1 Tool steel?
The hardness of the O1 tool steel is 57Hc at 600 tempering temperature.
If you find trouble understanding the HRC or the hardness test, check this post right here!
What are the O1 tool steel properties
According to its chemical composition and Hardness, the O1 tool steel offers the following properties:
Edge Retention: the O1 steel offers good edge retention, due to its hardness.
Corrosion Resistance: The O1 steel isn't great according to corrosion resistance, it has only 0.6% of chromium, which is low for corrosion resistance.
Wear Resistance: O1 Steel has a variety of components(materials) as Vanadium, Manganese, and Carbon that make him very hard steel with great wear resistance.
Sharpness: O1 steel is very easy to sharpen.
Machinability: According to the steel manufacture, O1 steel has a 90% machinability rate which is good.
Toughness: the O1 steel has a great balance of toughness and hardness, it has great toughness you can see that by the presence of the Nickel in the chemical composition.
Is o1 steel good for knives?
In general Yes, It good for knives, its has a decent edge retention, great wear resistance, hardness, and good toughness, but it's not very great for corrosion resistance, therefore if you plan to own an O1 steel knife, I recommend you to take care of it after every humid usage(Drying and oiling the knife is a must).
 In all, being low-end tool steel and compared to its price and, I find that it's worth to own/make an O1 Steel knife.
Being a hard tool, with great edge retention, toughness, wear resistance, but rust easily, it brings me to the AISI L6; they're so close in the chemical composition (the AISI L6 is a bit higher in Nickel for more toughness).
We can also talk about the D2 or A2 tool steel, but they are superior to the O1 steel, so I really can't consider them as equivalents.
If you're looking for a tough knife, I would gladly recommend the O1 tool steel if you're interested in it of course, but let me remind you it has a poor corrosion resistance so you must take care of your knife after usage to keep it in shape, therefore if you're a hunter, diver or kitchen knife user, and you're into tool steels I wouldn't recommend it, you better go for a tool steel with high corrosion resistance, much as CPM 3V Steel it's in the same price range, and has a great corrosion resistance and toughness.