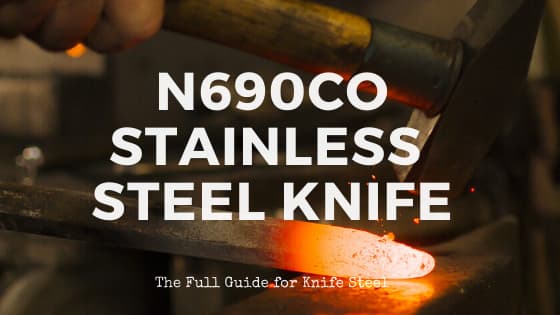 Ever saw some knives or tomahawks made with a Cobalt Vanadium Stainless Steel called N690CO, and you wondered, "What is this Steel?", Well, I was in the same position as you, so I decided to search more about it.
And If you're reading this blog post, it means you're looking for more Infos about the N690CO, luckily I did some hours of research, and I answered some common question (What is it? What is its chemical composition? What is its hardness? How hard is it? Is it good and many others).
The N690 is high-end stainless steel made by the European company @Bohler. It's high carbon steel made for making outdoor knives, blades, kitchenware, and in automotive trim and building.
N690CO Steel Chemical Composition
The N690CO is high in Carbon, Chromium, and Molybdenum. This combination offers a good balance between hardness and toughness.
Is N690CO steel stainless steel?
Yes, the N690CO is stainless steel since it has 17% of chromium (A steel is considered stainless once It has more than 12% of chromium).
The maximum hardness of the N690CO can reach a maximum of 61HRC.
If you need to understand more about the "Rockwell Hardness" or "HRC", check this blog post!
What are the N690CO Stainless Steel properties
According to its chemical composition and Hardness, the N690CO Stainless steel offers the following properties:
Edge Retention: The N690CO stainless steel has a hardness over 60hrc, which offers great edge retention.
Corrosion Resistance: The N690co has 17% of chromium, which offers great corrosion resistance.
Wear Resistance: the steel offers great wear resistance, due to his chemical composition (Principally Chromium, Vanadium) that's close to the premium steels.
Sharpness: N690co steel is very easy to sharpen.
Machinability: the N690co is very great for machinability thanks to the amount of Molybdenum in it.
Toughness: N690CO offers good toughness, not the best one in the stainless steel, but it can handle the outdoor damages and betaing.
Is N690CO steel good for knives?
An N690co steel knife offers great edge retention, excellent corrosion resistance, good toughness, and wear resistance, so the answer is, Yes.
The N690co will be great steel for your knife, especially if you're a hunter or fisherman, it holds its edge, it's perfect for corrosion resistance, and it's easy to sharpen in the same time, which just great for skinning.
Of course, if you're a kitchen chef or diver, it will work perfectly, but let me remind you it's high-end steel; therefore N690co knives may look a bit overpriced.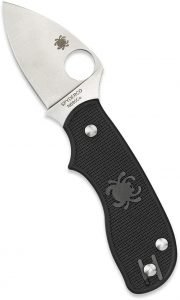 This knife is one of my favourites. Why? Because it's a great solution to the set of legal problems, some of us live in places where they can't have some good big knives, well the SQUEAK is a small knife that is ready to cut for you! It comes with 2inches drop point plain edge blade (Yes 2 inches we're respecting the law!), and it's a "' non-locking folding knife" Again we're respecting laws!, with fibreglass reinforce Nylon handle, and it' made from the N690co steel, which makes it very tough and high in corrosion resistance, and comes with a good price, ( So if you're still complaining about your state law, the Squeak is an excellent choice for you!), the only small thing that bothers me is the size, I find it a bit small especially for my big hands. Still, it's an ergonomic knife that offers comfort and performance.
Being high-end steel with a balanced chemical composition that offers edge retention, hardness, toughness and wear resistance, the closest stainless steel or the equivalent of our steel would be the VG10 Stainless steel, they have both great qualities for hunting knives, kitchen knives, and fishing knives and they are in the same price range (40-110 USD).
In this section, we're going to compare our steel with other steels, and for this, I use four criteria; Edge Retention, Corrosion resistance, Ease of Sharpness, and Toughness, and I use a scale or note from 1 to 10.
| | N690 | S30V |
| --- | --- | --- |
| EDGE RETENTION | 3/10 | 5/10 |
| EASE OF SHARPNESS | 7/10 | 5/10 |
| CORROSION RESISTANCE | 7/10 | 7/10 |
| TOUGHNESS | 6/10 | 6/10 |
S30V is very close to the N690 in terms of corrosion resistance and toughness but offers better edge retention.
| | N690 | VG10 |
| --- | --- | --- |
| EDGE RETENTION | 3/10 | 5/10 |
| EASE OF SHARPNESS | 7/10 | 6/10 |
| CORROSION RESISTANCE | 7/10 | 7/10 |
| TOUGHNESS | 6/10 | 4/10 |
VG10 offers the same corrosion resistance with lower toughness and higher edge retention compared to N690.
| | N690 | M390 |
| --- | --- | --- |
| EDGE RETENTION | 3/10 | 8/10 |
| EASE OF SHARPNESS | 7/10 | 5/10 |
| CORROSION RESISTANCE | 7/10 | 8/10 |
| TOUGHNESS | 6/10 | 6/10 |
M390 offers better edge retention, better corrosion resistance, and same toughness as the N690n, but it's harder to sharpen.
Honestly, I've always been a fan of the BOHLER STEEL COMPANY, the steel manufactured is always used for premium and high-end knives, it has a great balance of edge retention, hardness, toughness, corrosion resistance, and wear resistance, which is very obvious in the N690co that I highly recommend as a steel for your knife, I guarantee you to enjoy the experience of a good knife that will hold his edge for long and has zero stains on it.
As always if you wish to share your experience with the N690co, please leave a comment below, I'll always enjoy discussing knives.