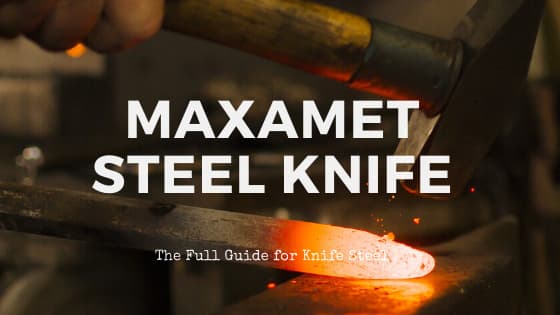 If you ever wanted to own or buy a knife with excellent edge retention, I m sure someone already recommended the Maxamet steel as steel for your knife, and if you're reading this blog post, it means you wish to know more about it.
So I was I the same position as you and did many kinds of research about the Maxamet steel, and I answered many questions that may be very useful for you (What is it? What is its chemical composition? What is its hardness? Is it good for knives? And other questions).
It's high-speed tool steel made by CarpenterTechnology. It's was a belt for knives with a different chemical composition, it has a high volume of Tungsten and high in carbon which is revolutionary in the knife industry.
Maxamet Chemical Composition
As you can notice, it has only 4.75% of Chromium, which means its not stainless steel, and it's very high in Vanadium and Tungsten, which makes a tough alloy with excellent wear resistance.
What is the hardness(HRC) of Maxamet steel
What are the Maxamet steel properties
According to the chemical composition and the HRC of the Maxamet steel, it offers the following features:
Edge Retention: With a hardness above 65HRC, due to the high amount of Tungsten, Vanadium, and Carbon, the Maxamet steel knife has the best edge retention.
Corrosion Resistance: Corrosion resistance is always related to the amount of Chromium in the steel, the Maxamet has a low amount of (4% compared to 12-14% in the stainless steels), which makes not great steel for corrosion resistance.
Wear Resistance: the wear resistance is excellent, due to the Tungsten, Vanadium, and Carbon, the Maxamet offers a great wear resistance.
Sharpness: Sharpening Maxamet steel, unfortunately, will be a hard task, it's very hard steel, so sharpening won't be easy, also for grinding if you're a knife maker you won't enjoy grinding Maxamet steel.
Machinability: Maxamet steel is a great steel for machinability thanks to Sulfur(If you're interested in Maxamet for a machine, the company offers an improved "Sulfur" Maxamet for machinability with 0.23% of sulfur)
Toughness: Due to his high hardness, it has low toughness. As a rule, the harder the steel, the easier it breaks, so the Maxamet steel is very hard steel that can break very fast, but it's tough enough to handle some beating, damaging work.
Is Maxamet steel Good for knives?
The obvious answer is Yes, its prey good for knives, especially if you're looking for a knife with excellent edge retention and very high wear resistance, Maxamet is a "Super steel" for your knife, but it's not a stainless steel, it has only 4% of chromium in it, so it's not so great concerning corrosion resistance.
So if you intend to use in humid environment, you better take care of your knife, other than that it's a great steel of an EDC knife.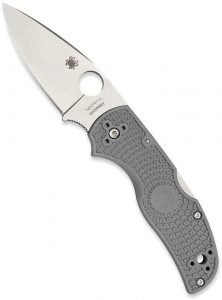 One of the best knives you can get if you're looking for high-quality steel and premium design, the NATIVE 5 is a beast that combines strength, superior cutting performance, edge retention, and point utility it comes with a grey, injection-moulded reinforced-fibreglass-nylon handle, the Native 5 has a back lock mechanism and a four-position pocket clip, which makes it very comfortable and efficient.
If you're looking for an EDC knife with a Maxamet Steel, the  NATIVE 5 is your choice.
Yes, it does, it's not a stainless steel Knife (It has only 4% of Chromium in it), so if you use it as a kitchen knife, hunting knife, or diving knife, make sure to take care of it to keep it in shape.
The Maxamet steel in considered as a "Super Steel", So it's a High-end Alloy steel, with an uncommon chemical composition, but I can say that the closest one to it is the CPM S110V(even if it's stainless steel), in exception of wear resistance; the Maxamet is a great match for the S110v in edge retention, hardness, wear-resistance and price range which is between 100-200 Usd.
In this section, we're going to compare our steel with other steels, and for this, I use four criteria; Edge Retention, Corrosion resistance, Ease of Sharpness, and Toughness, and I use a scale or note from 1 to 10.
| | MAXAMET | S110V |
| --- | --- | --- |
| EDGE RETENTION | 10/10 | 8/10 |
| EASE OF SHARPNESS | 2/10 | 5/10 |
| CORROSION RESISTANCE | 3/10 | 7/10 |
| TOUGHNESS | 2/10 | 2/10 |
S110V Steel is more balance compared to the Maxemet, as you can see, Maxamet offers extreme edge retention in the cost of other criteria.
| | MAXAMET | M390 |
| --- | --- | --- |
| EDGE RETENTION | 10/10 | 8/10 |
| EASE OF SHARPNESS | 2/10 | 5/10 |
| CORROSION RESISTANCE | 3/10 | 8/10 |
| TOUGHNESS | 2/10 | 6/10 |
The M390 offers better toughness, corrosion resistance and it's a bit easier to sharpen compared to the Maxamet, but for the edge retention Maxamet is the best.
If you're interested in the Maxamet steel for your knife, and still have doubts, I would like to assure you that's it's a great steel for your knife, depending on your usage, its has an exceptional edge retention and excellent wear resistance, but it's low on corrosion resistance, so if you're an EDC user (you like to have a tactical knife on you, for opening boxes and canes or whatever your bare hands can't handle) it's a great knife for you!
But, If you're a Diver, Hunter, Kitchen Chef, or you use your knife in humid places, and you're looking for premium steel, I wouldn't recommend the Maxamet I would instead go for the S110V stainless steel.