Is M390 a Good Knife Steel? - [Complete Steel Guide]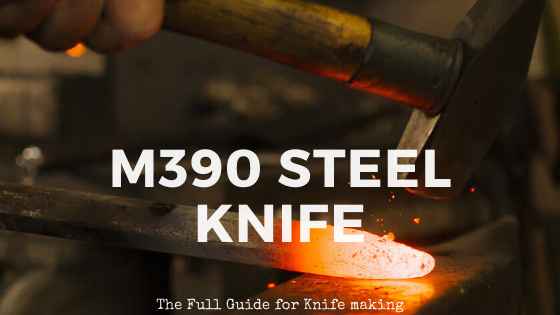 Either you are a new knife user or an old one, we all want to know the anatomy of our knives, every detail counts, especially the steel used to build it, and for this reason, we're going to review the M390 Steel knife.
At KnifeUser we decided to walk you through all the details about a knife, the steel used in it and the other components. This blog post's objective is to give you all the details you need to know about the M390 Steel and how it's used in the knife industry.
M390 Stainless Steel Presentation
The M390 steel is one of the best steels used today to make premium knives and blades, it was presented and manufactured by BOHLER-UDDENHOLM, using a 3rd generation technology
(You would be wondering what is a 3rd generation technology, we got you! Check this great post by thefabricator.com  SPOILER ALERT: a lot of GOOD science!).
What is the Chemical composition of M390 STEEL?
Just to make sure! before reading this blog post, you're going to encounter two terms: Toughness (strength of the steel) and Hardness. Both terms have different meanings check them!
Based on Bohler communication the M390 steel is composed of:
1.9% of Carbon: Carbon is essential in all blades and knives, it gives more toughness, durability to the blade/knife, but the carbon as a component is susceptible to corrosion.
0.7% of Silicon: Gives extra hardness to the steel, and keeps air bubbles from forming in the melting process.
0.3% of Manganese: Adds a little extra strength to the steel.
20% of Chromium: Chromium is essential in all types of steel, it increases the hardness and the corrosion resistance and reduces the toughness.
Quick info! A material with higher hardness usually has a lower toughness and vice versa. But there may also be some exceptions.
1% of Molybdenum: Molybdenum contributes to edge sharpening and helps strengthen the steel under high temperatures.
0.6% of Tungsten: Tungsten boosts the wear resistance of the steel, it usually added to cover the insufficiency of toughness caused by Chromium.
4% of Vanadium: During the process of powder metallurgy, Vanadium is crucial to guarantee a correct distribution of grain, it has also the potential to increase the wear resistance of the knife.
As shown the composition of M390 steel includes a lot of materials, which demonstrate the power of an M390 steel knife, it guarantees toughness, resistance and strength, it will be a great choice for hunting, camping or any outdoor usage.
What is the Rockwell hardness of the M390 STEEL?
"Quick Stop" If you have no idea about "Rockwell Hardness" You must read this post then comeback!
The BÖHLER M390 MICROCLEAN Is martensitic chromium steel, that offers an extremely high wear resistance and high corrosion resistance, So it's simply a great combination for a knife or a blade!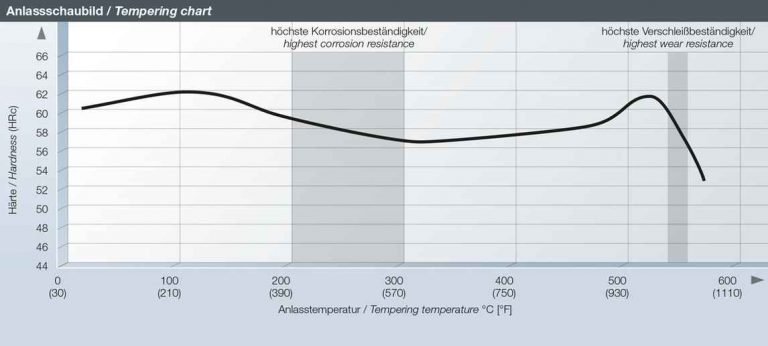 According to @BOHLER the Rockwell hardness of the M390 STEEL is 60-62(HRC)
And it features:
This means an M390 knife is very tough and durable, with a high EDGE Retention or strength, that's why it's qualified as a Premium knife, thanks to its ability to hold sharpness for a long time.
High corrosion resistance
If you ever been hunting or camping, you know your knife will be humid in a way or another (while cutting the meat or acidic fruits like lemon), having a high corrosion resistance is what you need to avoid ending up with a rusty knife.
The M390 steel offer this Quality, again it what's make an M390 knives Premium and worth to buy
High Mirror finish Polishability
A mirror finish steel means a mirror finish Knife, honestly, its doesn't have a big important, unless if you are a knife collector (You won't be using the knife certainly), in the same time its good to have a mirror finish knife, it looks nice, and the M390 steel offer this option.
High tough steel will grant your knife the resistance needed to go through your daily usage, especially while camping, a tough Knife is always needed (you may use it like a can opener or a small hammer… and other hard outdoor usages that results in beating, twisting, bending…).
If you're a fan of the Knife GRINDER/Belt sander, according to BOHLER the M390 Steel is perfectly grindable, but let's not forget, if the steel is perfect for grinding with a machine tool, it doesn't mean it's easy to sharpen with a sharpening stone.
Ether you are a pro or an amateur in knives, you already heard of this rule:  High edge retention = High strength = Hard to sharpen, so sharpening an M390 knife won't be a perfect experience as grinding it.
M390 knife steel compared to other knife steels
The M390 knife steel is identical to the CPM 20CV or the CTS-204P in comparison of hardness(62HRC). Overall it's a popular choice thanks to its high wear and corrosion resistance, it's premium steel and because of that its a great pick for high end or limited-edition knives.
In all this steel is just perfect for the outdoor activities, if you are camping or hunting, having one of the M390 knives would give a great plus to your experience.
Best M390 Knives in the Market
1. Barrage 581 Knife By Benchmade
Designer: Osborne
Mechanism: AXIS®-Assist
Action: Assisted-opening
Blade Steel: M390 (58-61 HRC)
Blade Length: 3.60″ (9.14cm)
Blade Thickness: 0.121″ (3.07mm)
Open Length: 8.35″ (21.21cm)
Closed Length: 4.75″ (12.07cm)
Handle Thickness: 0.65″ (16.51mm)
Weight: 5.20oz. (147.42g)
The Benchmade Barrage 581 Knife is a Drop point Knife with Satin finish, belt with the M390 Steel, its a standard Clip type, with a reversible Tip-Up clip position, unfortunately, it's not belt for glass breaking, its has a beautifully designed G10 handle (You can buy it with an aluminum handle), its has no sheath, no lanyard hole and it's not Molle compatible.
In all its a high-quality knife for everyday carry that worth it Price, it looks really nice(beautiful design), a quick use knife thanks to the assistance system built in it, and of course lets not forget the Benchmade Life Guarantee, Benchmade's Lifetime Warranty Service keeps your knife in the best conditions.
2. Valet 485 Knife By Benchmade
Designer: Benchmade
Mechanism: AXIS
Action: Manual-opening
Blade Steel: M390
Blade Length: 2.96″ (7.52cm)
Blade Thickness: 0.099″ (2.51mm)
Open Length: 6.69″ (16.99cm)
Closed Length: 3.73″ (9.47cm)
Handle Thickness: 0.45″ (11.43mm)
Weight: 2.18oz. (61.80g)
From the Valet family, the 485 valet is Everyday use Drop point knife, with satin finish, made by the M390 (60-62 HRC) steel, with a standard clip type and Tip-up Position, it has a Landyard Hole and G10 Handle, but no sheath, no Molle compatibility and it's not made for glass breaking.
Its close to the Barrage 581, the difference is the 485 valet  has no assistance system built in it, and its more lightweight.
3. ELITE SERIES - BLACK MAMBA
Brand: Off-Grid Knives
Manufacturer: Off-Grid Knives
Color/Finish: Black/Non-Reflective Blackwash Finish
Blade length: 2.78"
Blade steel: M390
Handle length: 4"
Action: Flipping Opening
The black Mamba is Reverse tanto blade belt with M390 Bohler steel with Non-Reflective Blackwash Finish, it has a flipping action using a Ceramic Ball, it has a Lightweight grade 5 titanium Grip, its deep carry pocket/belt clip with a tip-up position. In all it's a great Everyday carry knife with high end Steel.
4. Summit Knife Half Dome 6
Overall Length: 6.00″
Blade Length: 2.375″
Blade Width: 1.125″
Blade Thickness: 0.14″
Blade Material: Bohler M390
Blade Style: Reverse Tanto
Blade Grind: Flat
Finish: Satin
Edge Type: Plain
The Half Dome 6 is Knife designed by Tomaso Ruisi and handcrafted by FOX Knives in Italy, it's a high-quality knife built with M390 Steel, and each screw is anodized titanium, it has a Miracata Handle, and Titanium blade lock that has the same strength as steel but 50% lighter.
It's a great tool for outside usage (Climbing, hunting, camping), and it has a great toughness, great edge retention and high corrosion resistance.
In this section, we're going to compare our steel with other steels, and for this, I use four criteria; Edge Retention, Corrosion resistance, Ease of Sharpness, and Toughness, and I use a scale or note from 1 to 10.
| | M390 | 20CV |
| --- | --- | --- |
| EDGE RETENTION | 8/10 | 8/10 |
| EASE OF SHARPNESS | 5/10 | 5/10 |
| CORROSION RESISTANCE | 8/10 | 8/10 |
| TOUGHNESS | 6/10 | 6/10 |
As you can see, both steels M390 and 20CV are high-quality steel that offers great Edge retention, great corrosion resistance and great toughness, and of course, they're a bit hard to sharpen.
| | M390 | M4 |
| --- | --- | --- |
| EDGE RETENTION | 8/10 | 8/10 |
| EASE OF SHARPNESS | 5/10 | 3/10 |
| CORROSION RESISTANCE | 8/10 | 3/10 |
| TOUGHNESS | 6/10 | 6/10 |
M4 steel reaches the same edge retention and toughness of the M390, but it's high carbon steel with low corrosion resistance.
M390 vs S110V (CPM S110V)
| | M390 | S110V |
| --- | --- | --- |
| EDGE RETENTION | 8/10 | 8/10 |
| EASE OF SHARPNESS | 5/10 | 5/10 |
| CORROSION RESISTANCE | 8/10 | 7/10 |
| TOUGHNESS | 6/10 | 2/10 |
The S110V comes in the same level with the M390 in edge retention ease of sharpness, and corrosion resistance, but with a lower toughness.
| | M390 | S90V |
| --- | --- | --- |
| EDGE RETENTION | 8/10 | 8/10 |
| EASE OF SHARPNESS | 5/10 | 3/10 |
| CORROSION RESISTANCE | 8/10 | 6/10 |
| TOUGHNESS | 6/10 | 3/10 |
The S90V offers the same/close edge retention compared to the M390, but it has lower toughness, corrosion resistance, and is harder to sharpen.
M390 vs S35VN (CPM S35VN)
| | M390 | S35VN |
| --- | --- | --- |
| EDGE RETENTION | 8/10 | 6/10 |
| EASE OF SHARPNESS | 5/10 | 6/10 |
| CORROSION RESISTANCE | 8/10 | 7/10 |
| TOUGHNESS | 6/10 | 6/10 |
If you can't afford the M390 buy an S35VN that's my ultimate advice! The M390 Surpasses the S35VN slightly in all aspects.
Before jumping into the conclusion, we would like to remind you to check your local LAW before buying a knife in order to avoid future problems.
The M390 STEEL is a popular premium steel that fits perfectly for knives, it offers all the specs to enjoy a high-end knife (high corrosion resistance, excellent edge retention, great toughness), and that explains the expensive part of the m390 steel knives.
Truth to be said you won't regret buying an M390 Knife!