Kershaw cryo vs cryo 2- Full Comparison Of KERSHAW CRYO VS CRYO II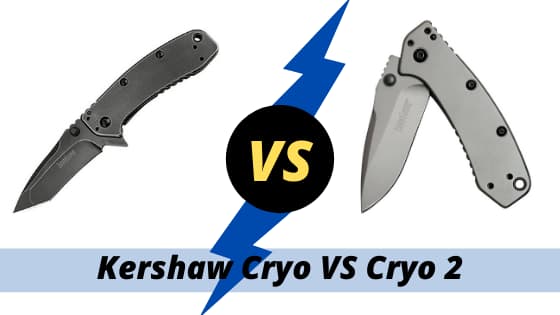 For many Years Kershaw has established a reputation for offering high-quality affordable knives, both USA-made, and Imports, and the thing I like about them is there a lot of variety in the designs, they have big folders, slim folders, and everything in between.
Today we're going to take a look at two of these designs, the Kershaw Cryo and the  Kershaw Cryo 2, and of course, we're going to attack the battle of Kershaw cryo vs cryo 2, by reviewing both knives, and bringing out their similarities and differences, so if you want to know more about the Cryos, you're in the right place, so let us dive in.
PS: the models we're comparing today are the Kershaw Cryo Folding Knife (1555TI) and Kershaw Cryo II Tanto BlackWash.
Kershaw cryo vs cryo 2– A Head-to-Head Comparison
| SPECS | CRYO | CRYO 2 |
| --- | --- | --- |
| Overall Length | 6.5"  | 7,75" |
| Blade Length | 2.75"  | 3.25"   |
| Blade Steel | | |
| Knife Weight | 4.1 Oz  | 5.4 Oz |
| Blade Style | Drop point  | Tanto |
| Price | | |
Kershaw Cryo (1555TI) Review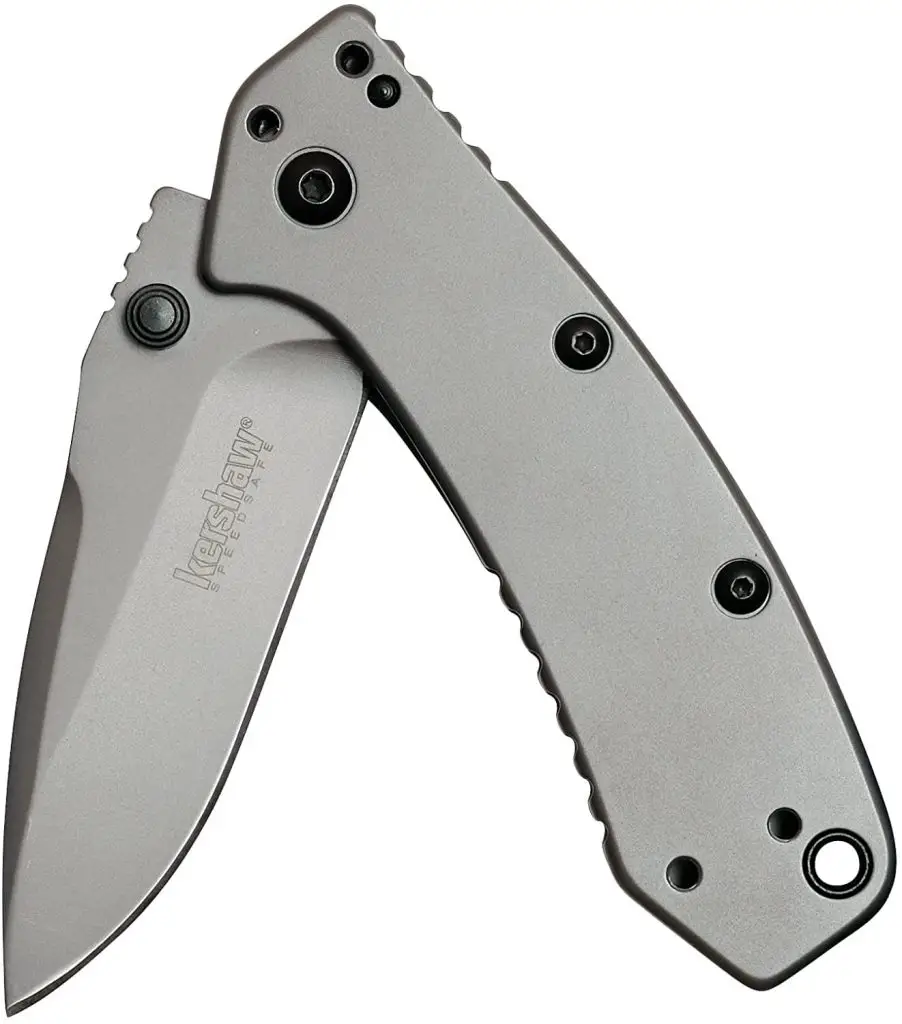 For an affordable workhorse, the Rick Hindered-designed Cryo, a high-quality import, that's a great way to get signature Hindered style and design elements on a budget, the Cryo is a stainless steel frame lock with a 2.75" blade made from 8CR13MOV, offers great corrosion resistance, great wear-resistance but it has low edge retention, this is a speed safe equipped flipped knife with a broad drop point blade, and you can open it with the included thumb studs, or with that flipper, it does have a four-position deep carry pocket clip, which means you can carry it in any pocket easily, but it's only gonna be truly deep carry in a tip-down configuration.
This knife definitely has Rick Hinderer's style written all over it, but we also get one of his signature elements, and that's the disc on the back that acts as an overtravel arrestor, it keeps you from pushing the lock bar out too far if you get overzealous when closing the knife.
Overall this knife is solid and it's gonna just work hard for you, and you can feel it as soon you pick one up.
Kershaw Cryo II Tanto BlackWash Review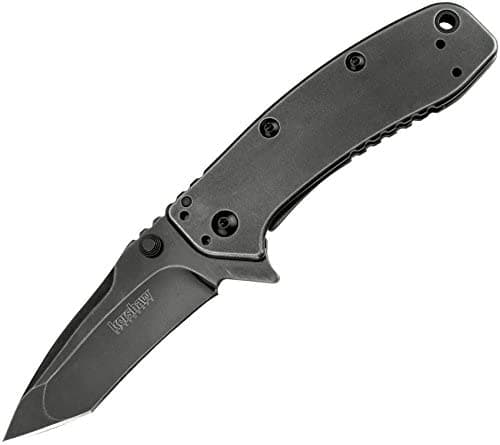 Now the Cyro two is the big bro brother of the Cryo, it's an imported knife, with the same qualities as the Cryo, it's an affordable workhorse that comes with a stainless steel frame lock with 8CR13MOV steel and speeds safe assisted opening with a flipper tab, as well as thumb studs you rather open it that way. Also got a four-position pocket clip that when it's mounted with the tip facing down it's a deep carry, or you can have it with the tip facing up and have a little bit more handle to grab onto your pocket. Again this knife has definitely the Rick Hinderer style including his signature hardware elements which is the disc on the back that's going to act as an over-travel arrestor for that frame lock, it's gonna keep you from pushing the lock bar too far.
Overall the knife is great, works hard, smooth opening, and comes with a very good price.
What are the Similarities of Spyderco Resilience Vs Tenacious?
Steel: they Both have the 8CR13MOV that offers great corrosion resistance, great wear resistance, and toughness, and comes with low edge retention.
Design: They both offer the same design with the signature protection disc.
Handle: Both knives come with stainless steel handles.
Spyderco Resilience Vs Tenacious – Some Key Differences
Blade length: The Kershaw Cryo II comes with a 3.25" blade, on the other hand, the Kershaw Cryo has a 2.75" blade.
As I already said both knives are Identical in terms of steel, ergonomics, lock system, opening system, the only difference is the blade length ( And shape in our case, but you can get a drop point Cryo II), that's why the Cryo 2 is considered as Cryo big brother, so now if you want to pick one of these, it's simple just go with the length you prefer, both knives perform well and comes with a good price, and if you can afford to have them both, that's even better, you won't regret your choice, but don't forget they don't hold an edge for long, so some sharpening will be needed in your knife experience.