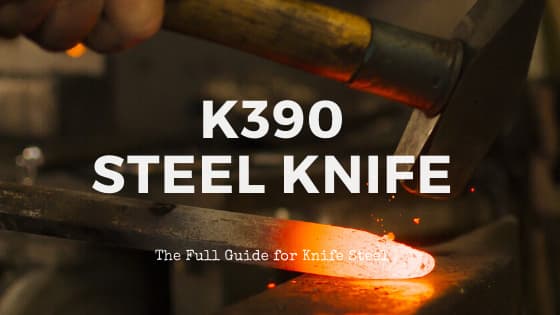 Another famous Steel by the Bohler, the K390 Steel is gaining in popularity since it was introduced by Spyderco in POLICE™ 4, and of course, as a Knife User, the steel grabbed my intention. Therefore I decided to make a "K390 Steel Review".
So if you're reading this blog post, it means you're interested in the K390 steel, luckily I did some researches, and I answered some common questions about it (like What is it? What is its chemical composition? What is its hardness? How hard is it? Is it good or no ? and other questions) So let's dive in.
K390(Bohler-Uddeholm) is a High-end Cold work tool steel, made by Bohler, high in Vanadium which makes it very tough steel with great wear resistance — used in the knife industry (high-end and premium knives), cutting tools and cold forming operations.
As you can see the K390 chemical composition is a mixture of high Vanadium, Carbon, Molybdenum and Chromium, which offers high toughness and wear resistance.
K390 steel hardness (Rockwell Hardness)
According to the chemical composition and the HRC of the steel, the K390 Steel has the following features:
K390 Edge Retention: With a maximum of 65HRC, and the high presence of Vanadium, Carbon, Molybdenum and Chromium, the steel offers high hardness with extreme Edge Retention.
K390 Corrosion Resistance: Decent good corrosion resistance but not the best one, K390 steel can be considered semi-stainless steel, with only 4.25% of chromium in it.
K390 Wear Resistance: Excellent Wear Resistance, with 9% of Vanadium, the steel is very hard and durable.
K390 Sharpness: The rule says the harder the steel, the harder to sharpen it, it's perfectly applied on the K390, it's hard to sharpen/grind.
K390 Machinability: Good machinability because of uniform mechanical properties.
K390 Toughness: has a decent toughness, the steel is highly hard, which makes it brittle, with decent impact resistance.
The closest steel to our K390 would be the S90V Stainless Steel, in exception for corrosion resistance (S90V offers a better corrosion resistance compared to the K390), they both offer great edge retention and hardness due to 9% of Vanadium in both steel, Same for the wear resistance, and they both fall in the same price range of high-end steel.
Is K390 steel good for Knives?
The answer in general is yes, Is a high-end tool steel that brings high hardness, wear resistance, edge retention and decent corrosion resistance, if you're a knife user, you would know that's perfect for every usage, but as I always say it's not the best "Steel", the best one depends on your usage, in all K390 Knives would be so great for hard cutting, and last edge situations, for example, while camping or hiking( K390 will hold its sharpness for long so you won't have to worry).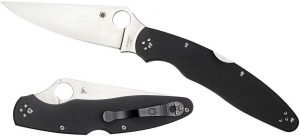 This a very rare great knife, the Police Spyderco in K390, is a very tough, sharp knife, it comes with a Fully flat ground blade, I high wear resistance steel, with decent corrosion resistance, excellent edge retention, and great ergonomics.
 The knife has jimping in both the thumb and the spine of the blade, this knife is excellent for details tasks, it has a g-10 black handle for more strength and resistance, and a solid mid back lock with a very secure lock and smooth operation, it has a pocket clip for a better carry.
 In all this knife regroup a lot of good things, and if you're looking for and EDC with k390 Steel, the Police knife from Spyderco would be a great choice I highly recommend it.
In this section, we're going to compare our steel with other steels, and for this, I use four criteria; Edge Retention, Corrosion resistance, Ease of Sharpness, and Toughness, and I use a scale or note from 1 to 10.
| | K390 | M390 |
| --- | --- | --- |
| EDGE RETENTION | 8/10 | 8/10 |
| EASE OF SHARPNESS | 4/10 | 5/10 |
| CORROSION RESISTANCE | 3/10 | 8/10 |
| TOUGHNESS | 6/10 | 6/10 |
M390 the same corrosion resistance, toughness and higher edge retention compared to the K390.
While reviewing this steel, I felt like I m reviewing another "Super Steel" while reading people's opinions on forums and comments on youtube videos, most users are happy with their K390. Therefore I'd like to share mine too, I find that the K30 is a great Steel for your knife, but it won't my choice for "High-end" Steel if I was in a limited budget, I'd rather go for the S110V, S90V or S30V (And yes CPM SV series are taking over the knives market with their new technology).