Izula vs.Izula 2 - Full Comparaison of Esee Izula vs Izula 2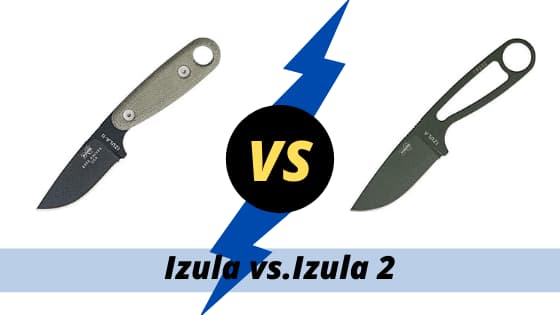 As I already mentioned in my previous articles, ESEE Knives are made in the USA BY Rowan Manufacturing they're built to take a beating and they work great for tactical survival and bushcraft applications, today we're going to take a look at two famous ESEE knives the ESEE IZULA and the ESEE IZULA 2 or (ESEE IZULA II).
These are two know knives in the market, and one of the common questions about them is which one top pick in a battle of Izula vs.Izula 2, well today as an answer to this battle, we're going to review both knives, and show their similarities and differences, and of course, we're going to help with your choice (we'll likely recommend both of theme to enjoy the full experience of Izula knives), now if you're still interested in knowing more about these knives, let's us dive in.
Izula vs.Izula 2 – A Head-to-Head Comparison
| SPECS | IZULA 2 | IZULA |
| --- | --- | --- |
| Overall Length | 6.75"  | 6.25" |
| Blade Length | 2.875"  | 2.875"  |
| Blade Steel | | |
| Knife Weight | 3.2 Oz  | 2 Oz |
| Blade Style | Drop Point | Drop Point |
| Price | | |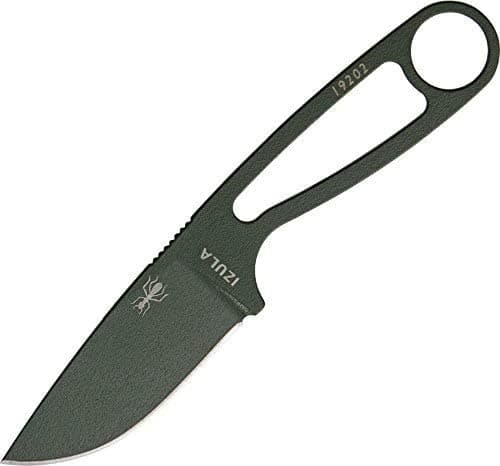 The IZULA Neck knife is the most recognized Skeletonized Neck Knives on the Market, it comes with a 2.875" black and stonewash drop point blade made from 1095 Steel, offers great edge retention, great wear-resistance but comes with lower corrosion resistance, This knife is designed for concealment and compact carry, if you want a little more grip you can wrap the tang in paracord or buy the Micarta handles, the knife comes with a plastic sheath with clip plate.
As you can see the size of the knife plus its cutting power makes it a very great small tool for your cutting tasks or even for self-defense, it can be easily carried, and can be even a great EDC knife, if you prefer having a small fixed blade for your daily tasks.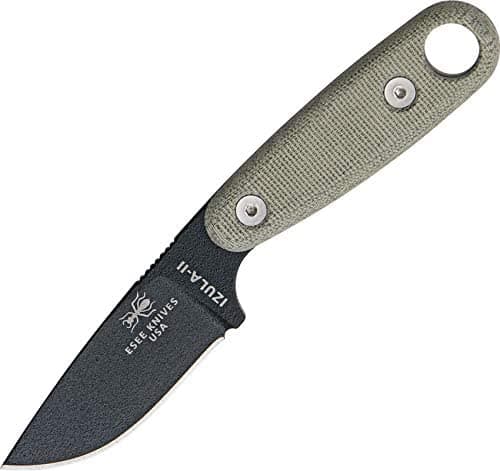 This is my personal favorite in the IZULA Family, the IZULA 2, this knife automatically comes with a very grippy Micarta handle which you can remove if you want, it offers a little bit more handle length in comparison with the original IZULA, this knife comes with a 2.875" drop point blade made from 1095 Steel, It has a lot of belly in it and it offers great edge retention, great wear resistance, but comes with corrosion resistance, it has a dropped tip that adds more effectiveness to usage, the knife also comes with a black plastic sheath with clip plate and a small survival kit.
This knife is really great for your outdoor activities, camping, hiking, bushcraft, the only down said would be the corrosion resistance, you should always take some good care of it to avoid rust.
What are the Similarities Esee Izula vs Izula 2?
Steel: they Both have the 1095 Steel that offers great edge retention, great wear resistance, and toughness, and comes with low corrosion resistance.
Design: they're both offer the same design.
Blade Lenght: Both knives come with the same blade length.
Sheath: Both Knives have a black Plastic with Clip Plate.
Thickness: Both knives have a thickness of 0.156".
Esee Izula vs Izula 2 – Some Key Differences
Handle: Izula 2 Comes with Micarta Handles, meanwhile, the Original Izula is a skeleton knife with no handles.
If you didn't notice by now that both knives are the same, we will say it again, the IZULA 2 is just the Original IZULA with micarta handle, so in terms of performance, price, the usage they're both the same, the only difference would be in the handle, so if you need to choose one between the two, it will only depend on your handle choice, do you prefer a Micarta handle or skeleton knife, and as an advice, you better go with the IZULA 2 the grip of the micarta handle offers more length which is perfect if you have big hands, and don't forget to take care of both them, they're made from high carbon steel, so they will get corrosion with time so don't forget to keep them dry and clean.