Lately, some Chinese Steel knives are surprisingly gaining popularity in the knife industry, due to its affordable price and ease of manufacturing, one of these steels is the 8Cr13MoV stainless steel, so the question is: is 8Cr13MoV good steel for your knife? Well, we're going to find out through this blog post.
So if you're reading this right now, it means you wish to know more about the 8Cr13MoV, then you're at the right place, I gathered all the information you need in one place, and I answered some common question (like "What is it?" "What is its chemical composition?" "What is its hardness?" "How hard is it?" "Is it good or not?" and other questions) in this blog post.
8Cr13MoV is a low-end Chinese-Made Stainless Steel similar to the Japanese AUS 8, It belongs to the CR13 series, highly in Carbon, Chromium, it's used for knives, many knife makers use it and some of it made the best of it (I'm talking about Spyderco).
8Cr13MoV chemical composition
As you can see, the 8Cr13MoV has more than 12% of Chromium in it, which makes it stainless steel, plus of that, it has a mixture of Carbon, Manganese, and Silicon, which offers hardness and strength to the steel.
How strong is 8Cr13MoV steel? 8Cr13Mov Rockwell Hardness
The Rockwell hardness of 8Cr13MoV is a maximum of 62HRC.
For more information about "Rockwell Hardness" and "HRC"  Read this Post.
8Cr13MoV Steel Properties
According to the chemical composition and the HRC of the steel, the 8Cr13MoV Steel has the following features:
Edge Retention: being budget steel it offers great hardness for it price, and offers a great Edge Retention that may be comparable with mid-range Steel.
Corrosion Resistance: Being stainless steel with more than 14% of Chromium in it, 8Cr13Mov steel offers a great Corrosion Resistance.
Wear Resistance: 8Cr13Mov offers a great Wear resistance, due to the mixture of Chromium and Vanadium in it.
Sharpness: if used as a knife, while being hard steel, it's easy to sharpen.
Welding: Due to the high Carbon and Chromium in this Steel, it has a poor Weldability.
Toughness: it's has a decent toughness, but for its price, it's good.
Is 8Cr13MoV Good Knife Steel?
It's a low-end budget steel, that offers decent edge retention, corrosion resistance, hardness and wear resistance, for a very low price, so the answer is yes, compared to other budget steel knives, you can use it as an EDC knife, kitchen knife or hunting knife, but be prepared to take good care of it.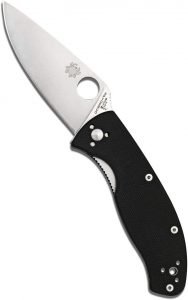 A very, very good knife for its price, the Tenacious by Spyderco offers a great value for a reasonable price, why? I'll tell you why, first you have a 3.4" Inch drop point plain edge blade made from the 8cr13mov which makes it great for corrosion resistance and toughness, second the handles it has a G-10 handle, we both know what does it mean (yeah high-quality handle with non-slip grip), and finally the liner lock, it's just rock solid, the fact that the Spyderco Tenacious was made with a Chinese knife doesn't mean you'll get a crappy knife, it's still a Spyderco, the only thing that bothers me with this knife is the finger choil is missing, it would be great to have it, but this is what you get for a low-entry price, and I'm so happy about it. So, if you're looking for a hunting knife or camping or any outside door activities with an 8Cr13MoV, the Tenacious is your choice.
8Cr13Mov Steel Equivalent or Alternative
The closest Steel to the 8Cr13Mov would be the budget Japanese AUS 8, they both have similar chemical composition, and they're in a close price range, and personally can't decide between the two, they both offer decent qualities for low price, but if I'm choosing one for knife making, I'll go with the AUS 8 (that's a personal preference).
In this section, we're going to compare 8Cr13MoV steel with other steels, and for this, I use four criteria; Edge Retention, Corrosion resistance, Ease of Sharpness, and Toughness, and I use a scale or note from 1 to 10.
| | 8CR13MOV | 440C |
| --- | --- | --- |
| EDGE RETENTION | 1/10 | 2.5/10 |
| EASE OF SHARPNESS | 8/10 | 7/10 |
| CORROSION RESISTANCE | 6/10 | 7/10 |
| TOUGHNESS | 6/10 | 5/10 |
440C comes with a slightly better performance compared with 8CR13MOV in both edge retention and corrosion resistance.
| | 8CR13MOV | 8CR14MOV |
| --- | --- | --- |
| EDGE RETENTION | 1/10 | 2/10 |
| EASE OF SHARPNESS | 8/10 | 8/10 |
| CORROSION RESISTANCE | 6/10 | 6/10 |
| TOUGHNESS | 6/10 | 6/10 |
Both 8CR13MOV and 8CR14MOV offers same performance; to me, they 're the same.
| | 8CR13MOV | AUS 8 |
| --- | --- | --- |
| EDGE RETENTION | 1/10 | 2/10 |
| EASE OF SHARPNESS | 8/10 | 9/10 |
| CORROSION RESISTANCE | 6/10 | 7/10 |
| TOUGHNESS | 6/10 | 6/10 |
AUS 8 offers slightly better edge retention, corrosion resistance and have the same toughness as 8CR13MOV.
| | 8CR13MOV | VG10 |
| --- | --- | --- |
| EDGE RETENTION | 1/10 | 5/10 |
| EASE OF SHARPNESS | 8/10 | 6/10 |
| CORROSION RESISTANCE | 6/10 | 7/10 |
| TOUGHNESS | 6/10 | 4/10 |
VG10 comes with better edge retention, corrosion resistance and lower toughness compared to 8CR13MOV.
The quote of the 8Cr13MoV steel would be: "Cheap doesn't mean bad," honestly I had a bad idea about the 8Cr13MoV since it's China Made and it's very cheap, but I was wrong, it's really good for it price, so if you're looking for an affordable knife that can hold an edge, resist corrosion, hard and tough, you can take a chance with 8Cr13MoV (the Spyderco 8Cr13MoV precisely, they made the best heat treatment for the steel, and they brought the best knife of it), therefore as always if you have another opinion about the 8Cr13MoV feel free to leave a comment below.