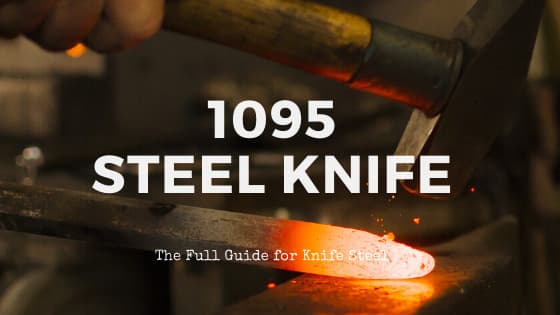 In the knife world, I'm sure you heard about the old and famous 1095 carbon steel knife, many knifemakers and custom knife makers use it, it's the steel to go for if you're a beginner knifemaker; therefore I decided to review our old 1095 steel.
So, If you're reading this, it means you would like to know more about the 1095 steel, luckily I did some researches and answered some common question (like What is it? What is its chemical composition? What is its hardness? How hard is it? Is it good… and many others), and I gathered everything in this blog post, have a nice read.
Its an old high carbon steel from the 10XX steel series, it's generally used for knives and blades, the first two digits of the designation "1095" refer to the main two elements used in the steel, and the second two digits represent the percentage of carbon used.
 In the case of "1095" the first digit "1" refers to carbon, the second digit "0" means that there is no second main element used in the alloy, for the two last digits "95" refers to 0.95%, which gives us 0.95% of Carbon.
What is 1095 steel made of? – 1095 Chemical Composition
As you can see, 1095 is mainly made of carbon and Manganese, which makes it very hard steel.
1095 is high carbon steel. It wouldn't suit being tool steel since it only has 0.95% of carbon in general tool steel has more than 1% of carbon, which changes the behavior of the steel.
What are the 1095 steel properties
According to its chemical composition and Hardness, 1095 steel offers the following properties:
Edge Retention: it's a very hard steel that can offer great edge retention, thanks to the mix of Carbon and Manganese used in the alloy.
Corrosion Resistance: It has a very low corrosion resistance since there is no Chromium in the alloy, 1095 is corrosion-prone steel, will rust very quickly.
Wear Resistance: 1095 steel is hard and grants good wear resistance, not the best, but it's enough for outdoor usage.
Sharpness: Reasonably easy to sharpen.
Machinability: With a rate 0f 45%, 1095 isn't so great for machinability.
Toughness:  Good toughness, that can decrease in the cost of hardness, (You can get your 1095 to 63 Hrc, but it will be brittle)
Is 1095 steel good for knife making?
1095 is an old, popular steel, easy and simple to heat treat, good in toughness, great hardness with great edge retention, and at the same time, it's not expensive.
Therefore I find it very great steel for knife making, especially for beginners, the steel is very user-friendly, easy to sharpen, easily tempered, it goes from for fairly sparingly to hard as a rock.
It's not the best steel for knife making, but it' has its place in the "good steel for knife making" club.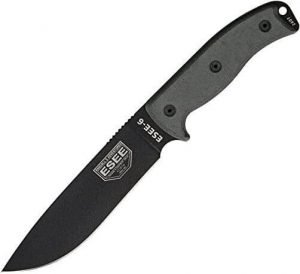 A great Fixed knife from ESEE, the 6P is a black finished blade with a plain cutting edge, it comes with 6.5″ edge, and Micarta handle, it is a very ergonomic knife, it feels comfortable and non-slip in the grab, why I have chosen this knife, it has a lifetime warranty which means you can use at full potential and ask for a repair after (that doesn't mean you can use it carelessly), the second reason is the size, 6 inches blade it's just perfect (not too big, not too small) and the last reason is, of course, the toughness! Since it's a high carbon knife, you will enjoy batoning some wood with this beast! And this little beast doesn't come alone, it has a durable carry sheath with removable clip ready to use!.
Staying the same 10xx series, I find 1084 steel a very close alloy to our 1095, they have a very identical chemical composition in exception for silicon (1084 has more silicon in it), they both have good edge retention, good hardness, great wear resistance, low corrosion resistance, and they're in the same price range. I would recommend them both for beginner knifemakers, their process of heating and tempering is quite easy.
In this section, we're going to compare our steel with other steels, and for this, I use four criteria; Edge Retention, Corrosion resistance, Ease of Sharpness, and Toughness, and I use a scale or note from 1 to 10.
| | 1095 | 1084 |
| --- | --- | --- |
| EDGE RETENTION | 3/10 | 4/10 |
| EASE OF SHARPNESS | 7/10 | 7/10 |
| CORROSION RESISTANCE | 3/10 | 3/10 |
| TOUGHNESS | 8/10 | 8/10 |
1084 offers the same performance with slightly better edge retention compared to 1095.
Owning a 1095 steel knife is something very popular since the steel has been around for a long time, and many big names in the knife industry have their "1095 knife" on the market, and honestly, despite its corrosion resistance, it's great for all type of knives, form EDC to fixed blades, all you need it to take care of it (oil it and remove rust from it), and you'll enjoy your knife for years.