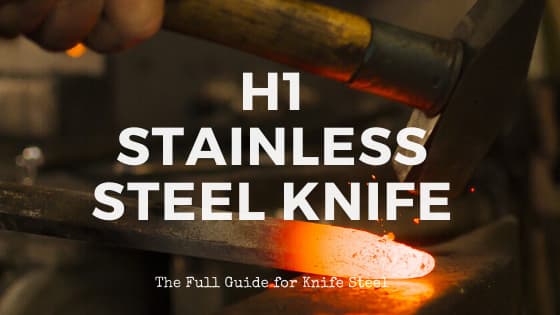 Ever encountered that magical "Knife" that never rusts, that magical stainless steel with the best corrosion resistance you can dream of? Well, for my case, I never did, but I rade that there is a Japanese steel that offers the magical corrosion resistance we are looking for, its called H1 Steel.
So, If you're reading this blog post, it means that you're like me(interested to see how magic is the h1 steel), so I did some research for you, and I'll be gladly sharing them with you in this blog post, I'll answer all the possible questions(What is it? What is its chemical composition? What is its hardness? How hard is it? Is it good and many others) have a nice read.
H1 steel is a Japanese precipitation-hardened stainless steel. It's very popular in the knife industry for its great corrosion resistance, which makes it completely waterproof and ideal for the humid environment and wet conditions.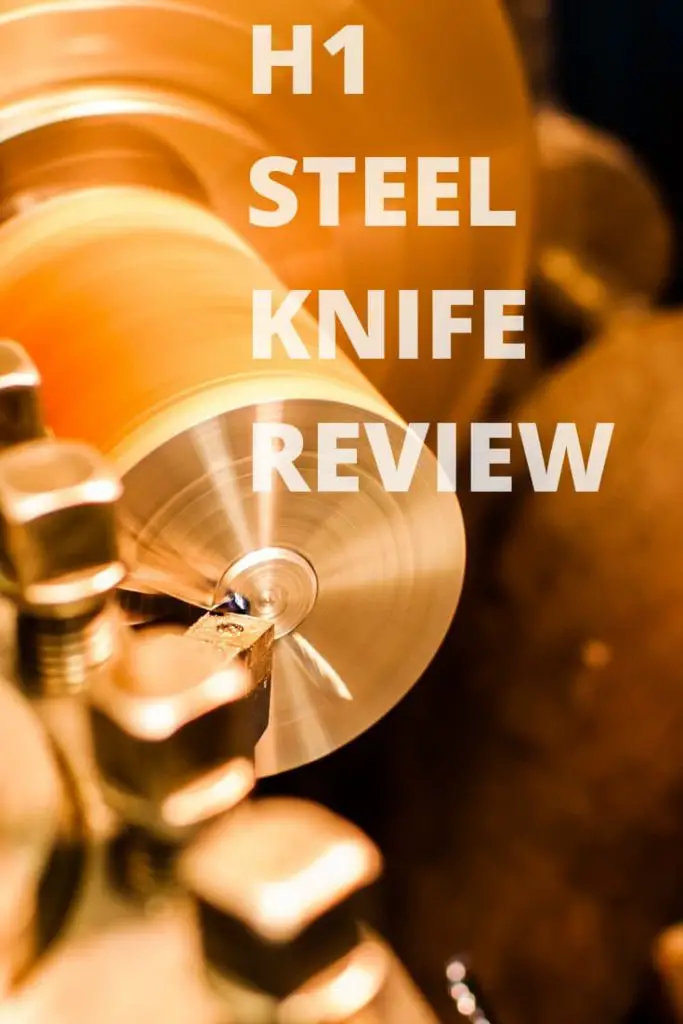 H1 Steel Chemical composition
The H1 steel is stainless steel with low carbon and high Nickel composition, which is a very rare composition in the knife industry.
What is the hardness of H1 steel?
The hardness of the H1 stainless steel is 57-58 Hc.
If you find trouble understanding the HRC or the hardness test, check this post right here!
What are the H1 stainless steel properties
According to its chemical composition and Hardness, the H1 Stainless steel offers the following properties:
Edge Retention: the H1 steel is hard steel, due to its high level of Nickel and Nitrogen.
Corrosion Resistance: the best part of the H1 steel, it has the best chemical composition for the best corrosion resistance.
Wear Resistance: the H1 steel offers decent wear resistance, not the best, but it's good.
Sharpness: H1 steel is easy to sharpen.
Machinability: H1 steel is great for machinability; it has Molybdenum and Sulfur. Both components are so great for the machine.
Toughness: The h1 steel is a very tough blade; it has great strength, it can handle the beating and damaging of many tough usages.
Is H1 stainless steel good for knives?
Being mid-entry steel, I find the h1 steel very good steel for knives, and it has good hardness, decent edge retention, good wear resistance, and an exception corrosion resistance, which would be so great to use for diving knives, fishing knives and hunting knives, but this doesn't mean it's 100% immune of corrosion, you should always take care of your knife.
1. Dragonfly 2 Salt - Spyderco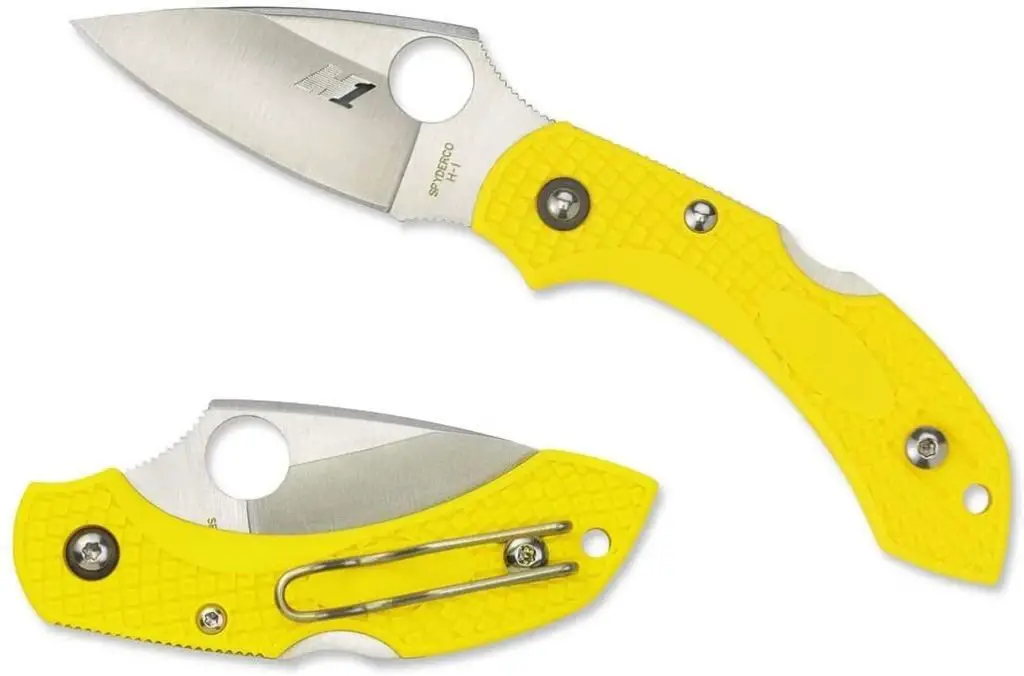 The Dragonfly 2 Salt from  Spyderco is the best knife you can in H1 steel. I just love its design!
It offers a 2.3″ Plain edge drop point with a Hollow grind, and it comes with an ergonomic design thanks to the handle and a front-finger choil and spine cusp. The yellow handle is Fibreglass reinforced Nylon, it's lightweight and strength in the same time. The Dragonfly 2 offers great sharpness and toughness with high corrosion resistance, which makes great for an EDC knife, so if you're interested in H1 steel and you're looking for a knife, check the Dragonfly 2 Salt it might end up your favourite knife.
H1 Stainless Steel Equivalent
Being mid-range steel, with the specific properties we mentioned earlier, I find the AUS-8 to be the closest steel to our H1 steel, they both offer exceptional corrosion resistance, good wear resistance, good edge retention, and they are in the same level of both hardness and price (between 30 and 100 USD).
In all the H1 steel is a great steel, but It's not super steel or Magical steel that will get raid of corrosion, don't be fooled with the marketing, all knives need to be taken carry off, compared to it prices it offers great qualities, which I find very close to some premium steel knives.
 In all, if you're planning to get an H1 steel knife, You have my approval! Especially if you work in a humid environment.
As always the comments place is open to discuss all opinions, I'd like to hear more opinions about the H1.