Gerber Prodigy vs Strongarm – Full comparison of STRONGARM VS PRODIGY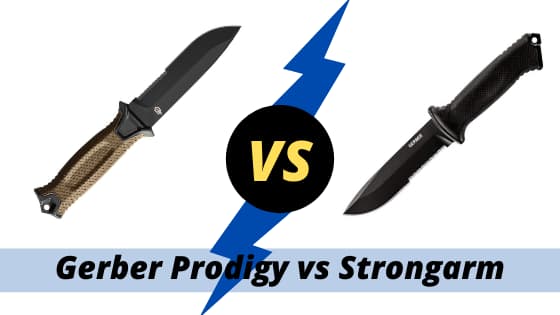 Gerber has really been impressing the knife community, with their knives, and their new designs every year, especially in the fixed blade category, but there two knives that will always stand out, these are the Progidy Gerber and StrongMan Gerber, these two knives are very known and well recommended, but the question is, in a battle of Gerber Prodigy vs Strongarm which one are you going to go for?
Well as an answer to this question, I did review both knives and bring out their similarities and differences, so if you're interested to know more about this battle, you're in the right place, all you have to do is keep reading.
Gerber Prodigy vs Strongarm – A Head-to-Head Comparison
| SPECS | PROGIDY | STRONGARM |
| --- | --- | --- |
| Overall Length | 9.75"  | 9.8" |
| Blade Length | 4.75" | 4.8" |
| Blade Steel | | |
| Knife Weight | 12.45 Oz  | 10.9 Oz |
| Blade Style | Drop Point  | Drop Point  |
| Price | | |
 The Progidy from Gerber is another Jeff Freeman design, the Progidy is the little brother of the famous LMF II, it comes with the same quality and offers the great performance you would look for in an outdoor or hunter knife, it has a 4.75" drop point blade made from the 420HC, offers great corrosion resistance, great wear-resistance but it has low edge retention, it's a beefy full tang that comes with an over-molded rubber handle for a secure and non-slippery grip, it comes with a friction-release thumb lock sheath, that will do the work as fine as the blade.
This knife is a great pick for hunters, outdoor enthusiast, camping, food preparing, thanks to its high corrosion resistance the knife can work fine in a wet environment, but it will not hold an edge for long so better be prepared to sharpen your knife.

The Strongarm is another survival knife made from Gerber and I consider it as Prodigy Brother, it comes with a drop point 4.8" blade made from 420HC, as I already mentioned it offers great corrosion resistance, great wear-resistance, and low edge retention, this knife was mainly designed for military survival training, and it can easily be used as a tactical knife, or a primary knife in your hunting, camping, or food preparing.
This fixed blade has a beefy full tang blade, with a ceramic blade coating, rubberized diamond texture grip, striking pommel, Nylon webbing for Drop-Leg carry, and Secondary Retention with Detachable Belt Hoops for Horizontal Belt Carry, it is what you need for your survival adventures.
What are the Similarities of Gerber Prodigy vs Strongarm?
Steel: Both have the 420HC that offers low edge retention, great wear resistance, and toughness, and comes with high corrosion resistance.
Design: They both offer the same design with the striking pommel and Lanyard hole.
Handle: Both knives come with robber handles in different colors.
Blade Length: Both knives have a close/similar blade length.
Gerber Prodigy vs Strongarm – Some Key Differences
Sheath: The Strongarm comes with a better sheath that offers more features compared to the Progidy's sheath.
Both of these knives are fairly similar in size, blade, design, and performance, so choosing one or picking the best one in the best battle would a question of preference of the little design modifications in the handle and the sheath, In my opinion, I'll go for the Strongman since it comes with a better sheath more practical and useful for the survival adventure and offers all types of carrying, but if you're low on budget and you wish to upgrade after with a lower 10 bucks you can go with the Prodigy (But just try to get that 10 bucks and get the Strongarm), and the best thing I can recommend you is to get both and knives and even the Gerber LMF II, they will make a great addition to your knife collection.