Esee Zancudo vs Rat 2 - full comparison of Esee Zancudo vs Rat 2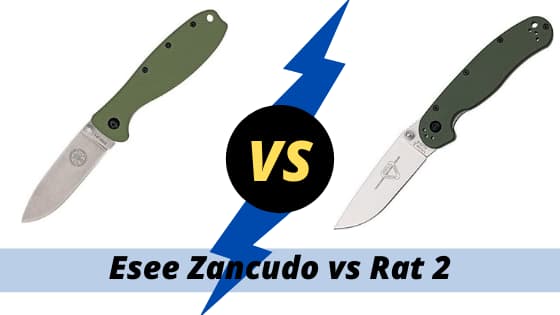 These two knives are very special, and they're known to be very similar in terms of design since they were designed by the same people, in both knives, Randal's adventure training and the RAT made the design but after that Randal and Ontario knife company broke up, and that what brings us today to "ESEE" knives.
So basically these knives are brothers, but the question is always there which is better in a ZANCUDO VS RAT 2 battle, well today we're going to take a look at both knives, review them, bring their similarities and differences out, and then try to show which one to choose and why, if you're still interested to know more about this battle, let us dive in.
Zancudo VS RAT 2– A Head-to-Head Comparison
| SPECS | ESEE ZANCUDO | ONTARIO RAT 2 |
| --- | --- | --- |
| Overall Length | 7" | 7" |
| Blade Length | 3" | 3" |
| Blade Steel | | |
| Knife Weight | 3.3 OZ | 2.7 OZ |
| Blade Style | Drop Point  | Drop Point  |
| Price | | |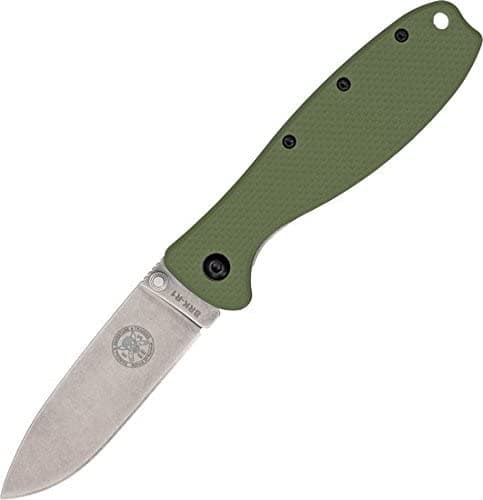 First, you should know that Zancudo is a Spanish word that means Mosquito, this knife was designed by Mike Perrin and Jeff Randall from ESEE, it's a folded knife that comes with a 3" drop point blade made from D2 Steel, it offers great edge retention, great wear resistance, and great corrosion resistance, it has a full flat grind, comes with a frame lock, it has black fiberglass reinforced nylon that offers a good and resistant grip, and finally it has a reversible pocket clip for your deep carry.
Now before speaking about the knife, let me remind you about the D2 steel, this steel is just great for the knife, in terms of edge retention, wear resistance, and corrosion resistance, so the Zancudo would be a great pick as an EDC, or even for camping and other outside tasks that don't require a lot of hardness, and the best thing about this knife is the price, the low entry price is just perfect, you get a lot of value from the little price of a D2 knife, now let's move to the knife, the knife has good ergonomics, it has a thumb stud beautifuly placed and an index choil that will make your knife tasks way easier. The only bad thing that did bother me is the position of the clip, ergonomically speaking it leads to a major hot spot, other than that the knife is just fine, and I'll always recommend it.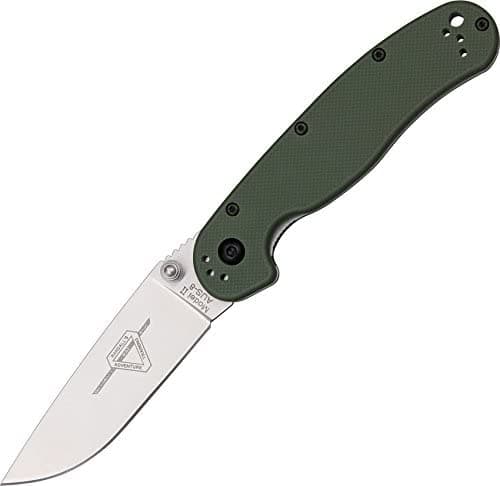 This is another designer from Randall's Adventure Training, that RAT 2 is a very famous folding knife very know for its low price and great performance, it comes with 3" drop point blade made from the AUS 8 steel, this steel has good edge retention, good wear resistance and great corrosion resistance, it has a nice built Black fiberglass reinforced nylon (FRN) handle, a dual thumb stud, a lanyard hole and offers 4 position pocket clip.
Now you should know that the RAT 2, is known to be part of the best low entry small folding knives in the market, so I really just can't complain but you should know that the less you pay doesn't always mean that you didn't lose any good in your knife, remember you have an AUS 8 steel, so your edge retention won't be the best, but it will do the work.
What are the Similarities between Esee Zancudo vs Rat 2?
Blade Lenght: Both knives come with a 3" blade.
Design: Both knives have very close design since they were made by the same people.
Handle: Both RAT 2 and ZANCUDO have an FRN handle.
Esee Zancudo vs Rat 2 – Some Key Differences
Steel: Ontario Rat 2 comes with D2 steel, on the other hand, the Zancudo comes with the AUS 8 Steel.
If you did notice, both knives are very close, and they both known in the low entry knives, the only difference would be the steel (which cannot be considered as one because both companies can use D2 or AUS 8 for their knives, f you have the option to choose between the two I recommend you to go with the D2 steel), now to say which one is better in the case for me would be the ESEE ZANCUDA, because it has the D2 steel in it and it's more light, but to be honest, the best way to find out is to compare by yourself, since 'they're very cheap I'm sure you can afford to buy both of them, and you won't regret having them both, I can assure you that, and finally don't forget to stay safe.