ESEE CANDIRU VS IZULA – Full Comparaison of Izula vs Candiru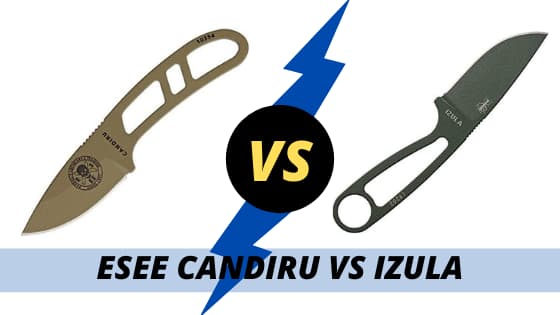 If you're looking for a small knife or a secondary knife for your outdoor adventures, or while camping, hunting, or even for food preparation, many people would recommend you the ESEE CANDIRU or the ESEE IZULA, but the question would which one to choose in the battle of CANDIRU VS IZULA.
So as an answer to this question, we're going to review both knives and take a look at their differences and similarities, and at the end, we will see if there is a best or they're the same, so if you're still interested, let us dive in.
CANDIRU VS IZULA – A Head-to-Head Comparison
| SPECS | CANDIRU | IZULA |
| --- | --- | --- |
| Overall Length | 5.125"  | 6.25" |
| Blade Length | 2"  | 2.875"   |
| Blade Steel | | |
| Knife Weight | 1.7 Oz  | 2 Oz |
| Blade Style | Drop Point  | Drop Point  |
| Price | | |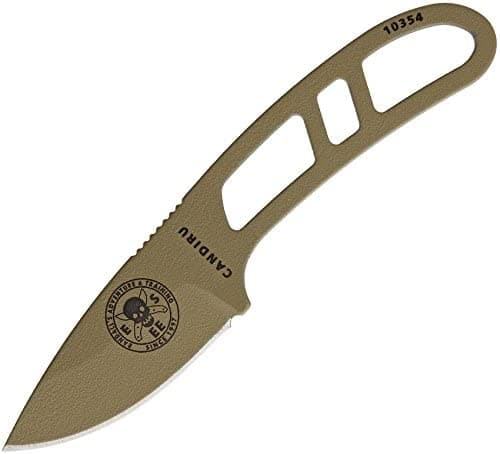 Candiru is a Neck knife from ESEE, it's a small ferocious cutter, it comes with a 2" drop point blade made from the 1095 Steel, the blade offers great edge retention, great wear retention, but comes with low edge corrosion resistance, as you can notice it has no handles it's a skeleton knife, but you can purchase the Micarta handles or G10 handles, it has a Cordura pouch sheath that comes with 5 holes and offers all types of carrying.
Now let's speak more about the performance, this knife was built for all your small tasks and even for tactical usage and self-defense, it can be used as a secondary knife while hunting, camping, or even hunting, it's a very practical addition to your collection of knives, but let me remind it's a very small knife with a 3.125" handle so if you're not used to small knives or you have big hands it might bother you.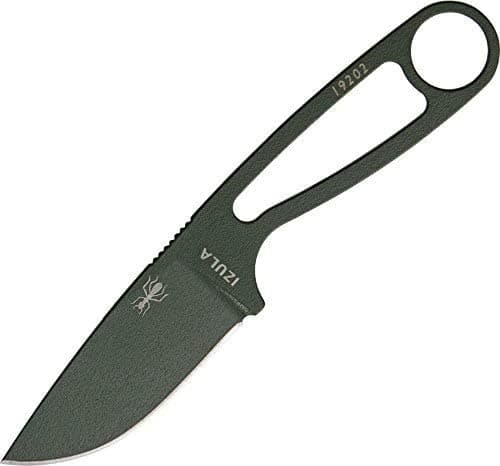 The IZULA Neck knife is the most recognized Skeletonized Neck Knives on the Market, it comes with a 2.875" black and stonewash drop point blade made from 1095 Steel, offers great edge retention, great wear-resistance but comes with lower corrosion resistance, This knife is designed for concealment and compact carry, if you want a little more grip you can wrap the tang in paracord or buy the Micarta handles, the knife comes with a plastic sheath with clip plate.
As you can see the size of the knife plus its cutting power makes it a very great small tool for your cutting tasks or even for self-defense, it can be easily carried, and can be even a great EDC knife, if you prefer having a small fixed blade for your daily tasks.
What are the Similarities ESEE CANDIRU VS IZULA?
Steel: they Both have the 1095 Steel that offers great edge retention, great wear resistance, and toughness, and comes with low corrosion resistance.
Design: they're both skeleton knives.
Handle: Esee Offers additional Mircata Handles for both knives.
ESEE CANDIRU VS IZULA – Some Key Differences
Blade Length: ESEE IZULA comes with a 2.875" blade length, meanwhile the CANDIRU has a 2" blade length.
Sheath: ESEE IZULA comes with a black Plastic with Clip Plate. on the other hand, CANDIRU comes with a Cordura Pouch Sheath.
Thickness: ESEE IZULA Has a 0.156" thickness which makes it beefier compared to the CANDIRU 0.125" thickness.
After reviewing both knives, I'm sure you did spot the key differences and why would you choose one and not the other, and yes it's the size, both knives are identical but the CANDIRU is smaller than the IZULA, and the best way to choose would be to try them both because let's be honest there not a "best" between these two, it's a question of knife experience and how you feel it in your hands, for example, I prefer the Izula, but still I can't say the CANDIRU is bad or the IZULA  is better since I have big hands and I m not a big fan 2" blades, but that my opinion, one thing is sure both knives are made from the 1095 steel that has low corrosion resistance, so if you get to have one of those don't forget to take good care of it by keeping dry and oiling it.