ESEE 5 VS 6 - full comparison of ESEE 5 VS.ESEE 6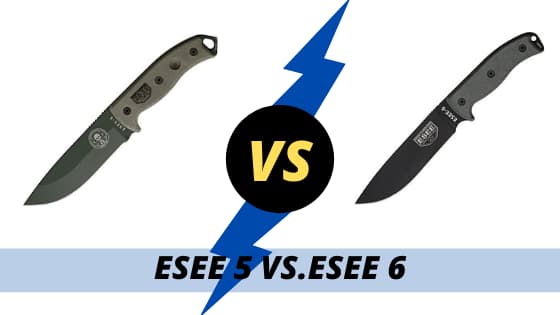 As I already mentioned in my previous articles, ESEE Knives are made in the USA BY Rowan Manufacturing they're built to take a beating and they work great for tactical survival and bushcraft applications, today we're going to take a look at two famous ESEE knives the ESEE 5 and the ESEE 6.
These are two known knives in the market, and one of the common questions about them is which one to pick in a battle of ESEE 5 VS 6, well today as an answer to this battle, we're going to review both knives, and show their similarities and differences, and of course, I'm going to help with your choice, now if you're still interested in knowing more about these knives, let's us dive in.
ESEE 5 VS 6 – A Head-to-Head Comparison
| SPECS | ESEE 6 | ESEE 5 |
| --- | --- | --- |
| Overall Length | 11.75"  | 11" |
| Blade Length | 6.5" | 5.25" |
| Blade Steel | | |
| Knife Weight | 12 Oz  | 16 Oz  |
| Blade Style | Drop Point  | Drop Point  |
| Price | | |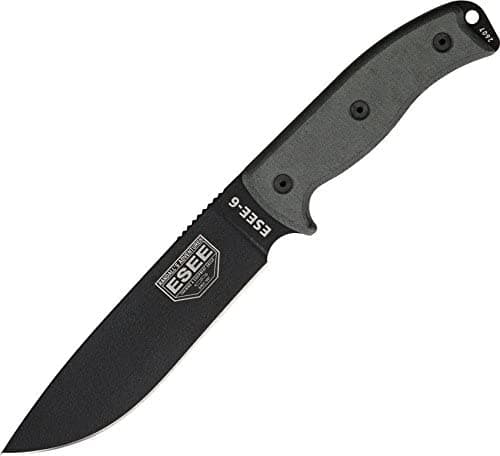 The ESEE 6 has been a longtime favorite for those who want a nonsense fixed blade that can take a ton of abuse when you really need it to, it has a 6.5" Drop point blade made from the 1095 Steel, It's high carbon steel that offers great edge retention, great wear-resistance but comes with lower corrosion resistance, the blade 0.1875" thickness and features a full flat grind which offers a good compromise between strength and slicing efficiency on a knife this size, it also has a powder coating on the blade which going to help it to resist corrosion, moving back to the handles, they are built on style construction and features a red liner with a nice linen Micarta material for the outside, it comes also with a protruding pummel at the end of the handle which makes it a survival knife, and finally it has a nice black plastic sheath.
This knife is surely a heavy-duty knife, but it's not really a chopper, the great thing about this knife, is how well it balances the large blade and the handle to create something that still pretty agile in the hand, and let's not forget the choil and thumb spine for better grip.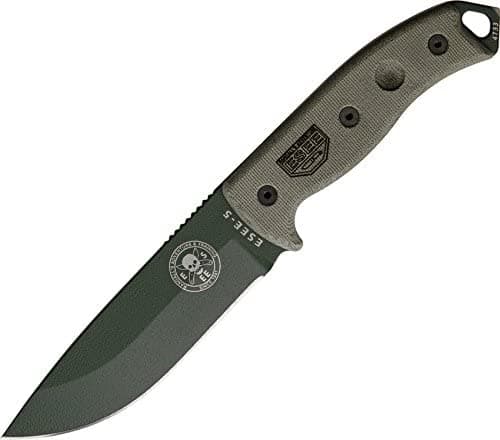 "This Review is already Used in my other ESEE 5 Review, If you already did read it you can skip it"
The ESEE 5 is the bruiser of the ESEE Line up, with its ¼" thickness, this knife is really built to take tons of abuse, if your day consists of batoning, chopping, or even hammering with your knife, the ESEE 5 is your knife, like most of the ESEE line up the ESEE 5 features a black coated 5.25" drop point blade, made from the 1095 Steel that offers great edge retention, great wear-resistance but low corrosion resistance, therefore you should always take care of it (with oiling and drying it after usage), another cool feature about the ESEE 5 is there is a bow-drill divot in its handle, speaking of the handle it has a beautiful strong micarta handle and comes with a Kydex sheath which has plenty of attachment holes for all types of carrying.
Now the knife in itself is a beast made for all those looking for a hard tool, for survival, camping or even hunting, I have no complaints about this knife, and I really recommend it.
What are the Similarities ESEE 5 VS.ESEE 6?
Steel: they Both have the 1095 Steel that offers great edge retention, great wear resistance, and toughness, and comes with low corrosion resistance.
Design: they offer the same or a close design that comes with finger choil and thumb spine.
Handle: Both Esee 5 and ESEE 6 offer a non-slippery handle made from Micarta
ESEE 5 VS.ESEE 6 – Some Key Differences
Blade Length: ESEE 5 comes with a 5.25" blade length, meanwhile the ESEE 6 has a 6.5" blade length (I know it's not a big difference, and Yes you can clas it as a similarity).
Sheath: ESEE 5 comes with a Kydex sheath with Clip Plate. on the other hand, ESEE 6 comes with a Black Plastic Sheath.
Thickness: ESEE 5 Has a 0.125" thickness which makes it less beefy compared to the ESEE 6 0.1875" thickness.
These blades might look similar, but they're far to be, after reviewing each knife, I'm going to give you my own opinion in an ESEE 5 VS ESEE 6 Battle, first there is no "best to choose", why? because it depends on the situation or usage you need your knife for, the ESEE 5  is a perfect choice if you need your knife for survival tasks, batoning, thanks to its saber grind blade, but if you need more of slicing the ESEEE 6  comes with a much thinner blade, which makes it the best pick for food preparing, camping, and everyday task, o at the end it's a choice do you need more toughness and hardness and less slicing, or more slicing with less hardness, but whatever is your choice don't forget they're both made from carbon steel with low corrosion resistance, so take good care of your knife to avoid corrosion, we reached the end of the article, I hope I did bring some help to your future purchase and be safe.