ESEE 5 VS BK2– A full comparison of BECKER BK2 VS ESEE 5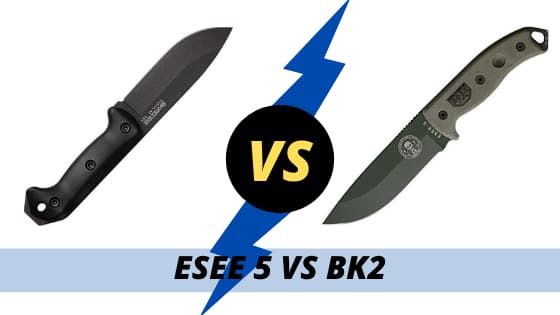 Today we're going to have a look at two famous AMERICAN MADE Knives, the ESEE 5 and the BK2, these two knives are very known to be hard outdoor knives ready to handle the beating, used in survival, camping, hunting, but the most common question is which one is better in an ESEE 5 VS BK2 or BK2 VS ESEE 5.
As an answer to this battle, I m going to bring all details about both knives, and sort their similarities and differences, and compare both of them, so if you're still interested in knowing more about the ESEE VS KABAR Battle, keep reading and let us dive in.
Kabar BK2 VS ESEE 5 – A Head-to-Head Comparison
| SPECS | BECKER BK2 | ESEE 5 |
| --- | --- | --- |
| Overall Length | 10 5/8"  | 11" |
| Blade Length | 5 ¼" | 5 ¼" |
| Blade Steel | | |
| Knife Weight | 16 Oz  | 16 Oz  |
| Blade Style | Drop Point  | Drop Point  |
| Edge Type | | |
| Locking Mechanism | | |
| Finish | | |
| Price | | |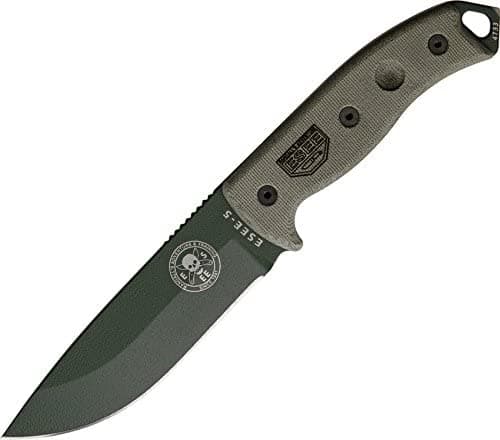 "This Review is already Used in my other ESEE 5 Review, If you already did read it you can skip it"
The ESEE 5 is the bruiser of the ESEE Line up, with its ¼" thickness, this knife is really built to take tons of abuse, if your day consists of batoning, chopping, or even hammering with your knife, the ESEE 5 is your knife, like most of the ESEE line up the ESEE 5 features a black coated 5.25" drop point blade, made from the 1095 Steel that offers great edge retention, great wear-resistance but low corrosion resistance, therefore you should always take care of it (with oiling and drying it after usage), another cool feature about the ESEE 5 is there is a bow-drill divot in its handle, speaking of the handle it has a beautiful strong micarta handle and comes with a Kydex sheath which has plenty of attachment holes for all types of carrying.
Now the knife in itself is a beast made for all those looking for a hard tool, for survival, camping or even hunting, I have no complaints about this knife, and I really recommend it.
KA-BAR BK2 Becker Campanion Review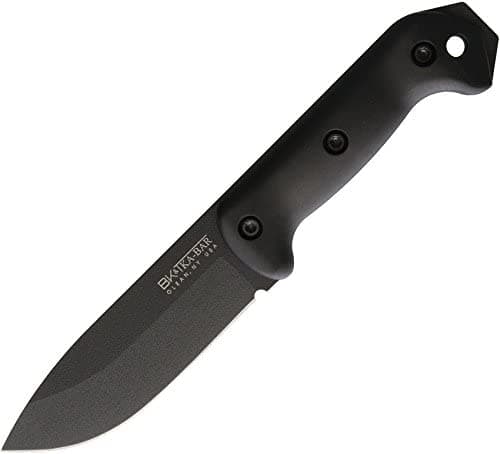 "This Review is already Used in my other KABAR BK2 Review, If you already did read it you can skip it"
As I already mentioned the Kabar Becker knives family is a great pick for your outdoor adventure, and the BK2 is not an exception, it has a 5 1/4" drop point blade made from 1095 Cro van Steel that offers great strength and toughness since it's carbon steel which makes it great for hard tasks that might damage' your knife, but in the other side it has a low corrosion resistance so you have to make sure to clean and dry your knife in a wet environment, it comes with a large and comfortable Zytel handle offers a bottom and top handle guards, it has no thumb spine, and it comes with Molded plastic Sheath made from black glass filled Nylon.
Okay now let's speak about the knife, the knife is an excellent choice for your hard, outdoor task, no complain the 109*5 steel will offer you the hardness and toughness you're looking for, it has great edge retention, great wear resistance, its easy to sharpen, the only bad side would be the corrosion resistance, this knife isn't the best in terms of corrosion resistance so make sure to oil it, dry it from time to time, and finally the sheath, I recommend to get a custom one or buy the bk22's SHEATH (that's the key difference).
What are the Similarities ESEE 5 VS BK2?
Steel: Even if the ESEE5 comes with the 1095 Steel and the BK2 comes with 1095 Cro van Steel they are practically the same steel that offers great edge retention, great wear resistance, and toughness, and comes with low corrosion resistance.
Thickness: Both knives have a ¼" thickness which makes them beefy and hard.
Blade Lenght: Both Esee 5 and BK2 offer a Close length of blade ( close to 11")
ESEE 4 VS ESEE 5 – Some Key Differences
Handle: One of the main difference is the handle, the ESEE 5 comes with the Micarta handle, and the BK 2 has the Zytel plastic handle, and yes the Micarta is better and offers better grip.
Price: ESEE 5 offers a more premium experience (thanks to the handle and the sheath) so it's more expensive compared to the BK2 which more accessible in terms of money.
Sheath: The BK2 Comes with a Black Glass Filled Nylon sheath, meanwhile the ESEE 5 has a Kydex sheath with Clip Plate.
Now after revewing both knives and going thro their differences and similarties, I m' sure you have a close Idea to the best knife for you, if not let me help you, in terms of blade or knife performance, both knives comes in the same level, the main difference between the knives would be the price and the quality of the handle and the sheath, so what I would recommend you, if you're low on budget you might start with the BK2 and add the upgrades afterword (by changing the sheath and the handle), in the other hand if you feel confortble with the price of the ESEE 5, a premium experience is always a good experience and the ESEE 5 is a knife that you would love to add to your collection of knives, and finally I should mention if you're planning to go one the BK2 then buy the upgrades after it will nd up more costy than the buying the ESEE 5 from the first place, that's being said now the best way to choose is to try by yourself, and of course don't forget to take care of the knife sice it's a 1095 steel low in corrosion (dry it, clean it and oil it).