ESEE 3 vs ESEE 4 – A full comparaison of Esee 3 vs 4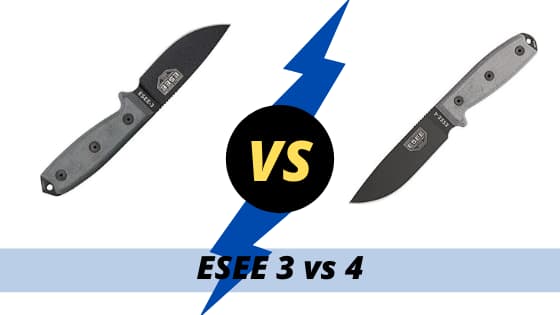 Esee knives are made in the USA by ROAN MANUFACTURING, they're built to take the beating and they're great for tactical, survival, and bushcraft applications, and today we're going to take a look at two of them, the ESEE 3 and ESEE4, and we will try to answer One f the common question in the knife community, the ESEE 3 VS ESEE 4 or ESEE 4 VS ESEE 3.
So if you're looking to know more about which one to pick between the Esee 3 vs 4, I did gather some good piece of information about the two knives in this article, if you're still interested let's dive in.
ESEE 3 vs ESEE 4 – A Head-to-Head Comparison
| SPECS | ESEE 3 | ESEE 4 |
| --- | --- | --- |
| Overall Length | 8.3125"  | 9" |
| Blade Length | 3.875" | 4.5"  |
| Blade Steel | | |
| Knife Weight | 5.2 Oz  | 8 Oz |
| Blade Style | Drop Point  | Drop Point |
| Price | | |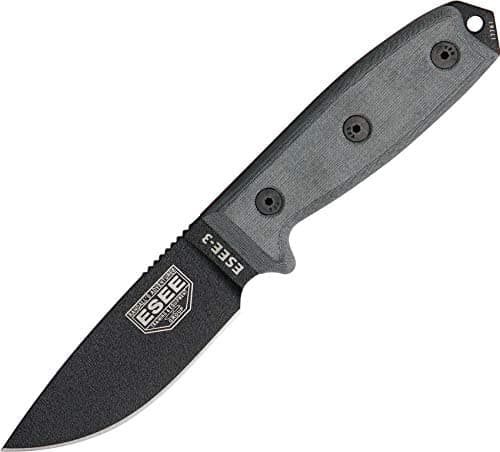 The ESEE 3 is an offshoot of Randall's adventure in training, and this knife design is really what kicked off their entire knife lineup, when Esee spun off into a standalone knife brand this was the knife that led the way, the Esee 3 features a 3.875" broad drop point blade made from 1095 Steel that offers great hardness and wear-resistance, great edge retention, and good corrosion resistance, it has plenty of a belly which kind of hallmark of Esee's designs, thanks to the special Rowan' heat-treat this knife is considered the best knife in the 1095 steel, and let's not forget about the Micarta handle that offers a non-slippery grip.
What I really like about the ESEE 3, is how thin it is, is it's very thin so it's ultra concealable, it works great for tactical situations where got concealment is the priority, as having a very well rounded blade shape, the full flat grind makes it an excellent slicer and there's a finger choil where you can choke up and get those little fin details to work done with the tip of the blade, the sheath in the ESEE 3 features very positive retention and it has plenty of holes for attachment hardware, making it very easy to carry inside the waistband, scout carry behind your back, any manner you wish.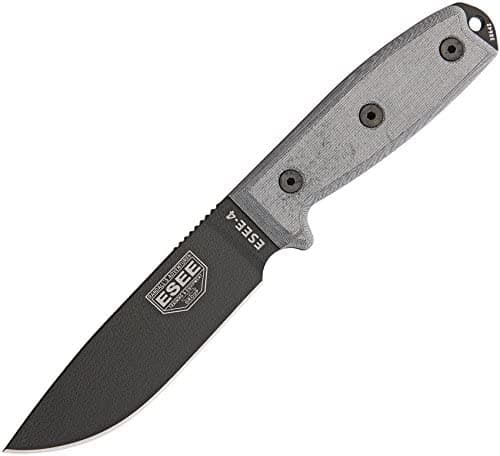 The ESEE 4 is maybe the best American-made survival knife that you can get your hands on, this knife is a sturdy companion whether you're bush crafting, doing survival or camping, any of that outdoor uses you might need it for, the ESEE 4 has a lot of variety with different colors and different handles, but today we're going the base model ESEE 4, it features a 4.5" drop point blade made from the 1095 Steel, it offers great edge retention, great wear-resistance, and medium corrosion resistance, it comes with a micarta handle that offers a great grip and resistance, and finally it has a Plastic sheath with mole back and clip plate.
Now I like this knife, because of its thickness it has a 5/32" of blade thickness and comes with a full flat grind, so it can combine the capacity of hard usage while still maintaining some slicing capability, it features a texture powder coating which is designed to protect the knife from rusting, in all you can use this knife in all your outdoor duties, from camping, hunting to bush crafting.
What are the Similarities ESEE 3 VS ESEE 4?
Steel: they Both have the 1095 Steel that offers great edge retention, great wear resistance, and toughness, and comes with low corrosion resistance.
Design: they offer the same ESEEE design that comes with finger choil.
Handle: Both Esee 4 and 3 offer a non-slippery handle made from Micarta
Sheath: Both knives come with plastic sheets with enough holes for all types of attachments.
ESEE 4 VS ESEE 3 – Some Key Differences
Blade Length: ESEE 4 comes with a 4.5" blade length, meanwhile the ESEE 3 has 3.875" blade length.
Thickness: ESEE 4 offers more thickness compared to the ESEE3 with 5/32" thickness compared to 0.125".
So by now when we can see the main difference between our knives, now the question is which one should I pick, well the answer depends on your usage if you're looking for more hardness and more thickness in your outside duties (chopping, cutting hard things) go for the ESEE 4, but if you need more finesse in your duties (skinning for example) the best would be the ESEE 3, and the best thing I would recommend you is to get both knives and try by yourself since everyone has his own knife experience, but one thing is sure you should take care of your knife it has a low corrosion resistance so don't go lazy on your knife.