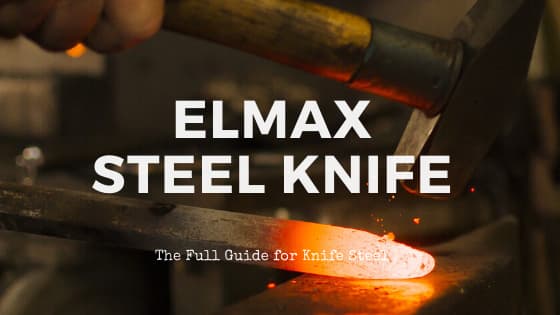 As a knife user, or a knife maker, you should know that there are three tiers of knife steels; low-end, mid-end and high-end steel knife, and you would be wondering, what makes a steel premium over another.
Fortunately, today we are going to discuss the Elmax Steel, which is considered as premium steel, and we are to answer all the questions you have about it; what's, is the Elmax steel, How good is it, it's chemical composition, its hardness, and other matters.
Elmax steel is a very popular high-end powder metallurgy stainless steel created by Bohler-Uddenholm. It's known for its high wear resistance, high compressive strength, corrosion resistance, and very good dimensional stability. It's considered to be "The best knife steel," we will see how and why in this blog post.
ELMAX Stainless Steel Chemical composition
As you can notice it has a high level of carbon (1.7%) which gives it great hardness and corrosion resistance, that's why is considered a high-steel knife (mid and low-end stainless steel knife don't reach 1% of carbon. Otherwise they will be considered carbon steels).
What's really special about the Elmax steel, it has a great fusion of high chromium, carbon, vanadium, and Molybdenum.
What is the hardness(HRC) of Elmax stainless steel
What are the Elmax Stainless steel properties
According to the chemical composition and the Rockwell hardness test of the Elmax Steel
Edge Retention: with a 62 HRC, the Elmax Steel will give your knife excellent Edge retention, I may say that it would be one of the best you can get.
Corrosion Resistance: 18% of Chromium for stainless steel, is a great proof for an excellent corrosion resistance
Wear Resistance: The Elmax has 1.8% of carbon in it, which gives it an excellent wear resistance.
Sharpness: Hard steel would always be hard o sharpen, surprisingly the Elmax is easy to sharpen, it has the perfect balance between hardness and wear resistance and str
Machinability: Elmax stainless steel is composed of Molybdenum which is great for machinability.
Toughness: It has excellent toughness thanks to its chromium, a great balance between toughness and hardness, that what makes Elmax steel one of the best steel, or you can call it the "SUPER STEEL".
Is Elmax steel Good for knives?
Being a high-end Stainless steel with great toughness, hardness, wear resistance, corrosion resistance and great edge retention, it's a perfect steel for you knife.
I basically keep my own opinion about the knife in the conclusion, but let's be honest, its one of the best steels you can have in a knife, the chemical composition is enough to prove how perfectly balanced the steel is, to give the best experience for the knife.
 So Yes it's a good steel for knives, especially outdoor knives, camping, hunting, it will work perfectly to give your knife what it needs to be in shape in your outside activities.
Best Elmax Knives - My Choice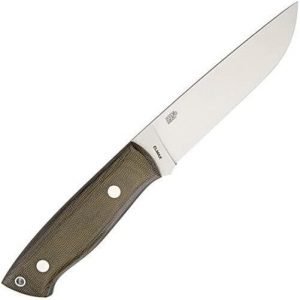 So Imagine having the ELMAX in a knife, Enzo already made it for us, A high-end knife with the powerful Elmax (Spoil alert: it's a bit expensive),  the Enzo Trapper 115 is a fixed knife with a 115mm drop point blade, a green Micarta handle, it has a Satin finish, and it comes with a first-class leather sheath made of thick Spanish leather, owning this types of knife would make your activities like buschcrafting or hunting greater, it always feels good to have a high-quality knife to play with!
Elmax Stainless Steel Equivalent
Elmax Steel is a premium steel that has a close to perfect combination when Used in knives, there for the Equivalent of it would be only the M390 by the german BOHLER-UDDENHOLM, It offers the same characteristics and its premium steel knife, the slight difference is in the sharpness, the balance of Elmax steel gives a great hardness and easy sharpness for the steel, which not the case for the M390.
In this section, we're going to compare our steel with other steels, and for this, I use four criteria; Edge Retention, Corrosion resistance, Ease of Sharpness, and Toughness, and I use a scale or note from 1 to 10.
| | ELMAX | M390 |
| --- | --- | --- |
| EDGE RETENTION | 8/10 | 8/10 |
| EASE OF SHARPNESS | 5/10 | 5/10 |
| CORROSION RESISTANCE | 8/10 | 8/10 |
| TOUGHNESS | 6/10 | 6/10 |
Both Elmax and M390 are close in terms of edge retention, corrosion resistance and toughness, and they're both not easy to sharpen.
| | ELMAX | 3V |
| --- | --- | --- |
| EDGE RETENTION | 8/10 | 6/10 |
| EASE OF SHARPNESS | 5/10 | 5/10 |
| CORROSION RESISTANCE | 8/10 | 4/10 |
| TOUGHNESS | 6/10 | 10/10 |
If you're looking for toughness 3V steel is your choice, but let me warn you it has a price, you get lower corrosion resistance.
| | ELMAX | S35VN |
| --- | --- | --- |
| EDGE RETENTION | 8/10 | 6/10 |
| EASE OF SHARPNESS | 5/10 | 6/10 |
| CORROSION RESISTANCE | 8/10 | 7/10 |
| TOUGHNESS | 6/10 | 6/10 |
Elmax and S35VN are both very close steel that offers premium and balanced quality.
| | ELMAX | S30V |
| --- | --- | --- |
| EDGE RETENTION | 8/10 | 5/10 |
| EASE OF SHARPNESS | 5/10 | 5/10 |
| CORROSION RESISTANCE | 8/10 | 7/10 |
| TOUGHNESS | 6/10 | 6/10 |
Elmax and S30V are close regarding ease of sharpness, corrosion resistance, and toughness, but for the edge retention, Elmax offers a superior one.
| | ELMAX | S90V |
| --- | --- | --- |
| EDGE RETENTION | 8/10 | 8/10 |
| EASE OF SHARPNESS | 5/10 | 3/10 |
| CORROSION RESISTANCE | 8/10 | 6/10 |
| TOUGHNESS | 6/10 | 3/10 |
Elmax offers better toughness, and it's a bit easier to sharpen compared to the S90V.
If you rade this whole post until here, you should be considering the Elmax steel knife right now (that's how I felt concluding my researches about it), it has all the quality you'll be searching for in a steel knife, I can't recommend it enough, it earned the title of "Super Steel".
 But let me remind you, it's a premium steel, so the range of the prices will be between 100 USD to 200 USD or more, but honestly it's worth the price, it's always great to own a high-quality knife for a high-quality experience.