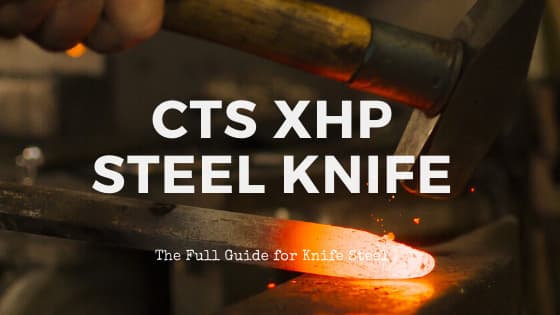 I m sure you heard of the Super Cts Xhp or Cts-Xhp Steel, everyone is recommending it in forums and Youtube videos, well, It got my intention, and I wondered what CTS XHP is?
So as an answer to this question, I decided to write down a whole blog post, going thro all details about the CTS XHP and answering a common question ( What is it? What is its chemical composition? What is its hardness? How hard is it? Is it good or no? and other questions), if you're reading this, it means you're interested too, So let's dive in!
CTS™ XHP is a powder metallurgy stainless steel high in Carbon and Chromium. It's used for the knife industry, surgery tools, high-end Cutlery, it's known to be the High Hardness 440C or the high Corrosion Resistance D2 tool steel.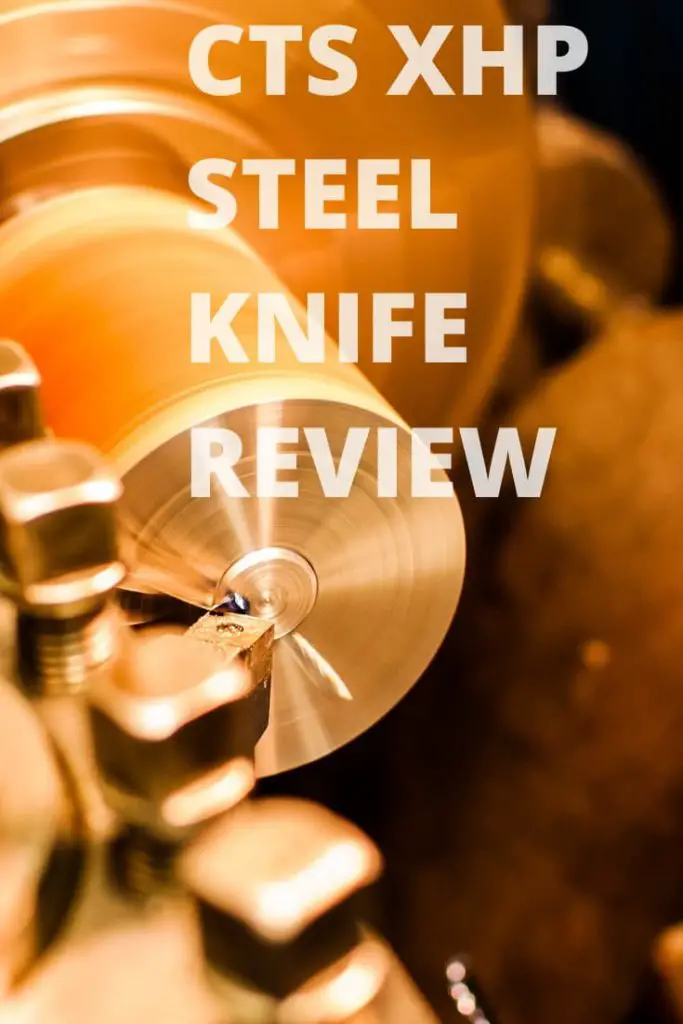 CTS XHP Chemical Composition
As you can notice, the CTS XHP has a high Carbon ( more than 1%) in addition to 16% Chromium, which makes it high-end stainless steel.
CTS XHP Hardness or Rockwell Hardness
According to @Carpenter, the Maximum Hardness of the CTX XHP is 63HRC.
If you wish to learn more about the terms "Rockwell Hardness" or "HRC", read this blog post first.
According to the chemical composition and the HRC of the steel, the CTS XHP Steel has the following features:
Edge Retention: with a maximum HRC of 63 and the high presence of Carbon and Chromium, the steel offers a great hardness and, of course, a great Edge Retention.
Corrosion Resistance: One of the best Corrosion Resistance of the Stainless steel, the CTS XHP offers an exceptional Corrosion Resistance, which makes it great for a wet environment.
Wear Resistance: A great Wear resistance with the Addition of the Vanadium and Niobium to the alloy, CTS XHP guarantees the wear resistance.
Sharpness: Being A hard steel, always makes it hard to sharpen, which is the case for the CTS XHP, it' a hard to sharpen steel due to its hardness.
Welding: Due to the high Carbon and Chromium in this Steel, it has a poor Weldability.
Toughness: CTS XHP offers a great toughness, but not the best, which is understandable. It has a high hardness and corrosion resistance, which leads to a lower toughness, you can't have the three.
Is CTS XHP Good for knives?
I think the answer of this question is Obvious, Yes it is, it offers high Hardness, Wear resistance, great Corrosion resistance, and decent toughness, even if it's hard to sharpen, but the Edge retention is very good, so once the knife is sharpened it's a going to hold for a long time, in same time the CTS XHP steel is a high-end stainless steel, which going to make a high-end or close to premium knife, that would be perfect for outdoor activities especially in wet environment, in other words, it will be a great pick for hunters, Fishermans, and also for kitchen use.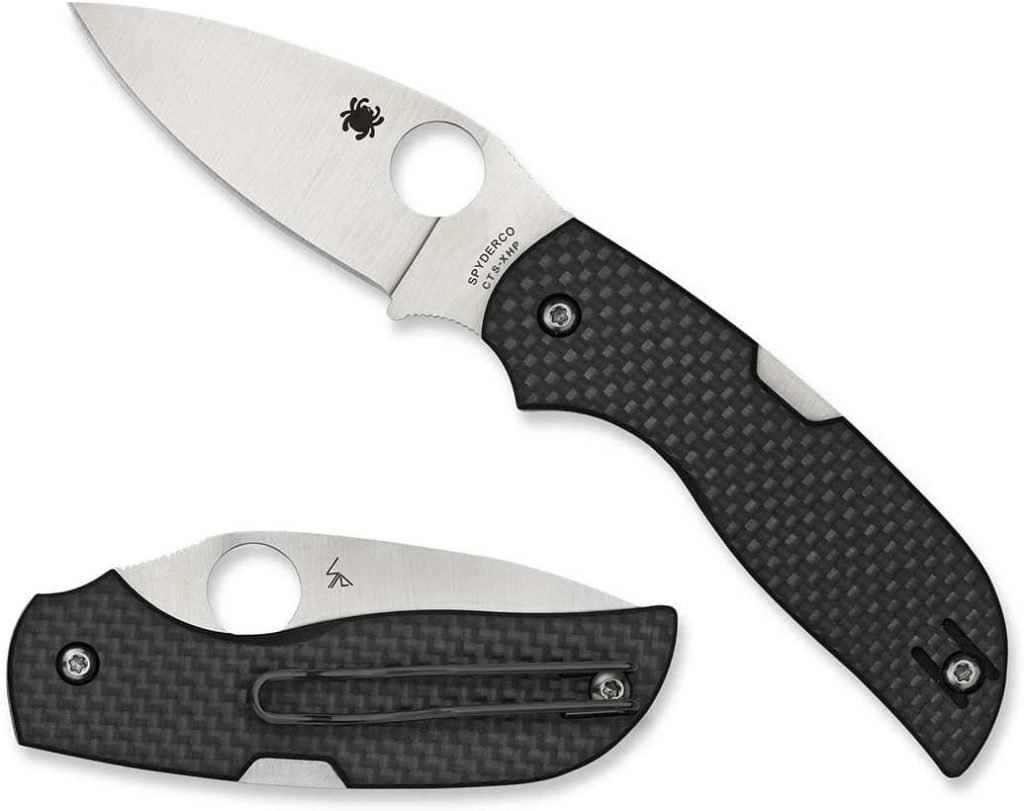 A beautiful gem, lightweight, powerful, beautiful design, a Must-have, the Chaparral by Spyderco is a high-end knife that you will definitely enjoy, it has a 3.6" drop point plain edge blade, made from the CTS XHP that offers great hardness, high corrosion resistance and it will hold an edge forever, the knife comes with a light, and strong carbon fibre handle, a mid-positioned back lock, attached to the ultra-slim handle, a left-right, tip-up clip arranges the knife deeply inside a pocket.
So if you're interested in owning a gentlemen knife with a CTS XHP Steel, the Chaparral is your, it's lightweight, rock-solid, easy to handle and ergonomic, I don't think you'll find a better choice.
CTS XHP equivalent or Alternative
The closest high-end stainless steel to our CTS XHP, would be the CPM S35VN, they are both great for edge retention, corrosion resistance and wear resistance, and they are both hard to sharpen with a decent Toughness, and they re bit close in the chemical composition, therefore the CPM S35VN is slightly better than the CTS XHP.
In this section, we're going to compare our steel with other steels, and for this, I use four criteria; Edge Retention, Corrosion resistance, Ease of Sharpness, and Toughness, and I use a scale or note from 1 to 10.
| | CTS XHP | S30V |
| --- | --- | --- |
| EDGE RETENTION | 7/10 | 5/10 |
| EASE OF SHARPNESS | 4/10 | 5/10 |
| CORROSION RESISTANCE | 5/10 | 7/10 |
| TOUGHNESS | 5/10 | 6/10 |
S30V offers better corrosion resistance, better toughness and lower edge retention compared to CTS XHP.
| | CTS XHP | S35VN |
| --- | --- | --- |
| EDGE RETENTION | 7/10 | 6/10 |
| EASE OF SHARPNESS | 4/10 | 6/10 |
| CORROSION RESISTANCE | 5/10 | 7/10 |
| TOUGHNESS | 5/10 | 6/10 |
S35VN offers better edge corrosion resistance, better toughness, and close edge retention compared to CTS XHP.
If you rade this blog post with the intention buy or acquire a CTS XHP Steel knife, I would like to recommend it for you, you won't regret it, it's a great thing to own a high-end stainless steel, you will experience a high-quality knife, that holds the edge and rust-free, of course, it won't be cheap but in the end, I think it's worth the price. As always, if you have another opinion about the CTS XHP please share it on the comments below, I'll gladly discuss knives with you.