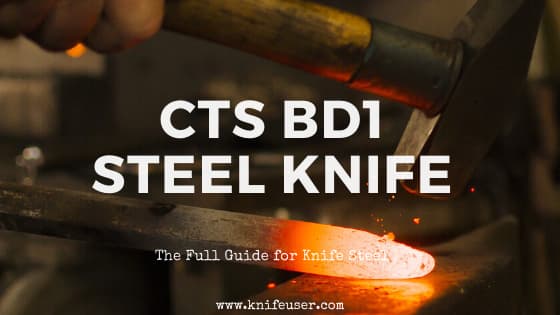 When we're making or buying a knife, we intend to look for the best Steel for our Knife usage and our budget. Lately, I was in the same situation, where I had to choose steel for my knife, a friend of mine recommended the CTS BD1 steel, so before taken action, I decided to make CTS BD1 Steel Review.
So if you're interested in CTS BD1 Steel, keep reading this blog post, I did some hours of researches and gathered informations about it, and answered some common questions (like What is it? What is its chemical composition? What is its hardness? How hard is it? Is it good or no ? and other questions) So let's dive in.
CTS BD1 is low-end (Entry Budget) vacuum-melted stainless steel from @Carpenter. It's used in the knife industry(Since It has a balanced composition that offers great edge retention and a great finished look), cutlery, ball bearings, and small machinery parts subjected to high wear conditions.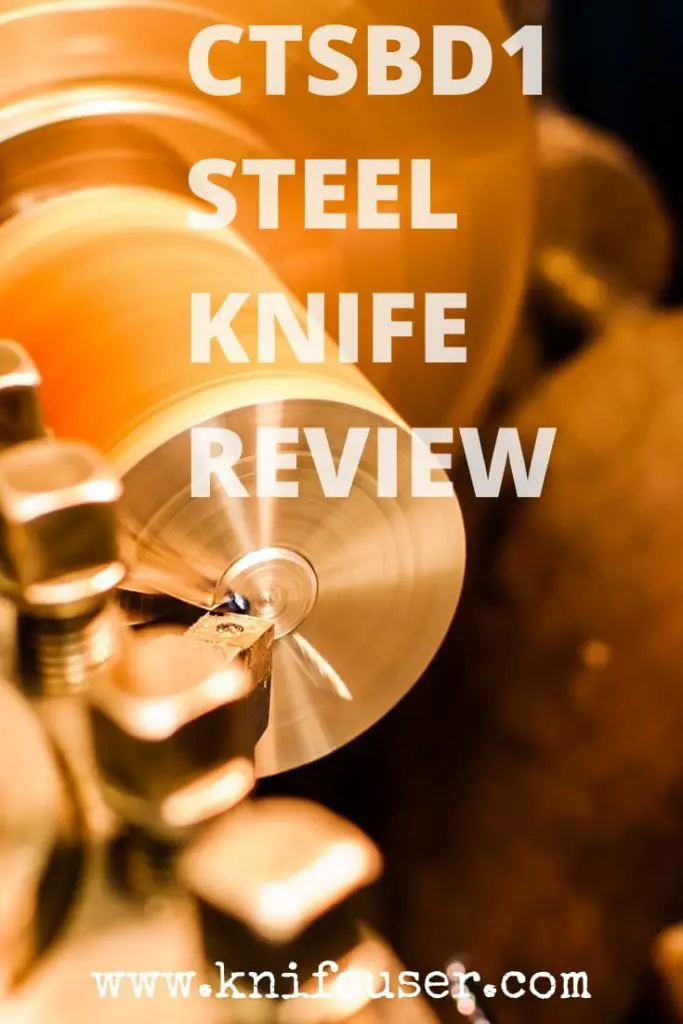 CTS bd1 steel composition
The chemical composition of the CTS BD1 is a mixture of high Chromium and close to high Carbon (0.9%), which offers wear resistance and corrosion resistance to the steel.
CTS BD1 hardness (Rockwell Hardness)
According to @Carpenter, the maximum Hardness of CTS BD1 is 58-60HRC.
If you find trouble understanding terms like "HRC" or "Rockwell hardness", read this following article its has some great pieces of information.       
According to the chemical composition and the HRC of the steel, the CTS BD1 Steel has the following features:
CTS BD1 Edge Retention: CTS BD1 Offers great Edge retention compared to low-end steels, with a maximum of 60Hrc, you can expect a good hardness from this steel.
CTS BD1 Corrosion Resistance: CTS BD1 is stainless steel with more than 15% of Chromium, which makes corrosion resistance but not corrosion-proof.
CTS BD1 Wear Resistance: CTS BD1 is generally known of it Wear resistance, the combination of Chromium and Carbon and other metals makes it very wear-resistant.
CTS BD1 Sharpness: Even being hard steel, the CTS BD1 is easy to sharpen, and It takes a sharp form smoothly.
CTS BD1 Toughness: It has a decent toughness, it can handle some hard usage, but it's preferred to use it and low/normal use.
Being budget steel that offers good corrosion resistance and wear resistance, I find that the CTS BD1 can reach the properties of the mid-range steels like the VG10, they both have good edge retention (CTS is easier to sharpen than the VG-10) and decent toughness, and they fall in the same price range, the only difference would be the commercial orientation of the VG 10 (commonly used in kitchen knives).
Is CTS BD1 steel good for Knives?
In general, Yes it's good for knives, but let's go through details; it offers great corrosion resistance, great wear resistance, decent toughness, holds an edge for a good time and easy to sharpen, in top of this it's budget steel (affordable), so I believe it will be a great choice for EDC knives.
Spyderco Manix 2 Lightweight Signature
The Manix 2 is a stunning knife. It has a 3.37" CTS BD1 edge plain Blade, that's a very sharp and high corrosion resistance blade that will hold an edge for long, it has excellent ergonomics, it comes with a comfortable design that has an Index finger choil and a thumb ramp and a Fiberglass Reinforced Co-Polymer handle, that makes him very strong yet lightweight, that's a lot of good stuff in one knife, right? Well, there is more, a very strong system it uses the famous Spyderco ball bearing lock, and finally a clip pocket that makes it a great EDC Knife, all of this comes for a reasonable price. This is an EDC Knife that'll definitely recommend!.
In this section, we're going to compare our steel with other steels, and for this, I use four criteria; Edge Retention, Corrosion resistance, Ease of Sharpness, and Toughness, and I use a scale or note from 1 to 10.
| | CTS BD1 | S30V |
| --- | --- | --- |
| EDGE RETENTION | 7/10 | 5/10 |
| EASE OF SHARPNESS | 4/10 | 5/10 |
| CORROSION RESISTANCE | 5/10 | 7/10 |
| TOUGHNESS | 5/10 | 6/10 |
S30V has lower edge retention, better toughness and higher corrosion resistance compared to the CTS BD1 steel.
| | CTS BD1 | VG 10 |
| --- | --- | --- |
| EDGE RETENTION | 7/10 | 5/10 |
| EASE OF SHARPNESS | 4/10 | 6/10 |
| CORROSION RESISTANCE | 5/10 | 7/10 |
| TOUGHNESS | 5/10 | 4/10 |
VG10 has lower edge retention, slightly lower toughness and higher corrosion resistance compared to the CTS BD1 steel.
I can't stress enough how important to choose the right steel for the right usage, many low-budget plates of steel sound like they're "low quality" steels, which is not the case, they offer great properties that can suit your usage, for example, the CTS BD1 would do a great work if you're looking for an EDC knife and you activities don't require too much toughness, all you need to is to take a good care of it (oiling it and cleaning it after usage), and you'll have CTS BD1 knife that will last for years.
We hit the end of this post, if you feel like sharing your opinion about it the CTS BD1, feel free to leave a comment below.