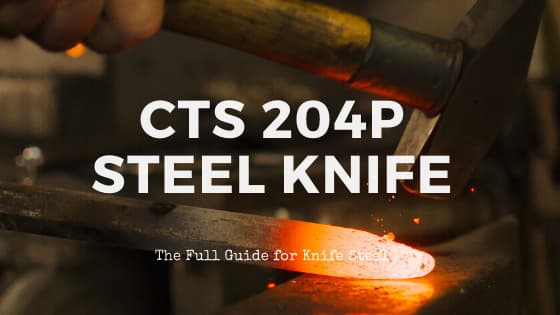 If you ever search for premium knives, there is a big chance you heard about the CTS 204P steel knife, many knife makers use it today(Spyderco, Benchmade…), the steel is known to be one of the best knife steels in the market, which dragged my intention. Therefore I decided to make a CTS 204P steel review.
So if you're interested to know more about it, you're in the right place, I did a bunch of research about it, and answered some questions (like What is it? What is its chemical composition? What is its hardness? How hard is it? Is it good or no ? and other questions) so let's dive in!.
Made by @Carpenter, the CTS 204P is a highly wear and corrosion-resistant stainless steel produced using Carpenter's Powder Metallurgy process, high in vanadium, chromium, and carbon, used for high performance industrial and custom knives, food processing equipment.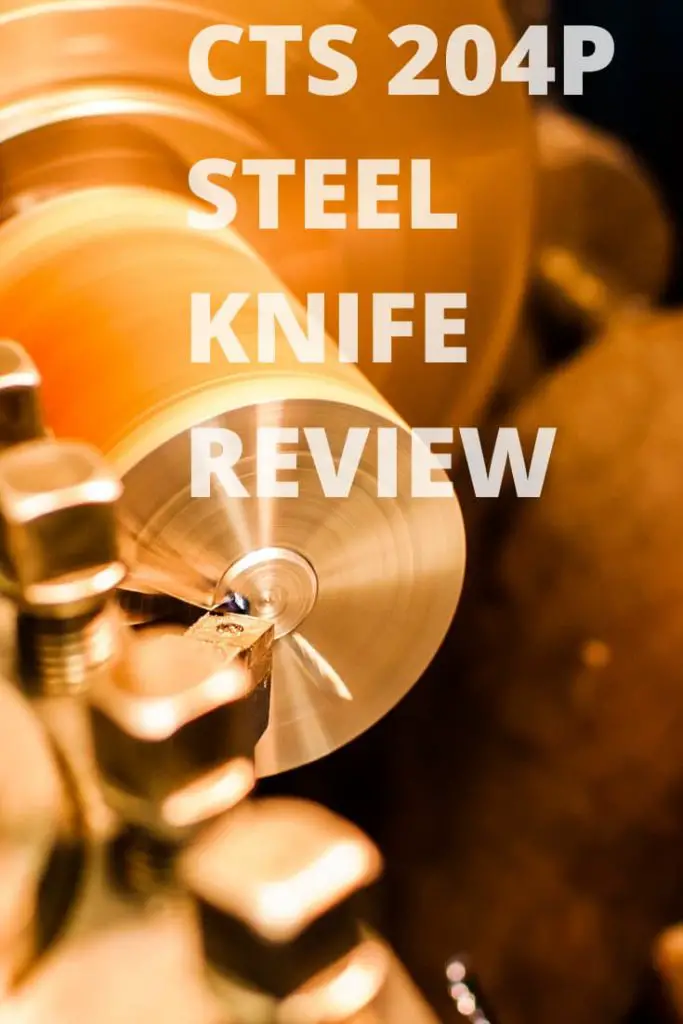 CTS 204p steel composition
As you can see, the chemical composition of our Steel is a mixture of high Chromium, Carbon, and Vanadium for higher corrosion resistance and wear resistance.
Yes, CTS 204P is stainless steel has 20% of Chromium in it, steel is considered stainless if it has 10-12% or more of Chromium.
Cts-204p steel properties
According to the chemical composition and the HRC of the steel, the CTS                204P Steel has the following features:
Cts-204p Edge Retention: CTS 204P is high in Vanadium and Carbon, which offers great hardness and edge retention.
Cts-204p Corrosion Resistance: CTS 204P Have an Excellent Corrosion resistance due to the high volume of chromium (20%).
Cts-204p Wear Resistance: Excellent wear resistance (due to the high Vanadium and Chromium)
Cts-204p Sharpness: The rule says the harder the steel, the harder to sharpen it. Therefore Sharpening the CTS 204P would be a hard task.
Cts-204p Toughness: CTS 204P has good toughness, even being a hard knife it's not brittle, it has a great balance of hardness, corrosion resistance, and toughness.
Cts-204p steel equivalent
CTS 204P is a premium stainless steel that offers high performance, and the closest equivalents I can think of would be the two following steels; M390 from @Bohler and the CPM 20CV from @Crucible, they are premium steels with close chemical composition and both contribute in making high-end knives (with a little differences in edge retention, hardness, and toughness).
Is Cts-204p steel good for Knives?
If you're wondering if CTS 204P it's good or bad for your knife, I'm here to tell you, it's not good, it's Excellent! It offers great corrosion resistance, great wear resistance, high edge retention, and good toughness so that it will be great for all outside activities( hunting, hiking, fishing, and diving), and a great EDC knife for all different tasks.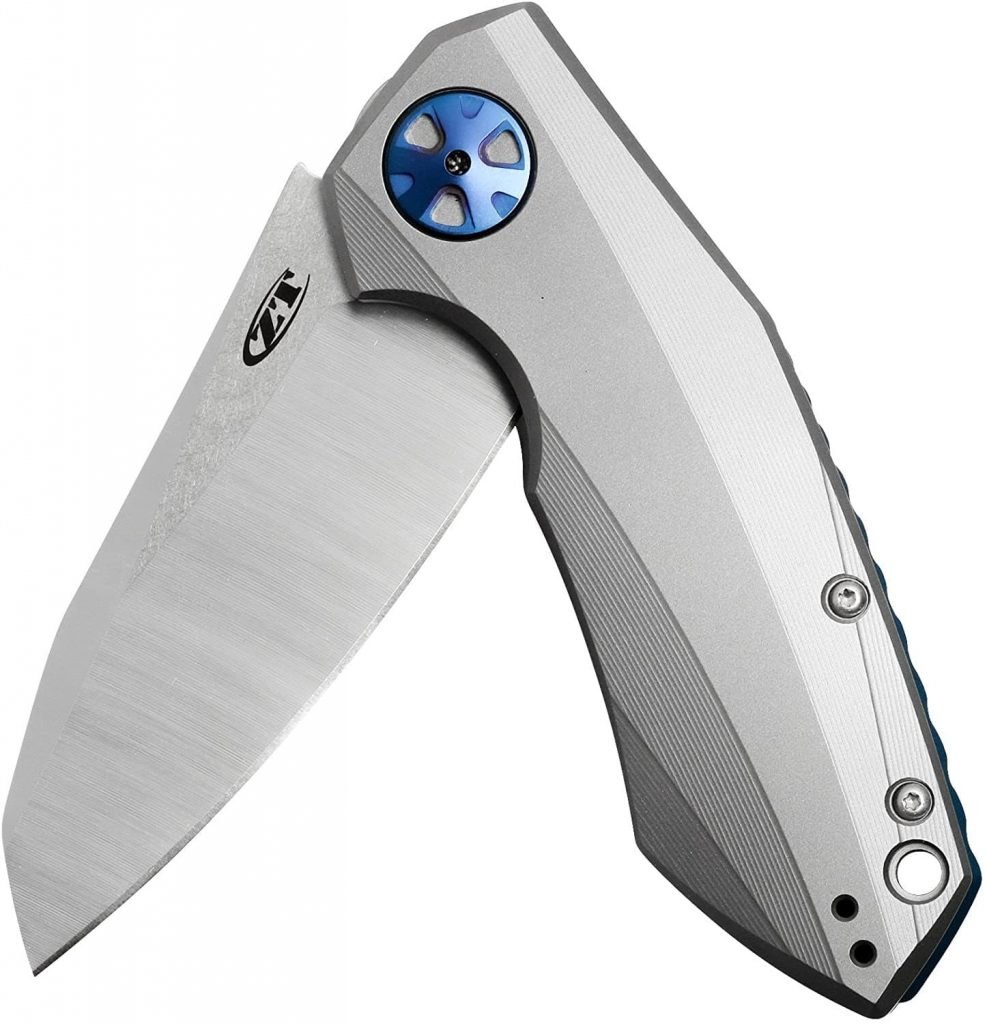 This is a damn good looking knife! This is a beautiful knife. First, the action is just incredible, and it's flipped so smooth, and so fast, once your press the flipper mechanism your knife is pop out so fast and smooth, with a solid fame lock up, now let's go to the design, it's just beautiful! It's made by the custom knifemaker Dmitry Sinkevich (Just check his Instagram account, and you 'll be pleased to see his designs), now let's go to super steel the CTS-204P, it offers hardness, toughness, corrosions resistance and wear resistance, a lot of good things right? There're more! The assembly and the disassembly are super easy and finally the ergonomics, they're good not the best, but it's damn good, it always feels good to have a beautiful knife, so if you're interested in the CTS204P Steel knives, the ZT 0456 is your choice.
In this section, we're going to compare our steel with other steels, and for this, I use four criteria; Edge Retention, Corrosion resistance, Ease of Sharpness, and Toughness, and I use a scale or note from 1 to 10.
| | CTS 204P | M390 |
| --- | --- | --- |
| EDGE RETENTION | 8/10 | 8/10 |
| EASE OF SHARPNESS | 5/10 | 5/10 |
| CORROSION RESISTANCE | 8/10 | 8/10 |
| TOUGHNESS | 6/10 | 6/10 |
M390 offers the same performance as the  CTS 204P in terms of edge retention, toughness, and corrosion resistance.
| | CTS 204P | S35VN |
| --- | --- | --- |
| EDGE RETENTION | 8/10 | 6/10 |
| EASE OF SHARPNESS | 5/10 | 6/10 |
| CORROSION RESISTANCE | 8/10 | 7/10 |
| TOUGHNESS | 6/10 | 6/10 |
S35VN offers slightly lower edge retention, lower corrosion resistance and comes with the same toughness compared to the CTS 204P.
| | CTS 204P | CPM 20CV |
| --- | --- | --- |
| EDGE RETENTION | 8/10 | 8/10 |
| EASE OF SHARPNESS | 5/10 | 5/10 |
| CORROSION RESISTANCE | 8/10 | 8/10 |
| TOUGHNESS | 6/10 | 6/10 |
CPM-20CV offers same performance compared to the CTS 204P.
| | CTS 204P | ELMAX |
| --- | --- | --- |
| EDGE RETENTION | 8/10 | 7/10 |
| EASE OF SHARPNESS | 5/10 | 5/10 |
| CORROSION RESISTANCE | 8/10 | 7/10 |
| TOUGHNESS | 6/10 | 7/10 |
ELMAX comes with slightly lower Edge Retention, lower corrosion toughness, and a bit high in toughness compared to the CTS 204P.
Every knife maker or knife user has to go through the process of choosing a steel for his knife, and we always look for the best "Steel" for our knife, and we end up looking at premium steel like the CTS 204P that comes with a high price (Which is understandable), but the real question is it worth to have a Premium Knife steel? Well, I have two answers; the First answer: Yes, it offers a quality knife experience you wnt regret. The Second answer is No, why? You don't need a premium knife to get the job done.
As always, if you have another opinion about the CTS 204P leave a comment below, I'll gladly discuss knives with you.