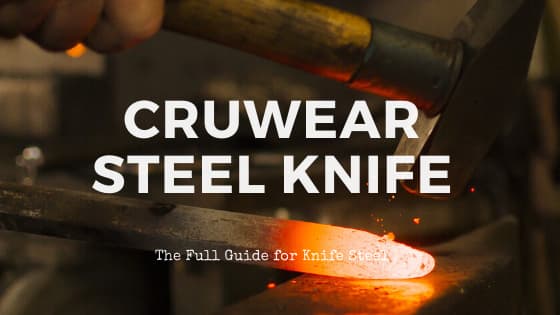 Many knife users find Cruwear or Cru-wear Steel a SUPER STEEL; it's famous for its balance between hardness, toughness, wear resistance and corrosion resistance, which grabbed my intention. Therefore I decide to make a Cruwear Steel Review.
So if you're reading this blog post now, it means you wish to know more about the Cruwear STEEL, luckily I did a bunch of research about it, and I answered some common questions (like What is it? What is its chemical composition? What is its hardness? How hard is it? Is it good or no ? and other questions), So let's dive in!
Cruwear steel is an Air-Hardening tool steel that offers a balance between toughness, hardness and wear resistance its made by Crucible, it's used for knives, blades and a wide variety of demanding tooling applications.
As you can notice Cruwear Composition is a Mixture high in Carbon, Chromium, Molybdenum, tungsten, And Vanadium, which offers the steel great hardness/wear resistance and great toughness.
Cruwear hardness (Rockwell Hardness)
The Rockwell hardness of the Cruwear is a Maximum of 64HRC.
If you find trouble understanding the terms "HRC" or "Rockwell hardness", read this post, it has some useful pieces of information.
According to the chemical composition and the HRC of the steel, the Cruwear Steel has the following features:
Cruwear Edge Retention: with a maximum HRC of 64, and the chemical composition the steel offers great edge retention.
Cruwear Corrosion Resistance: It offers decent corrosion resistance, being a "Semi" Stainless Steel with 7.5% of chromium.
Cruwear Wear Resistance: the mixture of carbon, chromium, magnesium, and tungsten in the Cruwear steel bring a great wear resistance to the table.
Cruwear Sharpness: "The harder the knife, the harder to sharpen it", magically this rule doesn't apply on our Cruwear, it's easy to sharpen compared to other steel with the same/close hardness.
Cruwear Toughness: The composition of the Cruwear gives it a great toughness on the cost of corrosion resistance.
Cruwear can be compared to many steels, to sum it up. It's tougher than the stainless steels like S30V, M390. It's more wear-resistant than the tough steels like  5160, A2. It's between D2 and S30V in wear resistance. It has low corrosion resistant than the stainless steels but more corrosion resistant than the 1% carbon steels like 1095.
Is Cruwear Steel Good for Knives?
The answer is Yes. It's perfectly balanced steel for knife usage. It has high wear resistance, high hardness, high toughness and decent corrosion resistance that can handle rust. It's a great choice for EDC Knives, especially if you have a limited budget and you're looking for "one for all knife steel", but of course it's not the best, since the best knife depends on your usage, if you're a looking for hardness and toughness, Cruwear is your steel.
Cruwear Steel is known as a SUPER STEEL, and I share the same opinion, it has very well balanced properties (hardness, edge retention, wear resistance, toughness, corrosion resistance), but let me remind you it's a high-end steel, so Cruwear knives are a bit expensive (Which is understandable), so if you intend to buy or to own one, again I highly recommend it. Therefore if you have another opinion about the Cruwear feel free to share it in the comments below, I'll gladly discuss knives with you.