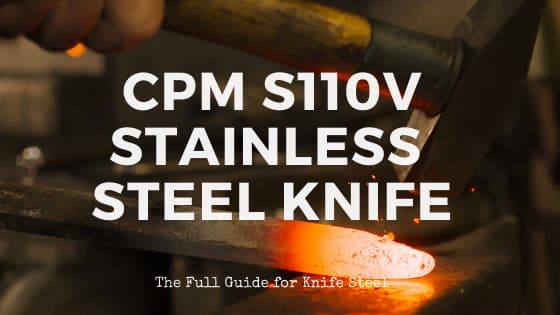 If you're a knife nerd like me, I m sure you already heard of the Spyderco Military knife made using the CPM S110V steel, this product isn't popular in the market since the steel itself is only available on special request. Therefore I did some researches about the S110V.
So if you're reading this it means you would like to know more about the S110V, luckily I gathered many pieces of information and answered some common questions in this blog post (like What is it? What is its chemical composition? What is its hardness? How hard is it? Is it good… and many others).
It's a premium alloy martensitic stainless steel tool steel Produced by @CRUCIBLE; It's high in Vanadium and Niobium, it's used in industrial knives, slitters, circular cutters, screw elements and wear components for food.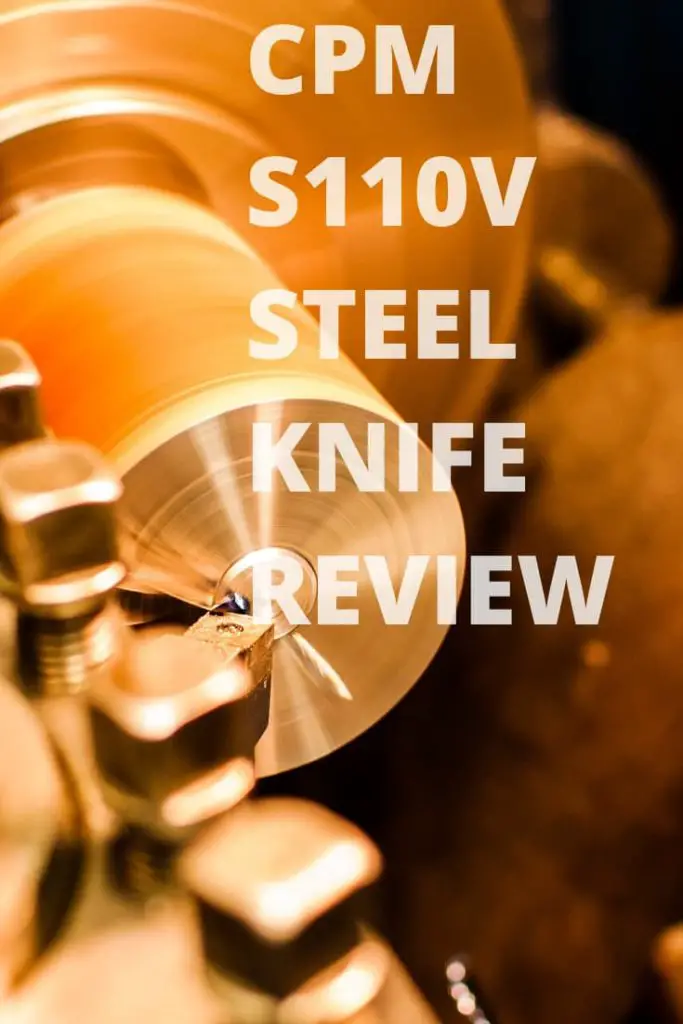 CPM S110V Steel Chemical composition
The CPM S110V is a combination of high Vanadium, Molybdenum, and Carbon, which is very rare in steel.
Is CPM S110V steel stainless?
Yes, the CPM S110V is stainless steel, it has more than 12% of Chromium in it; therefore, it's a stainless tool steel.
What is the hardness of CPM S110V steel?
The maximum hardness of the CPM S110v is 63.5 HRC, according to @CRUCIBLE datasheet.
If you wish to understand more about the Rockwell hardness of the steel, read this post right here!
What are the CPM S110V steel properties
According to its chemical composition and Hardness, the CPM S110V offers the following properties:
Edge Retention: An excellent edge retention due to its high hardness, it may be one of the best edge retentions in the market, being high in Vanadium the S110V has a high level of hardness and edge retention that will last for long.
Corrosion Resistance: The CPM S110V is stainless steel with over 15% of chromium, which gives great corrosion resistance so that it would be great for tools used in wet environments.
Wear Resistance: CPM S110V Offers an extremely high wear resistance thanks to its chemical composition (it has Niobium, Vanadium, and Chromium, the three of them offer the steel corrosion resistance).
Sharpness: "The harder the steel, the harder to sharpen it"; that's the case for our CPM S110V; it's one of the hardest steel, so sharpen it will be a hard task and unpleasant one.
Machinability: CPM S110V Is tough steel, so it' will be hard for both machinability and grinding.
Toughness: very hard steel with high corrosion resistance, would result in a low toughness, you only get two of the three, our CPM S110V have the hardness and corrosion resistance, which means it has a decent toughness.
Is CPM S110V steel good for knives?
The S110 is a Steel that offers excellent edge retention, excellent wear resistance, high hardness, great corrosion resistance, and a decent toughness, would be perfect for knives, especially it offers premium characteristics to the knife, despite its low toughness, a CPM S110V Knife will hold an edge for so long and will be perfect for humid usage (fishing, hunting, skinning, and diving…), but if you intend to use it for EDC as a camper or hiker, where you might use your knife in "hard, damaging" way, the CPM S110V won't suit you, it may break while using especially in the top of the edge.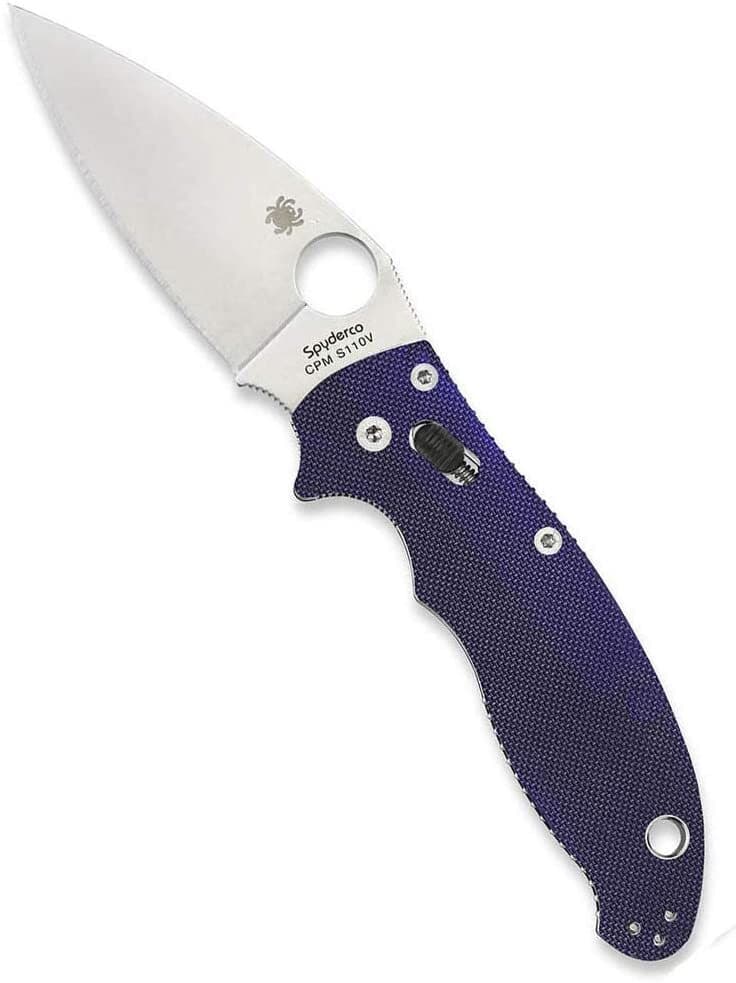 This a great knife in all parts! An absolute gem! First, let's talk about the design, it has the best ergonomics, it grabs great in hand with a forefinger choil and a thumb ramp with jimping on it, the handle is a G-10 (the best quality texture for a handle), it has a reversible spring steel clip for pocket carry and for the lock system it uses the Spyderco's patented Ball Bearing Lock mechanism (you think this is great ? wait until you see the blade), now let's talk blade, it's an S110V Blade, that's a high-quality blade that will offer you a great performance!.
So who really need this knife? Everyone! If you're in need of a high performance and comfort cutting knife, this yours, it well an edge forever and will cull cut all day long.
CPM S110V Steel Equivalent
The closest characteristics of our Steel are in the CPM S90V, which have great edge retention, corrosion resistance, and better toughness, despite the CPM S90V  having better toughness, they re still both close, some folks might bring the CPM M4 steel as an equivalent, I doubt that! The M4 is better in toughness and low in corrosion resistance, but we can say that our steel comes up between the S90V and the M4.
In this section, we're going to compare our steel with other steels, and for this, I use four criteria; Edge Retention, Corrosion resistance, Ease of Sharpness, and Toughness, and I use a scale or note from 1 to 10.
| | S110V | S30V |
| --- | --- | --- |
| EDGE RETENTION | 5/10 | 5/10 |
| EASE OF SHARPNESS | 8/10 | 5/10 |
| CORROSION RESISTANCE | 7/10 | 7/10 |
| TOUGHNESS | 2/10 | 6/10 |
S30V offers lower edge retention and better toughness compared to the CPM S110V.
| | S110V | S35VN |
| --- | --- | --- |
| EDGE RETENTION | 5/10 | 6/10 |
| EASE OF SHARPNESS | 8/10 | 6/10 |
| CORROSION RESISTANCE | 7/10 | 7/10 |
| TOUGHNESS | 2/10 | 6/10 |
S35VN offers more balanced performance with the lower edge retention and high toughness compared to the S110V.
| | S10V | M390 |
| --- | --- | --- |
| EDGE RETENTION | 5/10 | 8/10 |
| EASE OF SHARPNESS | 8/10 | 5/10 |
| CORROSION RESISTANCE | 7/10 | 8/10 |
| TOUGHNESS | 2/10 | 6/10 |
M390 and S110V are quite similar in performance, but the M390 offers better toughness than S110V.
| | S110V | MAXAMET |
| --- | --- | --- |
| EDGE RETENTION | 5/10 | 10/10 |
| EASE OF SHARPNESS | 8/10 | 2/10 |
| CORROSION RESISTANCE | 7/10 | 3/10 |
| TOUGHNESS | 2/10 | 3/10 |
MAXAMET and S110V both share a low toughness,  Maxamet offers better edge retention while the S110V offers better Corrosion resistance.
Premium knives are known for being made with high-end premium steels, like our CPM S110V, it offers excellent edge retention that can last for long, perfect wear resistance, and great corrosion resistance, it's close to perfect, but it has it's a downside which is toughness, so as knife user I would like to own one of these knives, therefore if you intend to buy one, don't hesitate because it will give a one-off lifetime experience.