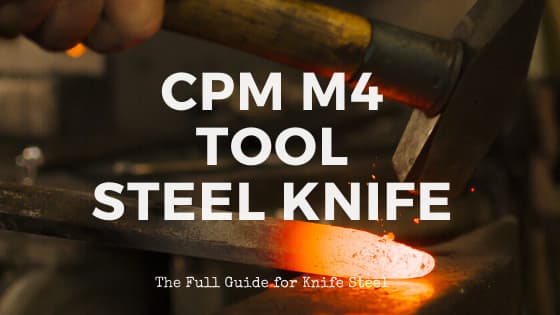 Hey guys! We are talking about steel today! Not any steel the premium ones, I m sure you already heard about the famous CPM M4 Steel, well I wanted to know more about it, and I did some research.
So if you're reading this, this means you want to know more about the CPM M4 Steel, well luckily I did put all my hours of research in this blog post, and I tried to answer some questions (What is it? What is its chemical composition? What is its hardness? How hard is it? Is it good and many others), enjoy the read.
It's a high-end or Premium tool steel high in Molybdenum and Vanadium, which give the steel a great combination of toughness and wear resistance, It's very popular steel in the knife industry, it's commonly used in custom knives.
CPM M4 Tool Steel Chemical composition
As you can see, the combination of the CPM M4 Steel includes Chromium, Molybdenum, and Vanadium, which gives it a mix of toughness, wear-resistance, and corrosion resistance.
Is CPM M4 steel stainless?
The answer is No, it's not stainless steel, to be considered stainless steel the CPM M4 must have a minimum of 12% of chromium in it. Therefore it's a tool steel. It can be considered carbon steel since it has high carbon (more than 1% of carbon in the chemical composition).
What is the hardness of CPM M4 Tool steel?
According to Crucible, the hardness of the CPM M4 steel is 65.5 HRC, Check the data sheet for more info.
If you find trouble understanding the terms "Rockwell hardness" Or "HRC", Read this blog post. It has all the details you need to know.
What are the CPM M4 tool steel properties
According to It chemical composition and hardness, the CPM M4 offers the following properties:
Edge Retention: with a hardness of 65HRC, the CPM M4 offers an exceptionally Edge retention, one of the best in tool steels even in carbon steels.
Corrosion Resistance: The CPM M4 corrosion resistance isn't the best as the edge retention; with 4% of chromium, it offers decent corrosion resistance.
Wear Resistance: being high in Vanadium and Molybdenum, the CPM M4 has excellent wear resistance.
Sharpness: The harder the steel, the harder to sharpen it, this rule applies to all steels, if steel offers an excellent wear resistance then it will be hard to sharpen.
Machinability: With the increased Sulfur (0.06%) it offers good machinability, with no effects on the toughness.
Toughness: This is why the CPM M4 is considered high-end steel, it offers a great toughness while being hard steel, the rule is simple: the harder the steel, the lower it's toughness, but it's not the case for the CPM M4, it's combination has higher hardness and toughness in exchange of corrosion resistance.
Is CPM M4 steel good for knives?
Of course, it is, If you're looking for a balance between hardness, toughness, wear resistance and corrosion resistance, the CPM M4 steel would be a great choice for your knife, the rule of all steels is the "Hardness, Toughness, Corrosion Resistance, You only get two of the three," well magically the CPM M4 offers the three in a balanced way, Even if the corrosion resistance isn't excellent as the hardness/toughness, but still it's good enough compared to other steels.
Benchmade 560-1BK-"Super Freek"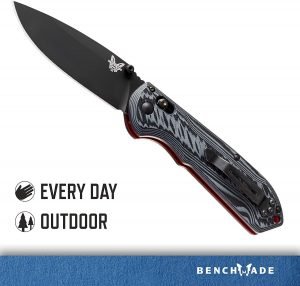 The 2019 Super Freek takes the CPM M4 steel to another level. I loved the new modification brought on the old Super Free, especially the design, okay let's talk knife! It has 3.6″ drop point blade, a great grip on the handle with a blade guard in the top, and of course, the handle is a G-10. The mixture of a CPM M4 with a G10 only means one thing: High-Quality Knife!, let's jump to the locking mechanism, an AXIS Locking mechanism; the blade will open and close as smooth as possible, and finally a reversible pocket clip, in all it's a great EDC knife, Benchmade did a great job in this one.
Spyderco Advocate Folding Knife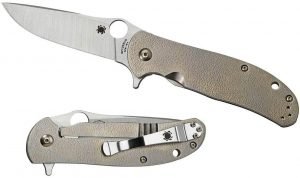 Another great knife from Spyderco, it has a 3.5″ plain edge drop point blade, with a full flat grind and of course built with the CPM M4, which makes it a very tough knife with a great hardness, so it can hold an edge for long, but it's not easy to sharpen (which is not a big deal honestly), on top of this the knife has a titanium handle.
 Okay now lets talk design and opening system, first off this was designed by Gayle Bradley (if you don't know him, he designed many of awesome Spyderco knives), okay let's go back to our Advocate. The knife is exceptionally thin, is surprisingly ergonomic, it's well-positioned in hand, the lock-up is rock solid, and the opener flipping system is very smooth, in all it's a great knife for EDC, it can be used for outdoor activities, but I wouldn't recommend it in a wet environment.
In this section, we're going to compare our steel with other steels, and for this, I use four criteria; Edge Retention, Corrosion resistance, Ease of Sharpness, and Toughness, and I use a scale or note from 1 to 10.
| | M4 | M390 |
| --- | --- | --- |
| EDGE RETENTION | 8/10 | 8/10 |
| EASE OF SHARPNESS | 3/10 | 5/10 |
| CORROSION RESISTANCE | 3/10 | 8/10 |
| TOUGHNESS | 6/10 | 6/10 |
M390 and M4 have both same edge retention and toughness, the difference is M390 is better in corrosion resistance and a bit easy to sharpen compared to the M4.
| | M4 | S30V |
| --- | --- | --- |
| EDGE RETENTION | 8/10 | 5/10 |
| EASE OF SHARPNESS | 3/10 | 5/10 |
| CORROSION RESISTANCE | 3/10 | 7/10 |
| TOUGHNESS | 6/10 | 6/10 |
S30V offers better corrosion resistance and lower edge retention compared to the M4.
| | M4 | 3V |
| --- | --- | --- |
| EDGE RETENTION | 8/10 | 6/10 |
| EASE OF SHARPNESS | 3/10 | 5/10 |
| CORROSION RESISTANCE | 3/10 | 4/10 |
| TOUGHNESS | 6/10 | 10/10 |
3V offers better corrosion resistance and lower edge retention compared to the M4.
The CPM M4 offers great qualities for a knife, in exception of corrosion resistance, it has great edge retention, hardness, and wear resistance. 
Therefore it's a premium steel knife, but it's not the best for corrosion resistance, so I highly recommend you to take care of your CPM M4, if you intend to own one, don't get fooled by the "Premium" steel, and forget to take care of it, and If you're working in humid or wet environment, I won't recommend the CPM M4, yes it's a good steel, but they're better steels for your usage, the M390 for example, It has great edge retention and corrosion resistance and exception hardness, just what you need if you're a hunter or fisherman, or you can use the H1 steel or LC200N they're both great for corrosion resistance (if your concern is corrosion resistance).