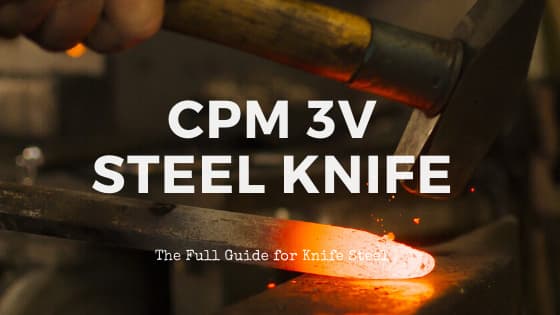 The most questionable question every knife user or knife maker can have," What is the best steel for knives," and many types of steel come out as an answer, on of these types is the CPM 3V or the 3V Steel, You name it.
So while doing my research for the best steel for knives, I bumped into the CPM-3V steel and gathered all the possible info about it, so if you're here trying to know more about it, I have some good news for you, I made a lot of research and grouped all what I found in this one blog post, have a nice read.
CPM 3V or 3v Steel is a high toughness wear-resistant tool steel, and it was built to offer maximum resistance from breakage, it's used for stamping tools, blanking tools, knives, slitters, and scrap choppers.
CPM 3V Steel Chemical composition
As you can see, it has 7.5% of chromium and 0.8% of carbon with 2.75% vanadium, which makes it a tough tool with great corrosion resistance.
Is CPM 3v a stainless steel?
The answer to this question is, No, it's not, it has only 7.5% of chromium in it. To be considered stainless steel, it must have a minimum of 12% of chromium, even tho it's not stainless, the 3v steel has great corrosion resistance.
What is the hardness of CPM 3V steel?
What are the CPM 3V steel properties
According to its chemical composition and Hardness, the CPM 3V Steel offers the following properties:
Edge Retention: With 58-60HRC steel, the CPM 3V Steel is a hard steel that gives great edge retention.
Corrosion Resistance: Even if it's not stainless steel, the CPM 3V Steel has more than 7% of chromium, which makes it great for corrosion resistance.
Wear Resistance: 3v Steel offers a great wear resistance due to the high amount of carbon and vanadium.
Sharpness:  the rule of sharpness is simple, the harder the steel the harder to sharpen, in our case the CPM 3V is a hard steel with a great edge retention, the sharpening experience wont be easy.
Machinability: the CPM 3V Steel is very machinable and easy to grind.
Toughness: an excellent toughness, the 3V steel has a great break resistance, it may be one of the toughest steels.
Is CPM 3V steel Good for knives?
We already talked about the properties of the 3V steel, being said it has a great edge retention, wear resistance, toughness and corrosion resistance, so the answer is Yes, it' good for knives, if you wish to have a very tough knife, with a good edge retention, CPM 3V would be your steel to go.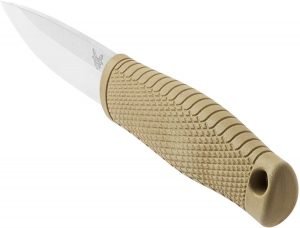 The Benchmade 200 Puukko is a knife with a Scandinavian touch, it comes with 3.75" drop point plain edge blade, it has a beautiful satin finish, and a rubberized Santoprene handle, the knife is made from the CPM-3V, which makes very tough and high corrosion-resistant, a perfect choice for outdoor usage (hunting or camping for example), it comes with it personal sheath.
Why is the 200 puukko the best knife in CPM-3V (in my opinion), simply they made the best of it, and not just the steel, the design is stunning! The sheath and the handle are very practical and easy to grab. I highly recommend this knife to anyone wishing to purchase a CPM-3V Knife.
Being Tool steel high in Carbon and Vanadium, the only close alloy I can think of would be the D2 Steel, they're both great in wear resistance and very tough tool steels, although the D2 steel has much higher corrosion resistance (Some consider the D2 stainless steel).
Is 3v the best knife steel?
I always get this question, and the answer is simple: No, because there is no "Best knife steel", it's a good steel yes, but it depends on your usage too, so If you're looking for the best steel for your knife, you need to define your usage first, for example, if you're looking for steel with high corrosion resistance because you're a fisherman the CPM 3v steel is good for you, but no the best If you're looking for toughness and great damage resistance CPM 3V steel would fit perfectly, moral of the story: the "Best steel knife" is related to what you're looking to do with the knife.
In this section, we're going to compare our steel with other steels, and for this, I use four criteria; Edge Retention, Corrosion resistance, Ease of Sharpness, and Toughness, and I use a scale or note from 1 to 10.
| | 3V | ELMAX |
| --- | --- | --- |
| EDGE RETENTION | 6/10 | 7/10 |
| EASE OF SHARPNESS | 5/10 | 5/10 |
| CORROSION RESISTANCE | 4/10 | 7/10 |
| TOUGHNESS | 10/10 | 7/10 |
ELMAX offers a combination of good edge retention and good corrosion resistance in the other hand the 3V offers a combination of toughness and edge retention, so it depends on what you're looking for toughness, or corrosion resistance.
CPM 3V VS S30V (CPM S30V)
| | 3V | S30V |
| --- | --- | --- |
| EDGE RETENTION | 6/10 | 5/10 |
| EASE OF SHARPNESS | 5/10 | 5/10 |
| CORROSION RESISTANCE | 4/10 | 7/10 |
| TOUGHNESS | 10/10 | 6/10 |
CPM 3V offers better edge retention and better toughness but comes with a lower corrosion resistance compared to the S30V.
I want to remind that this blog post is made based on hours of research and my personal opinion, for me the CPM 3V steel is great, but it's not the best, (there are more fishes in the sea) that can perform better based on the usage, so If you feel that I missed something about this tool steel, please leave it in the comment, I'll gladly discuss anything about knives.