Buck Knives 119 vs Buck Knives 120 - Buck 120 VS 119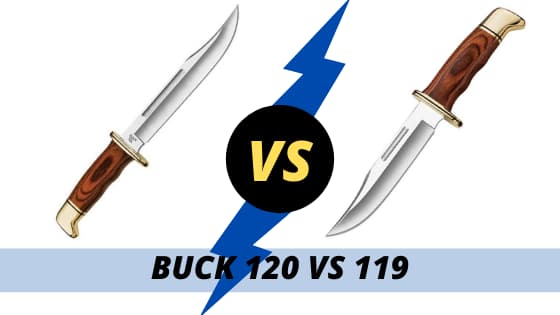 Buck knives are one of those classic American knife companies and they trace their legacy back to 1902, they're still producing a lot of great designs today, and we're going to take a look at a very known buck knife in camping, and outdoor activities, of course, I'm speaking about the BUCK 120 and the BUCK 119.
Today we're going to make a comparison between the two knives aka; "Buck 120 VS 119" and try to show their similarities and differences. So if by any chance you're interested in knowing more about the 119 VS 120 buck knives, you're in the right place, so let us dive in.
BUCK 120 VS 119 – A Head-to-Head Comparison
| SPECS | BUCK 119 | BUCK 120 |
| --- | --- | --- |
| Overall Length | 10 1/2"  | 12" |
| Blade Length | 6"  | 7 3/8" |
| Blade Steel | | |
| Knife Weight | 10.5 Oz  | 10.9 Oz |
| Blade Style | Clip Point  | Clip Point  |
| Price | | |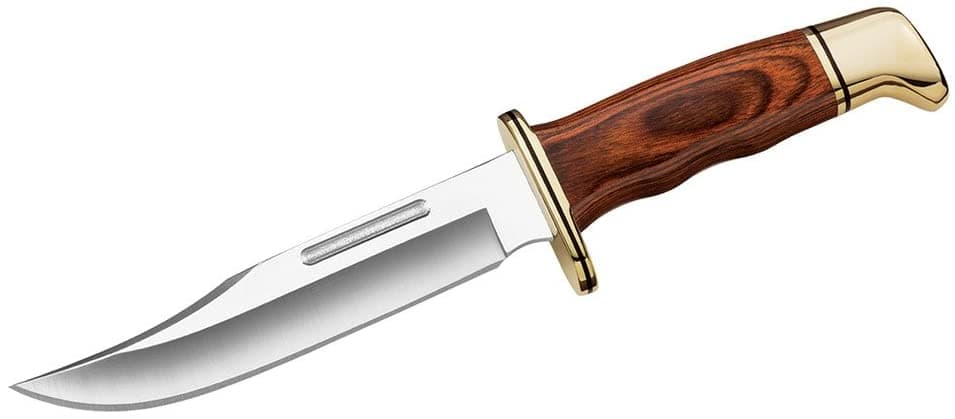 This knife used to be made by hand in the old days of Buck, and you can still get this knife Made in America Today, it has a 6" blade made from the 420HC, offers good edge retention, great corrosion resistance and good toughness, the 119 comes with famous Cocobola Dymondwood handle with bottom and top guard, and finally, it comes with a beautiful genuine leather sheat.
Now let's speak about the knife, this blade offers the perfect size for hunting and camping (that's why is always called 119 Hunting knife), it's a great pick if you're a camper, a hunter, or even as a combat knife, the knife offers a great corrosion resistance so it can be used in a wet environment without being all rusty (but still don't be lazy and take care of your knife), yet it's not the best in terms of edge retention and hardness but it does the work, and I just love the looks of a traditional Buck knife, and genuinely speaking I think it's the best American fixed blade in terms of the Price.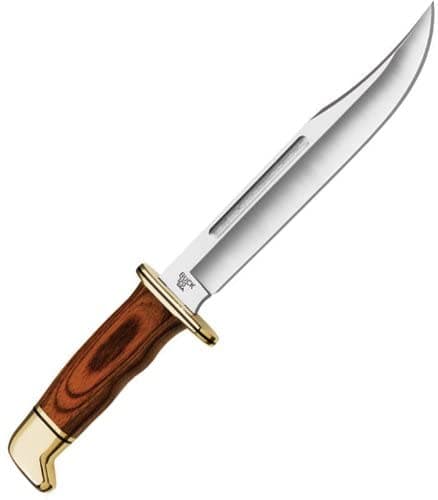 Okay, before I start describing the 120 Buck, You should know that it's just 119 big Brother, is has a clip point 7 3/8" blade made from the 420HC, offers good edge retention, great corrosion resistance, and good toughness, (Just like the Buck 119), again it comes with the famous Cocobola Dymondwood handle with bottom and top guard from BUCK, and it has the same genuine leather sheat used for the 119 Buck knife.
The BUCK 120 will get the same credit I gave to the 119 Buck, it's a great American knife built for hunters, campers, and outside users, it can be used in the wet environment thanks to the stainless steel (High in Chromium), it has the beautiful design of the buck knives (If you care about the looks, you won't be deceived).
What are the Similarities Buck Knife 120 and Buck Knife 119?
Steel: they Both have the 420HC that offers Good edge retention, good wear resistance, and toughness, and comes with great corrosion resistance.
Sheath: They both come with a nice genuine leather sheat.
Handle: They both have the famous Cocobola Dymondwood
Blade Style: They both have a clip point Blade.
Price: They have the Same price (3-5 dollars in difference sometimes)
Buck 120 VS 119 – Some Key Differences
Blade Lenght: BUCK 120 has a 7 3/8" blade in the other hand the Buck 119 has a 6" Blade.
Weight: BUCK 120 weight is 10.9 Oz, meanwhile Buck 119's weight is 10.5 Oz (A small difference that might be considered as a similarity).
In the end, both these knives are capable of fixed blades that can be a great tool while camping, hunting or other outdoor activities, but the question would: which one should I choose, well the answer depends on your preference, if you're looking for more length then the BUCK 120 is your choice if you want less length and a little bit of plus in terms of control of the knife the Buck 119 is it.
They both can cut, skin while being corrosion resistant, but don't expect to do some hard tasks whit it (some hammering for example) these are not high carbon knives, and finally keep your knife clean and oiled even if it's stainless steel (don't be lazy towards your knife).