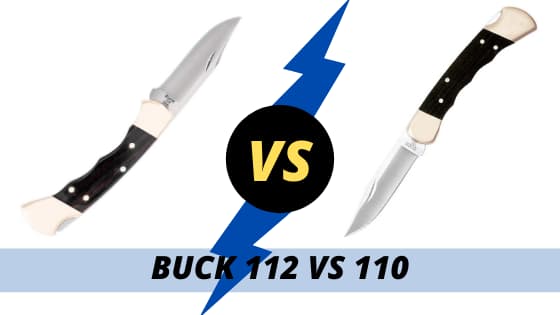 As I already mentioned in other articles about Buck knives, they're are one of those classic American knife companies and they trace their legacy back to 1902, they're still producing a lot of great designs today.
Today we're going to take a look at very known buck knives in camping, hunting, and outdoor activities, it's so known that the folding knives in the '90s used to be called a "BUCK" even if it's not, of course, I'm speaking about the BUCK 110 and the BUCK 112.
And one of the famous comparisons is the buck knife 110 vs 112, or 112 vs 110, which were going to treat in this article today, so if you wish to know more about it, you're in the right place, so let us dive in.
Ps: I'm going to compare the buck knives with Finger Grooves (110 and 112).
BUCK 112 VS 110 – A Head-to-Head Comparison
| SPECS | BUCK 112 | BUCK 110 |
| --- | --- | --- |
| Overall Length | 8 9/16"  | 7.25" |
| Blade Length | 3 3/4"  | 3" |
| Blade Steel | | |
| Knife Weight | 7.2 Oz  | 5.9 Oz |
| Blade Style | Clip Point  | Clip Point  |
| Price | | |
This is just another American Icon in the field of knives, it was launched in 1964, and it quickly became one of the best sellers till today, the knife comes with a 3 ¾" clip point blade made from the 420HC steel, it offers good edge retention, great corrosion resistance, and good wear resistance, it has a natural and beautiful finger grooved ebony wood handle, a locking system in the back, and comes with a Black leather sheath that can be carried on your belt.
This knife is a great pick for camping, outside duties, and hunting, and I'm sure if you're a hunter either you woned one or at least heard of it, the corrosion resistance on the blade makes it great for the wet environment, and the grip is just fine, even being an old knife the buck 110 still has his place as a beautiful capable folding knife
"Before I review the 112 Buck Knife I'm warning you of a "déja Vu", because both 110 and 112 are very close knives"
The 112 Buck was born after a modification in the Army that forced the soldiers to hold a folder knife with a specific blade length, which wasn't in terms of the Buck 110's blade length, so as an adaptation from BUCK the Buck knife 112 was born.
The 112 comes with a 3" clip point blade made from the 420HC steel, offers good edge retention, good wear resistance, and great corrosion resistance, it comes with a beautiful finger grooved ebony wood handle, a locking system in the back, and of course the black leather sheath that for your belt.
The 112 knife will get the same credit as the 110 knife, since they're the same, the 112 has good edge retention and works well in a wet environment, a great pick for hunters, campers, and outdoor adventurers.
What are the Similarities Buck Knife 112 and Buck Knife 110?
Steel: they Both have the 420HC that offers Good edge retention, good wear resistance, and toughness, and comes with great corrosion resistance.
Sheath: They both come with a nice black leather sheat.
Handle: They both have the famous naturel ebony wood
Blade Style: They both have a clip point Blade.
Price: They have the Same price (3-5 dollars in difference sometimes)
Buck 112 VS 110 – Some Key Differences
Blade Lenght: BUCK 112 has a 3" blade on the other hand the Buck 110has a 3 3/4" Blade.
Weight: BUCK 112 weight is 5.9 Oz, meanwhile Buck 119's weight is 7.2 Oz.
As you noticed, both knives are very similar the key difference is the blade length, so if you're willing to choose one of these it depends on of three things, your usage (are you looking for a long length or a short one, for example, if you need it for some precision work like skinning the 112 is a better choice), the second criteria is the law enforcement in your state, you should always make sure that the blade length is in good terms with the law, and finally, the hands if your hands are big (like mine) the perfect choice would be the 110 buck knife, it has a bit larger handle, and finally the best thing a could advise you is to use the two of theme and try for yourself because genuinely speaking there is no "Best buck knife" it depends on you, but one thing is sure, you should always take good care of your knife (oil it and dry it after usage) so it can last years and years.