ESEE JUNGLAS VS BECKER BK9 - Bk9 vs Junglas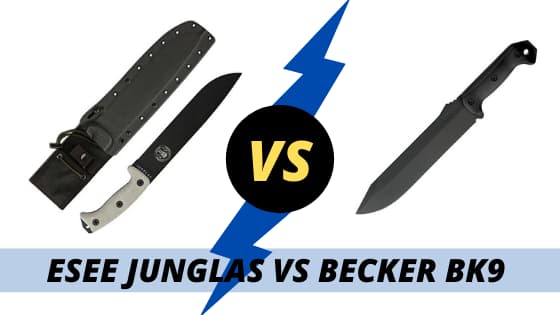 Welcome everyone, today we're going to see a comparison between two different big fixed blades choppers for camping and survival, The BECKER COMBAT KNIFE BK9 VS ESEE JUNGLAS MACHETE.
These two big knives aren't the same, but they're usually compared often enough in the knife community, they both gained a big reputation for survival, camping or even combat knives, however, each of theme has its own advantages and qualities which we're going to explore in this article today.
So if you're wondering which one of these knives is best for you, I gathered some good piece of information that might help, so let us dive in.
Kabar Bk9 VS ESEE JUNGLAS – A Head-to-Head Comparison
| SPECS | ESEE JUNGLAS | KABAR BK9 |
| --- | --- | --- |
| Overall Length | 16.5"  | 14.75" |
| Blade Length | 10.38" | 9"  |
| Blade Steel | | |
| Knife Weight | 22.5 Oz  | 18.4 Oz |
| Blade Style | Drop point  | Clip Point |
| Price | | |
The JUNGLAS Knife or Machete from ESEE comes with a 10.4" drop point blade made from  1095 Steel , It has good edge retention, great wear resistance, great toughness, and low corrosion resistance, the knife comes with a Micarta handle that offers a large and comfortable grip with hammer pommel and lanyard hole, it has a Kydex sheath with a Cordura backing.
This knife was designed to endure to hard tasks of chopping and cutting through the woods, a great knife for campers, survivals, and combat, but it has a low corrosion resistance so it must be cleaned and oiled after usage.
KA-BAR BK9 Becker Campanion Review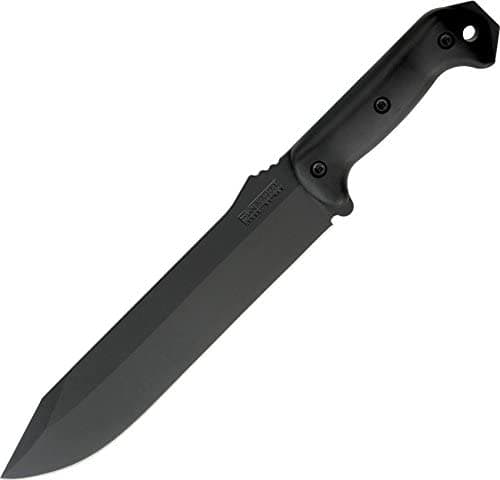 "Before I start this description, I already did a review of the BK9 in another article, if you already checked it, you can skip this part"
The BK9 Becker can be called the BK7 Big brother, it's a tactical combat knife with a 9" clip point 1095 Cro van Steel  Blade, the blade offers great edge retention, great toughness, and good wear resistance, it has a Grivory handle, comes with a bottom and upper handle guards.
This knife is simply a beast, It was built to be used in the extreme environment, batoning, cutting chops, and hammering are tasks that won't damage your knife, but again let me remind you a lot of hardness equal less corrosion resistance.
Again the knife is easy to handle you can bring it to your outside adventure, while camping, or even hunting.
What are the Similarities ESEE JUNGLAS and KA-BAR BK9 Becker Campanion?
Steel: Even tho the BK9 is made from the 1095 Cro van Steel and the JUNGLAS is made from 1095 Steel , both steel are very similar (in fact the 1095CV is a small upgraded version of the 1095 steel); so both knives offer close edge retention, toughness and wear resistance.
ESEE JUNGLAS VS KA-BAR BK9 Becker Campanion – Some Key Differences
Sheath: One of the main Key differences between ESEE JUNGLAS and  BK9 is the sheath. the ESEE JUNGLAS

comes with a Kydex sheath with a Cordura backing that offers great protection to your knife, meanwhile, the

BK29

has a Black Nylon sheath with Kydex insert, which a very great choice for protecting your knife (if you have one I advise you to upgrade to the Kydex Sheath).

Handle: This would be the second main difference, ESEE JUNGLAS has a Micarta handle which is far comfortble and large compared to the Grivory plastic handle in the BK9.
Blade Length: BK9

comes with 9" blade in the other hand

ESEE JUNGLAS

comes with 10.38"

The Price: If you did notice, the ESEE is more of a premium knife thanks to the Micarta handle and the sheath which explains why is it more expensive than the BK9.
In the end, both of these knives are capable hard use large fixed blades that do indeed that a lot of overlap but for me the differences are subtle, but worth noting, the ESEE JUNGLAS is more focused on being a pure outdoor tool, and despite the word machete in the name it's a bit more of a heavy chopping knife, In my opinion, if you're going to be doing machete work for hours on end, it's probably going to leave your arms a little bit tighter than they would need to be if you were using a thinner machete, but if you're more into chopping tasks, the JUNGAS is probably going to be a little bit the best choice.
 Meanwhile, the becker K9 can still chop, but it's going to be a little bit more versatile in the different types of roles that it can fulfill, in addition to the outdoor uses, it definitely has some tactical application as well, and it's easier to manage when you get down to the smaller nitty-gritty cutting and carving jobs.
Either one though is going to be a pretty bulletproof option "Figuratively not literally", and will be something you can depend on in extreme circumstances.
As I mentioned earlier the Becker Is certainly cheaper to start out with "Check Price" and you can upgrade the parts of it as you go ( handle and sheath), whereas the ESEE is a bit more expensive "Check Price" but it's got everything you want right from the start, with the Sheath and Micarta Handles, PS: If you took the K9 and upgraded the Sheath and the handle you're probably going to spend more than the price of the JUNGLAS.