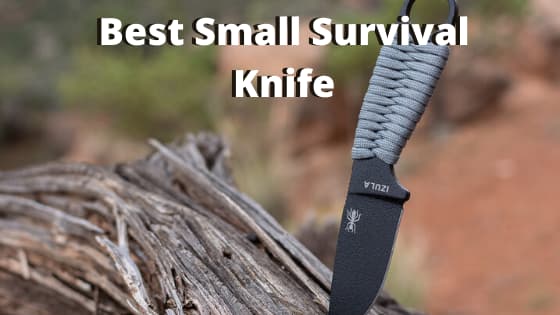 One of the best tools to have in a survival situation is a survival knife, it might save your life in extreme situations, but many of us don't enjoy the big large survival knives produced by the industry, so we seek for a smaller size, therefore if you're like me interested in smaller survival knives, I got a piece of good news for you I made a full list of the best small survival knife, and let me warn you this list is full of fixed blade knives, I don't believe that a folding knife could be great for survival (that's a personal opinion), for now, if you're still interested let's dive in!.
Best Small Survival Knives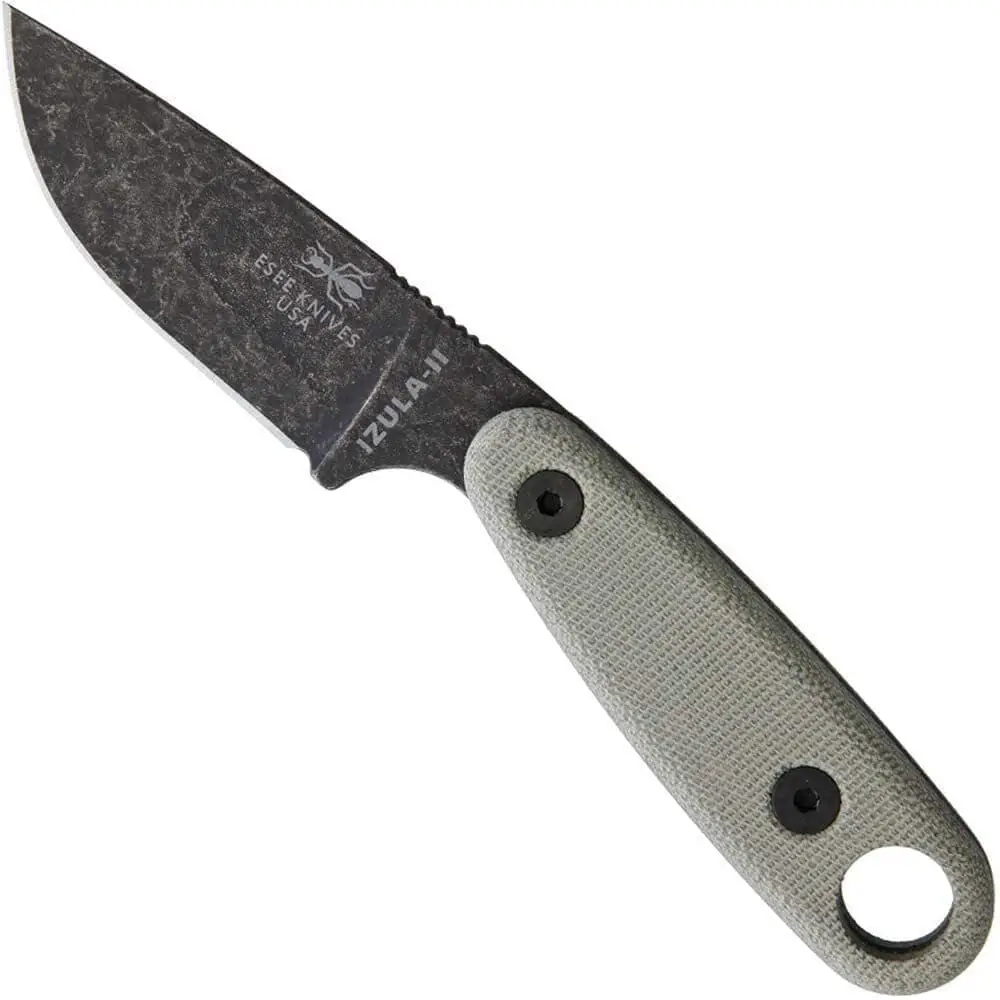 The famous IZULA II from ESEE is my first pick, it's a great knife for survival situations and can be easily concealed, it has a 2.63" 1095 HIGH CARBON STEEL  drop point blade, that offers high Toughness and great wear-resistance, it comes with a micarta handle that offers more resistance and strength to the knife, for the ergonomics they're great it hat an index-finger choil and thumb ramp for a sturdy and comfortable grip, this knife is just wha&t you need if you're going on outdoor activities, the Izula II saved many users and I highly recommend it.
This is a hidden gem from Spyderco, it's not very famous but the ARK or "Always Ready Knife" is what you need to be always ready for survival situations, it comes with a 2.5" H1 STAINLESS STEEL that offers great corrosion resistance, great wear resistance and good edge retention, it has a  Fiberglass Reinforced Nylon that offers more strength to the knife while being light in the same time; finally the ergonomics are great the knife has an index choil and a thumb ramp that offers comfort to the Grip, plus of that, it's very light yet very tough. It's very rare to find some fixed blade knives from Spyderco (they're mainly producing folding knives because they have a great opening mechanism), and this fixed blade is a great product that I highly recommend!. I forgot! I t has a polymer sheath that can be used for neck carry or other types of carrying.
3. KA-BAR TDI Law Enforcement
So if you're looking for a great survival knife and wish to avoid legal problems, the TDI from KA-BAR is your choice, it comes with 2.31" AUS 8a STAINLESS STEEL drop point blade, (its less than 2.5" so I'm sure it's legal in all states but please always make sure your local laws before purchasing or acquiring knife), so the blade offers great corrosion resistance and great wear resistance with significant edge retention it comes with a black handle and a black sheath, made from forced polymer, for the ergonomics, the knife fits great in hand it has a finger choil, and it can be easily carried and concealed, I highly recommend it!.
4. Columbia River Knife & Tool CRKT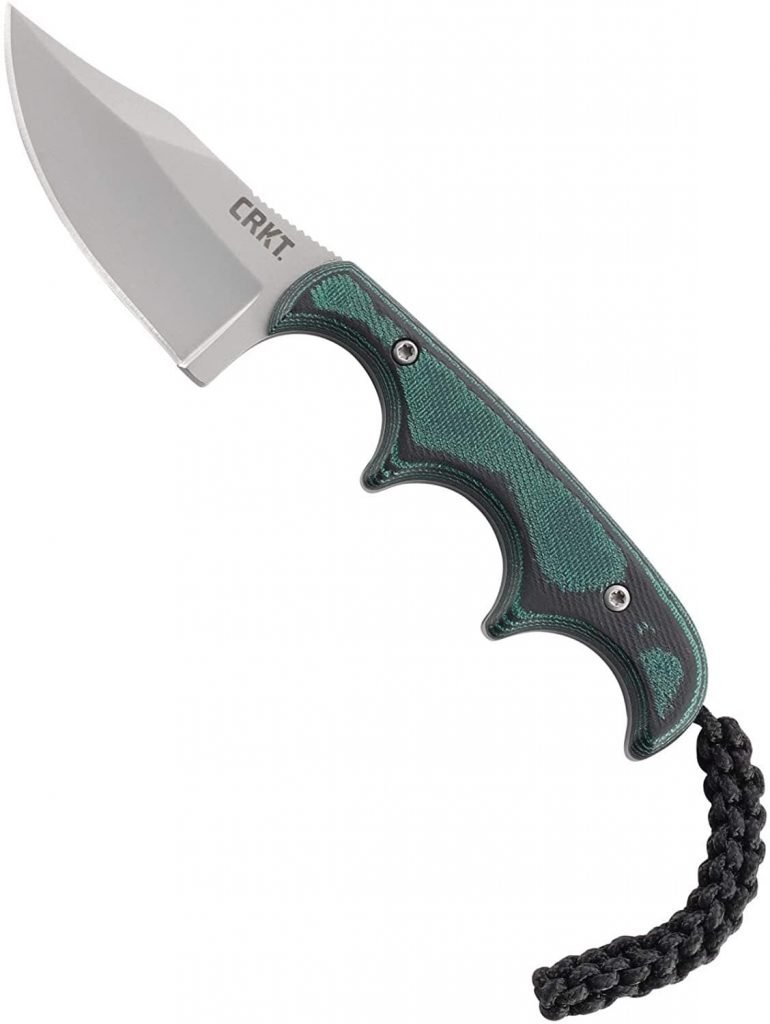 This knife from CRKT regroups the great look, the efficiency and the quality. The Columbia River is a great small survival knife, it has a 2.125" 5Cr15MoV STAINLESS STEEL drop point blade, again a very small blade that with give you no legal trouble, it has great corrosion resistance, great wear resistance and good edge retention, it has a very comfortable handle very ergonomic that offers a snug grip thanks to the shape of the handle with an index choil and thumb ramp, it has neck carry sheath, and finally, a fob for extended Grip so guys with big hands won't be left behind! I highly recommend this knife. It has a great quality, great price, and a great price!.
I used to recommend this knife for people looking for a small fixed knife for EDC, well it's great for survival too, especially if you're looking for a very small blade, it has a 1.9" 5CR15MOV Stainless Steel Drop point blade, it has great corrosion resistance, great wear resistance and good edge retention, it has a G10 handle which offers more strength and resistance to the knife, the knife blade is stain finish with a good look/design, speaking of design the handle are well designed to offer good ergonomics, it has an index choil that offers a sturdy grip, it has a  360° Mount Hard-Molded Nylon Sheath with Belt Clip.
Finally, the knife is very small; it will push away all legal problems and has what it needs to be a survival knife. Therefore I highly recommend it!.
Survival knives are a great pick for outdoor activities or for tactical/combats situations, and small ones are too, In fact, I recommend the small ones over the larger one (smaller than 3" precisely) why? Because many law states forbid carrying large survival knives, and yes, we should respect the law. Therefore small survival knives are a great pick to offers us security and safety while being totally legal, and I finally I can't stress enough to always check your local laws before owning/purchasing a knife that five minutes of reading will save you from trouble and save your money/time, for now, I wish you to be safe, and if you have any question just leave them in the comments below, and don't always forget to KEEP YOUR KNIFE SHARP!.