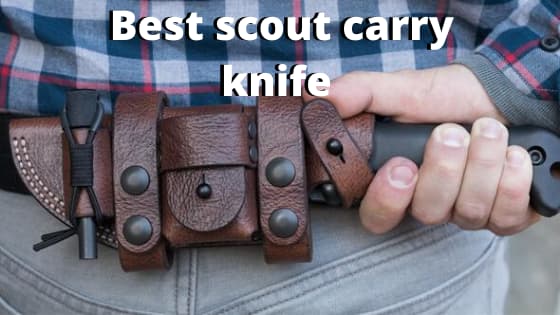 A Scout carry is a type of carrying position, and it's extremely effective and efficient. It refers to carrying a knife horizontally on the belt. Its simply one of the best positions carry for an EDC fixed blade knife.
In my point of view, carrying a vertical knife can be a bit pain honestly, it's just not comfortable enough. I'm not saying it's that there is something wrong about it, the vertical carry is fantastic! I love it, it is traditional, and I still wear it till today, but after trying the horizontal carry (the scout carry), I simply felt more comfortable, and my hands can reach my knife very fast and secure, in the end, it's a personal choice.
Now if you're steel interested by scout carry knives, don't worry I made a list of the best scout carry knives, you can choose from based on your usages, budget, and style, so let's dive in!
1. Benchmade - Hidden Canyon Hunter 15016-2

This so far the best-fixed knife you can carry in horizontal, or scout carry, its fusion of good quality of steel, handle, ergonomics, it comes with a 2.67 inches drop point CPM-S30V Stainless Steel, it's high-end steel that offers great wear resistance, great corrosion resistance, and holds an edge for long. In addition of steel, it has a beautiful wooden handle that offers strength and a great grip to the knife, and for the ergonomics, they are just great, with an index finger choil and a thumb ramp for a sturdy and comfortable grip.
What I love about this knife from Benchmade, is the simplicity and the efficiency and the fusion of good quality steel with a good design, this knife can be used for EDC and outdoor activities, if you're a hunter, camper, fisherman, even a simple knife lover, and you search for a scout carry knife, this is your knife, it has a beautiful leather horizontal sheath, that offers you an easy carry.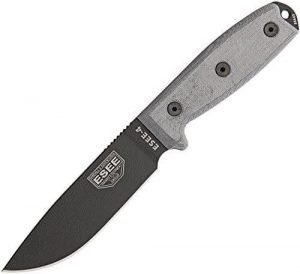 The 4P from ESEE is what you need if you're looking for pure toughness, the 4P comes with a 4.1″ drop point blade made from the 1095 HIGH CARBON STEEL it has high toughness and great wear resistance with the long edge retention and decent corrosion resistance. The knife comes with a Micarta handle that offers strength and resistance, and for the ergonomics they're great the knife has an index choil and a thumb ramp, and finally, it comes with a Polymer sheath with mole back that offers a scout carry or horizontal carry.
This knife is a great pick for extreme outdoor usages, it can to all the hard tasks, like batoning, starting a fire, cutting wood, cutting rope, and it can be a great EDC for small Tasks, but I wouldn't recommend it if you work in wet environments, it has low corrosion resistance, so if you're a fisherman, for example, this knife won't suit you.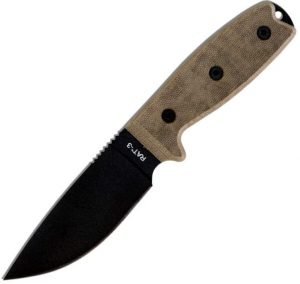 If you can't afford the ESEE take the Ontario RAT 3, this is why I tell my friends, the RAT 3 has same toughness of the ESEE 4P with a smaller blade and handle, it comes with a 3.9″ inches drop point blade made from the 1095 High Carbon Steel that offers great toughness and wear resistance. For the handle, it's a Micarta (reminds you of another knife ? yes the ESEE 4P) and I guess you know by now that the micarta handle offers strength and sturdy grip. Finally, the ergonomics of the knife are great, it has an index choil and thumb ramp that offers more security and comfort to the grip, now why do why to recommend this as a second choice if you can't afford the ESEE because it's simply half the price, but you get a smaller knife.
In all, it's a great fixed blade that can be carried horizontally, and I highly recommend it, especially for outside usage.

The GhostStrike from Gerber Is a great low-end fixed blade that proved to be a great choice for low budget users. It comes with a 3.3″ drop point blade made from the 420HC STAINLESS STEEL  it has great corrosion resistance and decent edge retention. It has a skeleton handle with a rubber texture which make it very strong and resistant, for the ergonomics they're not the best but we can say they're fine, it fits nicely in hand, and finally the Sheath, it can be carried in many forms including the horizontal carry that can become a scout carry, the other thing in this knife, is it can be easily concealed, and it can be a great EDC or tactical/survival knife.
For a low-end knife, it's a great knife for the price, I recommend it!.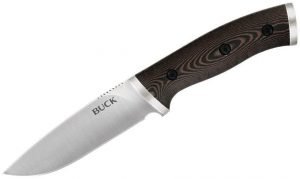 Oh, the famous BUCK, they made us the 863 Selkirk (I still wonder how they bring those numbers as names), it's a great survival knife, that comes with a 4.625″ Drop point blade made from the 420HC STAINLESS STEEL that offers great corrosion resistance and good edge retention. This is a multifunctional survival knife with added features to enhance survival when it matters most. In addition to the 420HC steel blade, the Selkirk features a micarta handle with steel bolsters (rear bolster can be used as an improvised hammer) and a heavy-duty belt sheath that can be configured for horizontal or vertical carry.
In all it's a great fixed blade knife, even being a low-end knife, it offers great qualities that can e useful for EDC or even outdoor activities like hunting, camping or fishing, I recommend it for users with low budget looking for a large fixed knife that can be carried horizontally.
Why Horizontal Carry Knife?
Our decision was simply based on three reasons or "advantages" granted by the scout carry:
1) It's NEVER in the way:
Just try sitting down with a scout carry knife on a hammock chair, or any chair, you will notice the difference, its simply not in the way.
 You'll hardly feel it, and it's very accessible in the same time, even in a situation like driving a car or lying down/ sleeping (you'll often sleep with your knife on a hammock chair).
Now try to compare that with a vertical carry knife….
Exactly a lot of HASSL removed.
2) It's EASILY accessible:
In this case, we found out that the scout carry knife is better than the vertical one; the vertical carry knife is limited to one hand, which is not the case for the scout carry. If you re left-handed or right-handed, the belt knife carry is more accessible for both.
Let's imagine somehow you busted a hand while hunting or camping, and one of your arms is broken, you still can reach your knife faster and safer, without making extra movement that probably can do more harm to your broken hand.
What we dislike about the vertical carry knives, they attract the eyes, especially in public places. And now you would be wondering "Why would someone carry a knife in a public place".
Well the answer is simple, we're sure you already took a walk in the national park with your family or alone while carrying your EDC knives, and then you noticed the "He has A knife" Eyes just looking at you.
And that's because a lot of people are not used to see a blade knife in public, "must of us are used to carry a folder knife".
Well, the Scout carry knives are simply a game-changer, you can put the knife behind your back, and you can walk without causing wrong ideas.
The scout carry is a great way to carry your knife, in my list I offered you some knives that can be horizontally carried thanks to their Sheath, but it doesn't mean it's the only knives you can get. Don't forget you can make your own horizontal Sheath that can fit you current knife, and you can save your self some bucks, other than this I hope I brought some value to you by this article! If you have any question or opinion about knives feel free to ask me in the comments below.