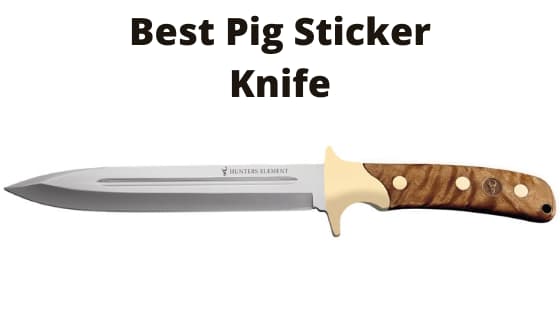 While pig hunting or hog hunting you'll always need a knife with you to finish the job that your dogs started, I can't imagine a pig hunter without a sticker knife, you might not dispose other equipment, but your knife is a necessity, and the best knife to bring is the Pig stocker knife. Now that I made that point clear let's talk about the best pig stocker knives, So lately I was looking around for the best sticker knife I could buy, I did some hours of research, and I ended up with a list of 5 knives, that I decided to share with you in this article.
So if you're reading this today, it means you're interested in stickers knives, and you wish to find the best for you, well, Look no more! I gathered all the information's needed and the knives in this article, so let's dive in!.
1. ESEE JUNGLAS – BRK Review
The JUNGLAS from ESEE is a beast that can easily turn to your next favourite pig sticker knife. It was made and built for combat and survival situations, and it's shape is a mix between a fixed blade knife and a machete, and it clearly fits to be a Pig Sticker, it has a 10,38″ 1095 CRO VAN blade that excellent toughness and great Edge retention (which what you basically need for your pig hunting), it has Micarta handle that offers more resistance and strength to the knife, it fits perfectly in hand, for the ergonomics they're great, for a big knife I always look for the bottom and top handle guards for safety, and ESEE ensured to offers a great secured non-slippery grip, and it comes with a Kydex sheath complete with the MOLLE backing.
Finally, this knife is what you need to feel safe around danger, and at the same time, let you cut through the pigs like butter.
2. Ka-Bar Becker BK9 Review
The Becker BK9 from KA-BAR, it would be a shame if no one recommended this knife for you outdoor and pig hunting, It's a monster that comes in a bowie profile, it has a 9″ 1095 CRO VAN High carbon steel blade, that offers high toughness and holds an edge for long  (just like the Junglas -the first pick-), it comes with a Swiss-made Grivory handle that offers a great non-slippery grip due to glass-fibre-filled nylon in it, and finally, it has Nylon sheath with a Kydex lining that offers you protection and easy carrying.
In all this knife is made for tactical/ survival and combat situations, so you can imagine what it can do to a pig!.
This a very nice knife and a great choice for hunting knives, the OSS from cold steel is bowie profil knife that is also a pig sticker knife, it has 8.25″ AUS 8A Steel Stainless blade, that offers great corrosion resistance and high wear resistance and good toughness, what I love the most in this knife is its look or Design, just looking at it gives that feeling of power, Imagine holding it, it feels even better, it has a grippy rubbery Karton handle that feels strong and sturdy in hand, and for more sturdiness, it has a finger grip, Yes a Finger grip between your middle and pointer finger, as a friend of mine this knife isn't for survival or bush crafting it's for self-defence and zombie's head stabbing!
I love how cold steel uses the AUS 8A in this knife to offers us this beast, that can easily hunt pigs!
4. Tops Knives Wild Pig Hunter Review
This one was specially made for piercing and hunting pigs/hogs, TOPS made a big win in this one, they offered us a 7.6″ pointy very sharp blade made from 1095 HIGH CARBON STEEL that offers great toughness and holds an edge for long, and comes with a Black River Wash, that gives the knife a very nice style, it has a Micarta handle that offers a strong and sturdy grip, and it has a leather sheath that can be carried vertically.
If you take this knife with you while hunting pigs, you'll be shocked how easy the blade pierces and slices into the pigs, you can even use it for skinning and breaking the bones, the power of a 1095 steel is its toughness! In all, I highly recommend this knife, and I would have put it in the first choice, but I'm not a great fan of TOPS knives, they have some bad products, and they didn't gain my total trust.
This knife is in my list because it's been recommended from many users, the BRAVO 1 is just great for outdoor activities, this is little a knife compared to the four first if you like to have a small to medium size knife while hunting pigs this is your choice, it comes with a 4.25″ drop point blade made from A2 High Carbon Steel, that offers great hardness, toughness and holds an edge for long, it has great ergonomics with top blade guard and thumb jimping that offers a sturdy grip.
This knife was built and made for Marines, but it can easily be used for outside hunting, it's very tough and sharp and can cut and slice through meat and bones smoothly, I highly recommend it.
If you noticed my list of the best sticker knife contain very tough knives, which means toughness should always be your fist criteria while choosing a hunting knife, a hunting knife with great toughness and good edge retention is always the best choice for you, some knives are low in corrosion resistance, but it's not an ugly thing, all knives need to be maintained (clean it after usage and oil it), another thing is the steel, you'll notice some steel like A2, O1, 1095 and other high carbon steel because high carbon steel is oriented to offer toughness. Now if you have any question or any opinion about these knives feel free to leave a comment down below, I'll gladly discuss knives with you.