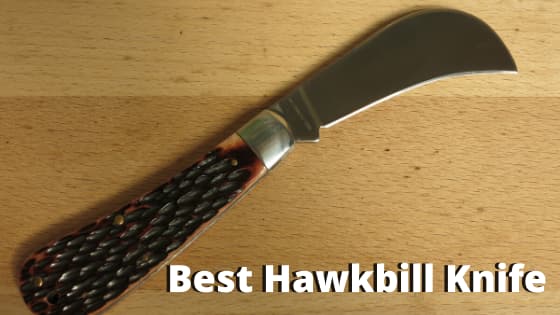 Today we're going to talk about hawkbill knives. They're very famous in the market for being a great choice for tactical/survival knives and combat knives, lately I was looking for a hawkbill knife, and I couldn't know what to choose or which brand (should I pick a Spyderco or CRKT or Schrade or others…), so I did some researches and made a list of the best Hawkbill knife you can buy today.
Since you're reading this today, It means you're looking for a hawkbill, and let me tell you, it's a very useful and practical tool to own, especially for your outdoor activities.
 Quick reminder: I made this list based on the Steel used in the knife, the material of the Handle, the ergonomics, and finally, the price, so let's dive in!.
1. Spyderco Harpy Folding Knife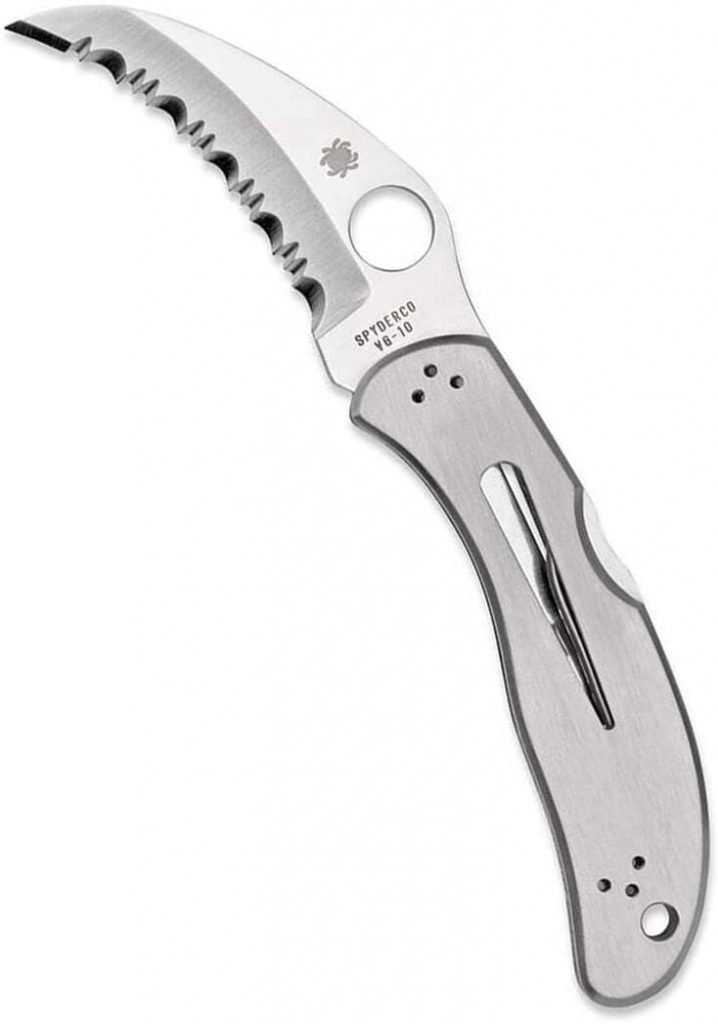 The famous Harpy from Spyderco is a beast with a hawkbill blade profile. It comes with 2.75″ fully serrated edge blade made from VG10 stainless Steel that offers great corrosion resistance and high edge retention. It has a stainless steel handle for me toughness and Resistance. It has a locking lever that offers safety and security and, finally, a pocket clip for better carrying. Now let's talk about the ergonomics of the knife, it fits so nice in hand, it has a comfortable and safe grip, even it lacks a choil and the thumb ramp, the knife is very great for your outdoor activities, In all with the power of the VG10 Steel and the hollow grind and Hawkbill shape, this knife is ready to pierce and cut!.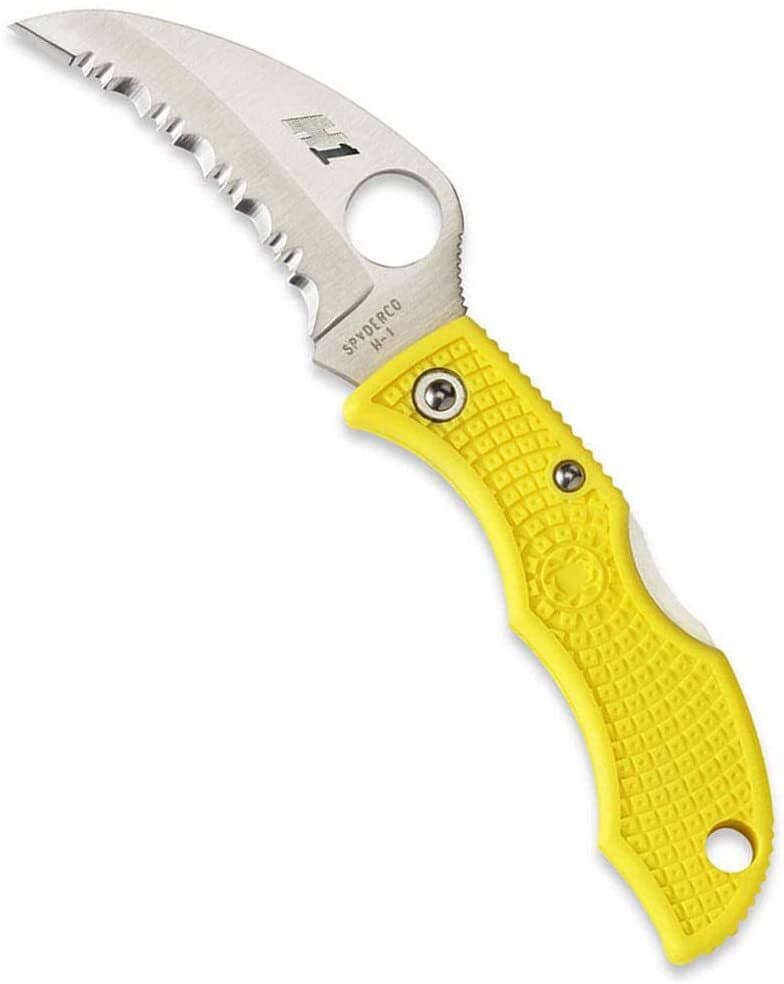 All the Ladybug fans! It comes with a Hawkbill shape too, and of course, it has the qualities we love in Ladybug 3, easy to carry, cuts like a beast, and rock-solid, it comes with 2.48″ H1 Stainless steel Blade with a hawkbill shape, it offers great edge retention, high corrosion resistance, and high toughness, it has a Fiberglass Reinforced Nylon Handle that offers more strength/resistance to the knife, now let's talk about the ergonomic, I'm a huge fan of the ergonomics of the LadyBug its fits perfectly in hand, it has a thumb ramp, jimping in the top front of the Handle for better grip, and a mini front blade guard, in all this knife is a great choice for every outdoor activity that needs some cutting (hunters, campers or fishermen), I highly recommend it, if it weren't the Steel it would be my first choice, The VG-10 offers more quality compared to the H1 Steel (that explains why the Harpy is my first choice).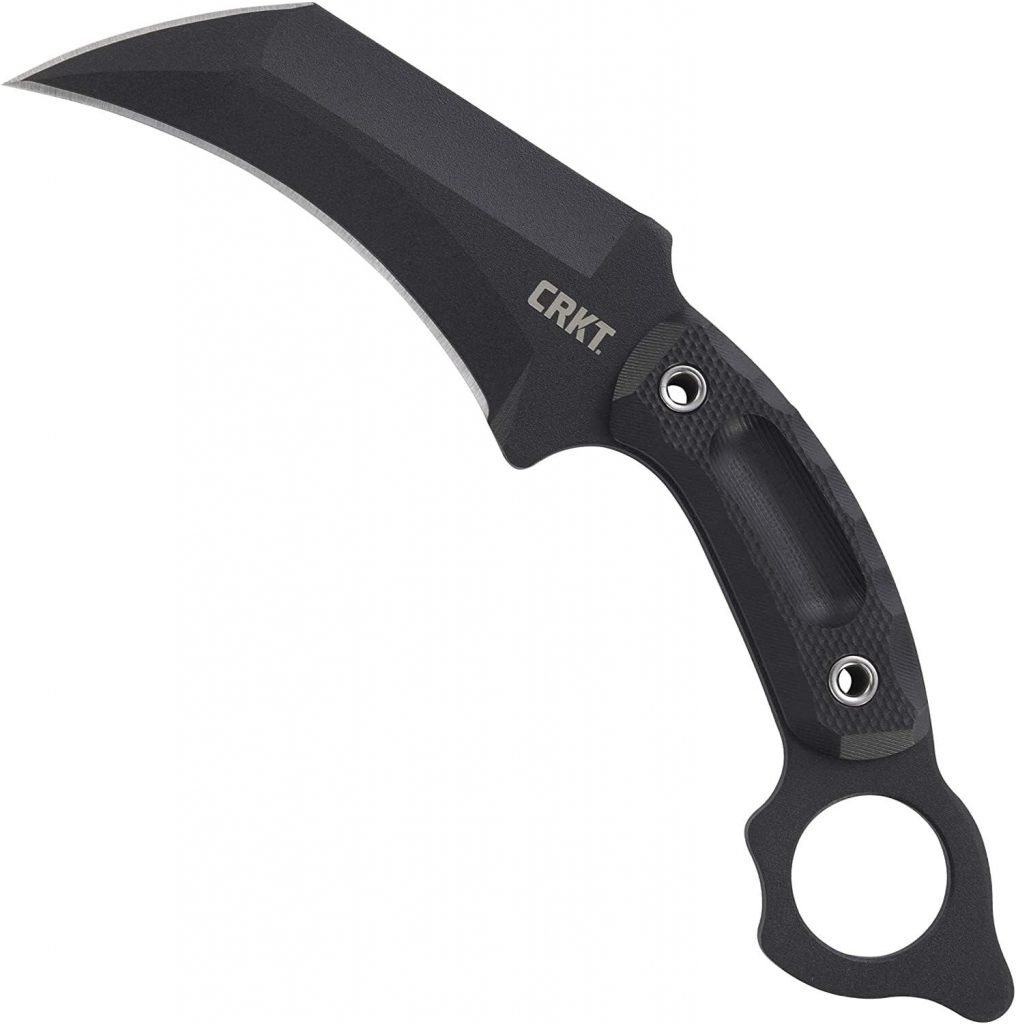 Now, if you're a KARAMBIT Knife Style, this is your knife! The DU HOC from CRKT is the knife you need for your tactical/survival and combat situations. It has a 5.095″ plain edge blade with a hawkbill shape, made with the SK5 HIGH CARBON STEEL, and it offers high toughness and high hardness, the knife is rock solid. It comes with a G10 Handle for more Resistance and toughness. The Handle has a ring in the bottom for more efficiency in the grip, which brings us to the ergonomics, they're not the best you can get, but they're good! The knife has an index and thumb blade guard that offers security, and compared to our first knives; the DU HOC is a Fixed blade that has a Glass Reinforced Nylon Sheath for protection.
In all, it's a  significant rock solid knife, if you're interested in big knives (5″ blade is a big knife for me), this is a great choice that you won't regret, I highly recommend it!.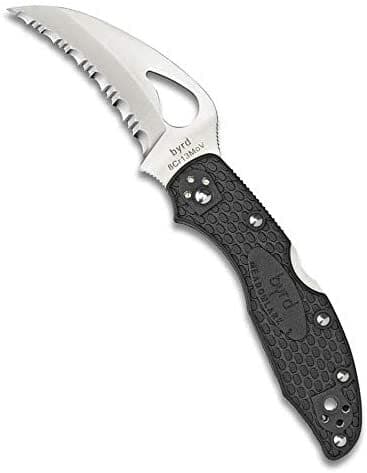 Now you'll be wondering, is Spyderco is taking over the best Hawkbill knives ? or this dude is just a big fan of Spyderco, well the truth is both, Spyderco made great hawkbill knives, including the BYRD, this a low-end knife with a hawkbill shape and Spyderco design, it comes with 2.9″ serrated edge blade, made from the 8cr13mov Stainless steel, offers great corrosion resistance and high toughness. The knife comes with Fiberglass Reinforced Nylon for more toughness and Resistance, for the ergonomics of the knife, they're simply great, it has an index finger choil, a thumb ramp, and a lever lock for security.
 In all, if you're looking for a low-budget Hawkbill knife, this is your choice, it has all that you need.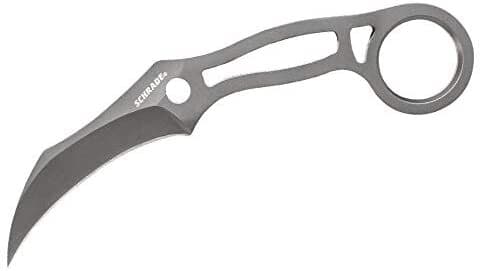 My final choice is the SCH111 from Schrade, gain another Karambit Style knife, that's suitable for tactical, outdoor survival and EDC, the knife comes with a 3″ fine edge hawkbill blade, made from the 9Cr18MoV High Carbon Stainless Steel, it high-end Chinese steel that offers great corrosion resistance, great edge retention and great hardness. The knife is a full tang fixed knife that comes with skeleton handle that has a finger choil at the end of it, the ergonomics of the knife are fine, this would be my 3rd best hawkbill knife if it were more ergonomics oriented, and finally, it has Thermoplastic Neck Sheath with chain, that can switch to belt carry.
In all the knife is excellent for all your outdoor activities, it has high-end Steel, and it's ready to cut, but personally, I'm not a big fan of skeleton handles, if you're well, this is your knife, and it comes at a very low price compared to its value, I highly recommend it for performance and price.
I hope I did help you choose the best Hawkbill knife, now let me share with you some little thing to check before buying your hawkbill knife (or any knife), but before that, let's learn about the Hawkbill knife, and what it's used for.
What is a Hawkbill knife used for?
Hawkbill knife as its name said, has a shape of a hawk claw, hawkbill knife is mainly belt for cutting and carving, if you're going to do some long cuts, like a carpet cutting, the hawkbill blade is your best choice, thanks to it shape it the knife grabs on the material like a claw and cuts easily through it, the second advantage of this shape it the security, it reduces the risk of "work accident", finally today the hawkbill shape is used in many tactical/survival knives, and there is a reason behind it, it useful!.
What to look for before buying your Hawkbill knife?
Look always for the type of the Steel used in your knife, and try to adjust it to your usage, if you intend to use your knife in outdoor activities where there are high chances to end up having your knife wet or salty, try to look for high corrosion resistance steels better than high carbon, if you're looking for toughness and you need rock-solid power carbon steel is a better choice, so always do your steel research before buying.
2) The Handle and the ergonomics
Always look for Resistance and tough Handle that offers a comfortable grip for your hands, a G10, for example, is a great choice for your handles, again it depends on your usage, once you choose the right handle, try to look for the ergonomics that will offer comfort to your hand, for example, an index choil, a thumb ramp, jimping spots.
This again depends on your usage, if you notice In my list there are different sizes, every user has a sweet spot size, in the end, it comes to you, there no "best" size for a "usage", if you love big knives you can use theme everywhere, the same thing goes for small knives.
Once you check the Steel used in the knife, the ergonomics, the design, and the size, the price is completely based on these three parts, if you have high-end Steel combined with a great design that offers great ergonomics be sure you are willing to pay a high price, again do your research and check the features of the knife and compare it with the price.
We reached the end of the article, and again I would love to remind you that this list is based on the Steel, ergonomics, price, and material used in the Handle, now I hope I did bring some help, and I made it easy for your upcoming purchases. Therefore I highly recommend a Hawkbill knife if you need to CUT. It's just great for different materials (ropes, carpets, soft plastic…).
As always, if you have a question or another opinion, feel free to share it in the comments below.