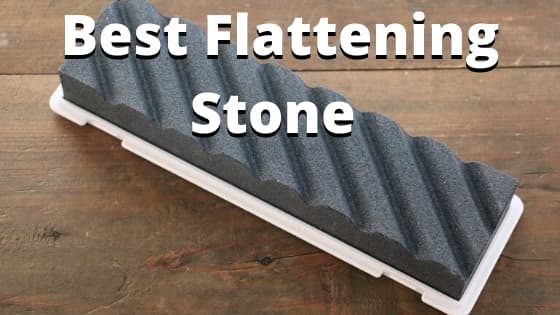 When sharpening knives, we want a flat surface to work, and if you ever sharpened your knives with a sharpening stone, I'm sure you noticed that your sharpening stone lost its flat surface, especially in the center (since all of our focus on moving our knives in the center). We all know that sharpening a knife with a non-flat surface is a big problem. Therefore we must use the flattening stone to put our sharpening stones in shape again, so the question of what is the best flattening stone ?.
Well, I was in the same situation, and I made a list of the best Flattening stone I found in the market if you want to know more about it, all you have to do is to continue reading!.
1. Culinary Obsession - Flattening Stone
 This is the best stone so far compared to the price, value and what the company offers as a warranty, the Flattening stone from Culinary Obsession is a 7.13 x 2.44 x 0.94 in coarse grit silicon carbide that does the job, easily, fast and with no big effort, it has cuts grooves that are designed to collect the material removed of your wet stones, what I love about the stone, that it doesn't come along especially if you're a knife sharpener you're going to be happy about the extras you get with the stones, the company offers a leather sharpening strop paddle and a green buffing and polishing compound, in all the stone is great, the price is very low, and it has a one year warranty, and comes with two extra materials for your knife sharpening experience, I highly recommend it.
2. Nordstrand Flattening Stone
My second choice is the Flattening Stone from Nordstrand it has the same specs and qualities of my first choice, the only difference is in size; the Nordstrand is 8×2.8in (a bit larger than the Culinary Obsession), so why did I put it in the second place instead of the first, well the difference in the size isn't very big, and the price Nordstran is a bit higher compared to Culinary O, plus of that let's not forget the extra equipment you get with your stone and the warranty (both are not offered by Nordstrand), now that's said let's go back to the stone, the stone is very great, it does the work smoothly and offers a perfect shape to your sharpening stone, do I recommend it? I highly do!
3. KnifePlanet - Coarse Flattening Stone
This the best by far in terms of performance, the Flattening Stone from KnifePLanet, is the best in material quality, it does the job quicker, and it comes with videos and articles to teach you how to flatten your stones, the only bad side of it the stone is small! Now you know about it, I m sure you lost interest, it's a 7*2.35 in, if only it were bigger in size (the bigger, the better), if the flattening stone could cover the entire sharpening stone, it would be just perfect! I highly recommend this stone if you want to improve your performance by 20% to 30%.
I hope I offered you some pieces of information that will help you with your next purchases. Therefore I have more information to help you.
How to Use a Flattening Stone
You'll need four things, your flattening stone, your sharpening stone, water, and a pen, Yes a pen, so you're going to take the non-flat sharpening stone and draw vertical and horizontal lines on it, why? It's going to be your guide to the flat form, now you take both sharpening stone and flattening stone and put them in water for a couple of minutes.
So now that both your stones are wet, you're going to start the rubbing, now you'll notice why did we draw the lines! So basically, when you are rubbing the stones, the sharpening stone will lose some surface. Luckily we marked this surface with our pen, so all you have to do now, is to keep rubbing the sharpening stone until all the lines your draw are removed, and that's how you're guaranteed to have a flat sharpening stone ready to sharpen your knives!.
Working on a flat stone is feels always great, that's why you should always flatten your sharpeing stone after 2-3 knife sharpening sessions, don't leave your sharpening stones to go from flat to U shape, and the often you flatten your stone the quicker it's going to be (it might take you just 1 minute if you do it after 2-3 sharpening sessions), other than that I love to sharpen my knives on a 1×30 belt sharpner, it's fast, takes less energy and more fun, if you want to know more about the little 1×30 grinders, I wrote an article about them, check it out!.