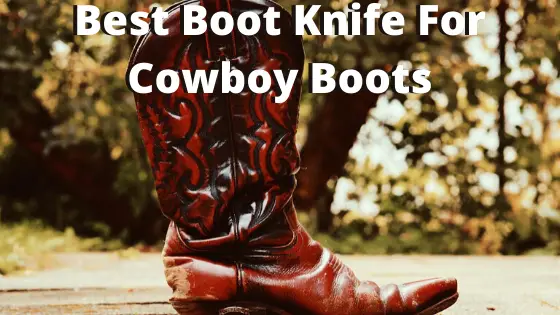 If you're a knife user with a cowboy-style(by that I mean you wear your cowboy boots in your outdoor activities) and you wish to carry a knife with you, a boot knife would be a great choice, but of course, you'll need a boot knife that's suitable for your cowboy boots, well I was in the same situation, and I did some research and made a list of the Best Boot Knife For Cowboy Boots.
So if you wish to know more about this list, just keep reading this article, but let me remind you, this list is based on the quality of the steel, material of the handle and the ergonomics of the knife, so let's dive in!.
Best Boot Knife For Cowboy Boots
1. Smith & Wesson SWHRT9B
This knife is my favourite so far, it's cheap, strong, and fits perfectly in the boots thanks to its clip, the SWHRT9B from Smith & Wesson, is what you need if you're looking four a fixed blade knife to stick to your cowboy boots, let's find out why. First, it has a 4.7″ double edge blade made from the 7CR17MOV STAINLESS STEEL, it offers great corrosion resistance and great toughness and a good edge retention, for the handle you get a rubber wrapped handle, and finally, my favourite part is the Sheath, the Sheath is completely secure with a Wide Double Guard to prevent the hand from slipping down, you can pull your knife easily, all of this is for a very low price which is incredible, you may notice that some people are commenting that this knife is not for a collector or the handles are too short, but let's be honest it offers way more value compared to it price. Therefore I highly recommend it.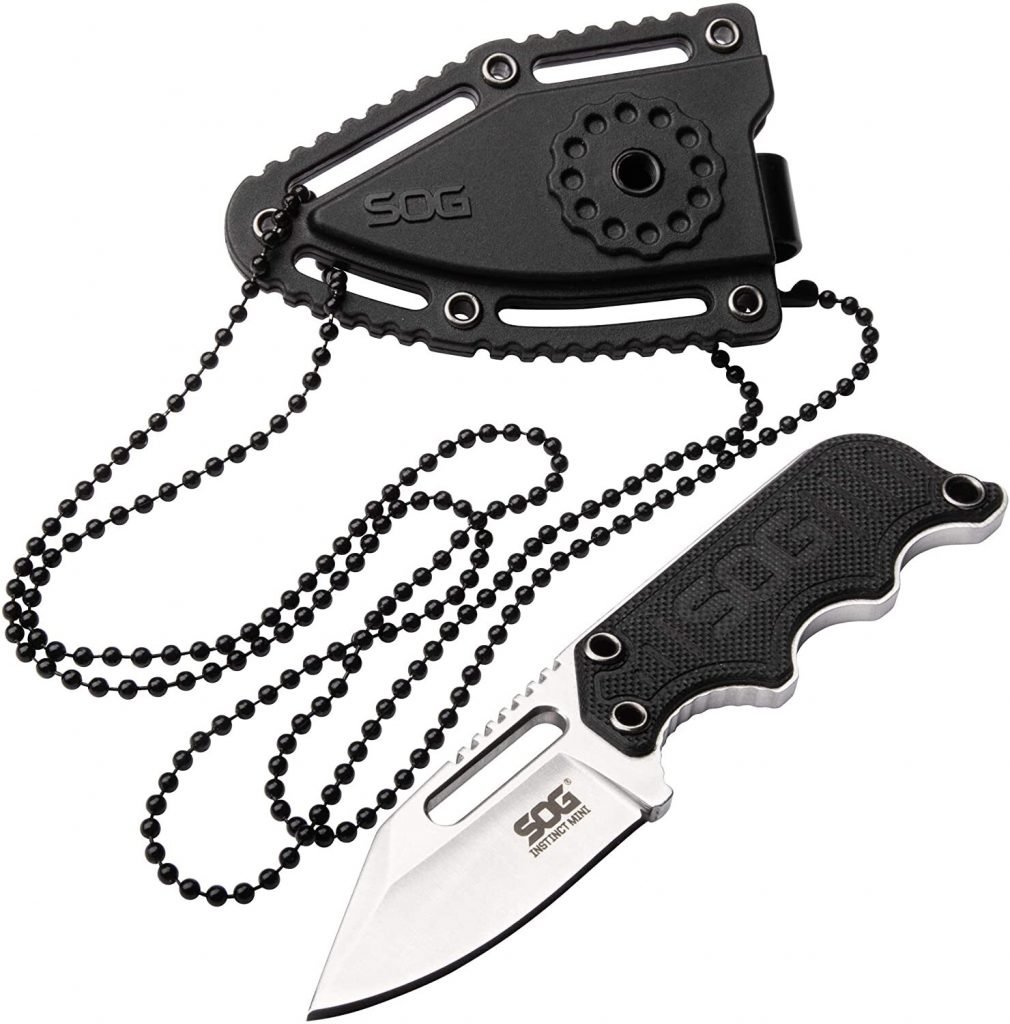 This little beast from SOG comes with a great design, and it's suitable for all types of carry, especially the boot carry, thanks to the pocket clip in it, it can be carried in your cowboy boots without problems, now let's talk about the knife, it comes with a 1.9″ Satin 5CR15MOV STAINLESS STEEL blade, it's a straight edge clip point blade great for corrosion resistance and very tough, but it doesn't hold an edge for long, so sharpening from time to time is a necessity, it has a G10 handle with groves for more efficiency and comfort, now let's talk about the sheat! The Sheath is very practical it can go from horizontal carry to vertical carry to neck carry to bootcarry, that's the main reason why I picked this knife as my second choice, I like to have multi carry knives "not only boots", in this knife is great, it's tough, light, small, great for your cowboy boots and the price is very reasonable.
3. Kershaw Secret Agent (4007)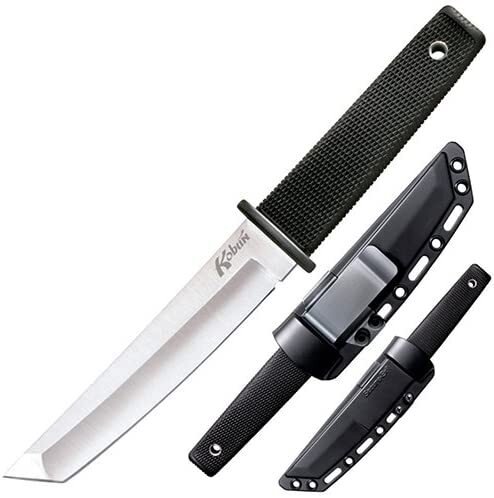 The Secret Agent from Kershaw, it's another great concealed knife for boot carry, that can fit your cowboy boots perfectly, it has an 8Cr13MoV stainless steel blade, the blade has a great corrosion resistance and great toughness with a good edge retention, the Secret Agent comes with reinforced synthetic polymer handle that offers the knife more strength and stability in the hand, it comes with a well-built sheath that has a clip for boot carry, the blade is black oxide coated for more corrosion resistance, and finally the price is just correct compared to the value offered by the knife, in all this is a great knife, with Chinese steel that offers great results for a low price.
4. COLD STEEL – DROP FORGED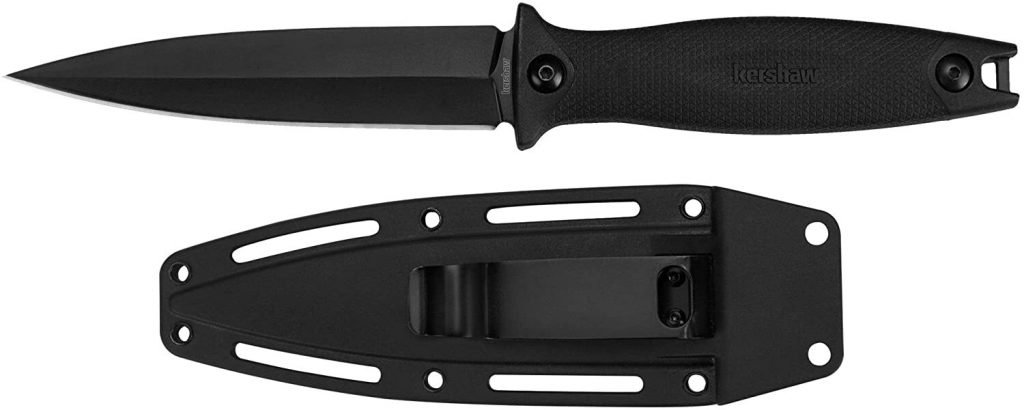 Drop forged from Cold steel is for those who love the double-edged knife with the drop point style(Like me), this knife is what you need if you're looking for extreme toughness, it comes with a 5″ high carbon 52100 steel, okay why is it great for cowboy boots, it's the Sheath, the Sheath is designed to be clipped in boots and to stay concealed, it fit on your cowboy boots perfectly, the handle is 4 inch ( a bit short) but offers an acceptable grip, the knife snaps easily and securely into the Sheath without any need for bending straps, in all this knife is awesome for utility and self-defence, you would enjoy carrying it.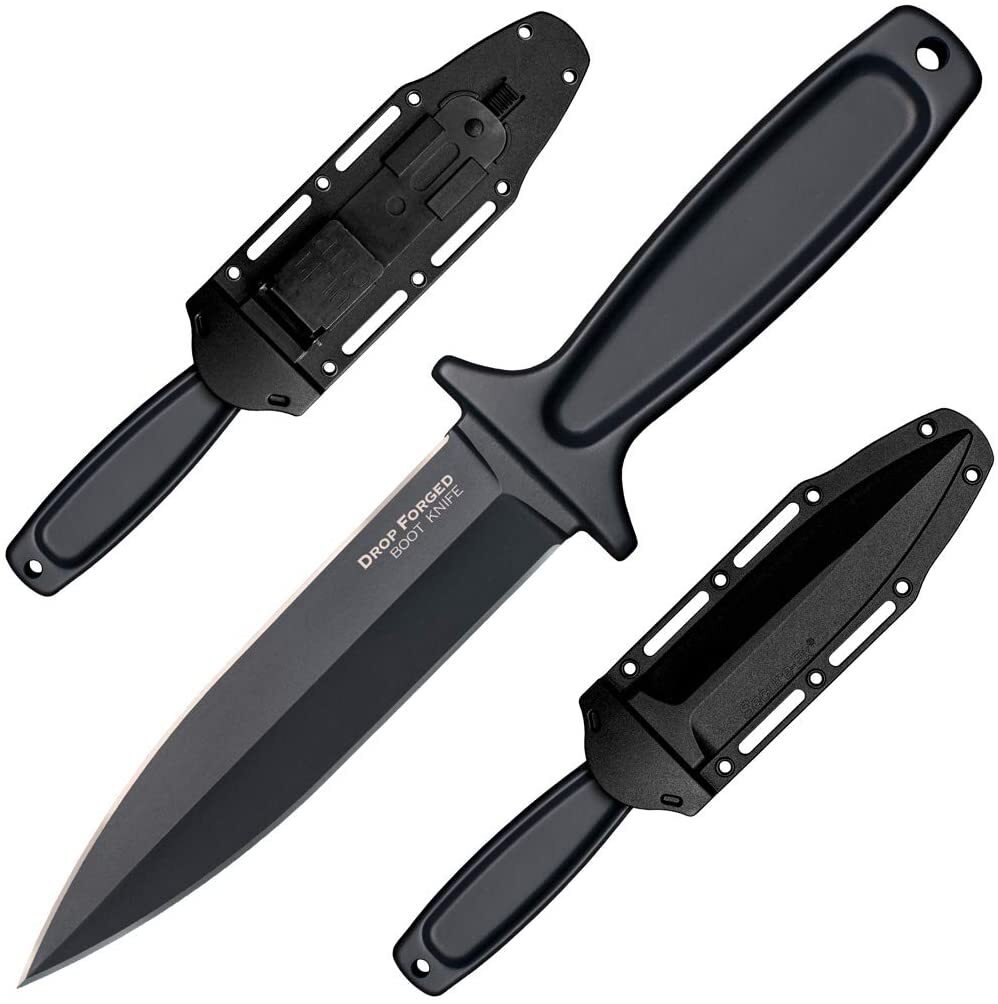 For all the Tanto knives fan this one is for you the KOBUN from Cold Steel, this the best tanto knives for your cowboy boots, it comes with 5.5″ Japanese AUS 8A Stainless Steel, it offers great hardness, great corrosion resistance and good edge retention, this knife is sharp and ready o cut, I love its shape and I m a big fan of tanto knives, it's very light, practical and strong, it comes with a great handle "the long Kary-Ex"; very strong and offers a comfort grip, it has a sheath with a clip for your boot carry, it can be used for your cowboy boot, and again the price is very low compared to the value offered, I love when knife producers offer us some great knives with low-end steels without "booming" the prices, so we can pay the right price for the right quality, in al I great choice if you're into tanto knives and looking for boot carry knife, I highly recommend it.
Now after I lister the best boot knife for cowboy boots, I hope I brought some help to you, but I got more I'd like to share with you're the four things to check on every boot knife before you buy it.
You should always look for a Steel that goes with your usage, there are some great boot knives out there and can fit perfectly with your cowboy boots, but they might not offer you the job you're looking for, for example, if you need your knife for cutting meat, your knife will get salty and wet, a carbon steel knife would be a bad decision in this case, a stainless steel knife is a better option, so always put the steel first in your checklist.
If you notice all the blade listed in my list are a maximum of 5″ in overall length, why because a boot knife isn't supposed to surpass this length or it will become a pain to walk with and might end up dangerous, so don't go for more than 5″.
3) Sheath and clipper and smooth opening
If you're planning on owning a boot knife, get ready to master how to open your knife smoothly and learn how to clip it in your boots the right way, now if you got this part all done, the second part is to check if the Sheath is secure enough, the opening should be smooth, and the clipper should be rock solid to avoid the knife wimbling next to your legs
After checking the steel, the length, the Sheath, the clipper and the opening, now you should check the ergonomics, the knife should feel good in your hands, always look for finger choil and thumb ramp, they're so useful in a knife, and look after the material used in the handle, once you did that you're good to go!.
Choosing a boot knife especially for your cowboy boots, might be a bit hard, many knife producers don't take the cowboy boots into consideration while making the boot knives, so what I personally do is I simply test the Sheath and the clipper, but my ultimate advice for you would to make your own customised Sheath on your boots, that's a great little DIY project, you're going to have a lot of fun, especially if you already own a knife and you don't wish to change, just make a leather sheath for it and make suitable for your cowboy boots, that's all for now, I hope I did make a choice is for you, and don't forget to always keep your knives sharp and ready to cut!.