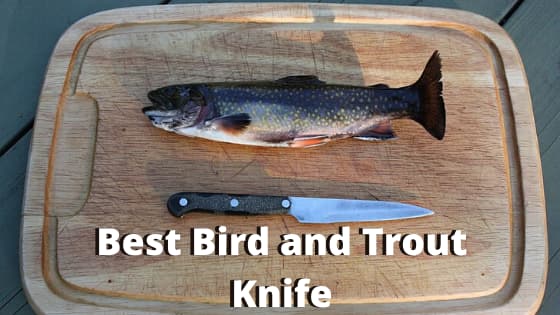 If you're a camper, hunter or a fisher I m sure you are using a bird and trout knife, or someone did recommend it to you at least, that's my case there is nothing best for skinning birds and cutting through fish better than this Knife. Still, the question is ? what is the Best Bird and Trout Knife in the market today? Well, If you have this question in mind, I have an answer, since I was looking too for the best, I took some hours of research to build a list of the best Bird and trout knives, So if you're still interested and you wish to know more about this list, keep reading and let's dive in!.
Best Bird and trout knife
1. Cold Steel – Roach Belly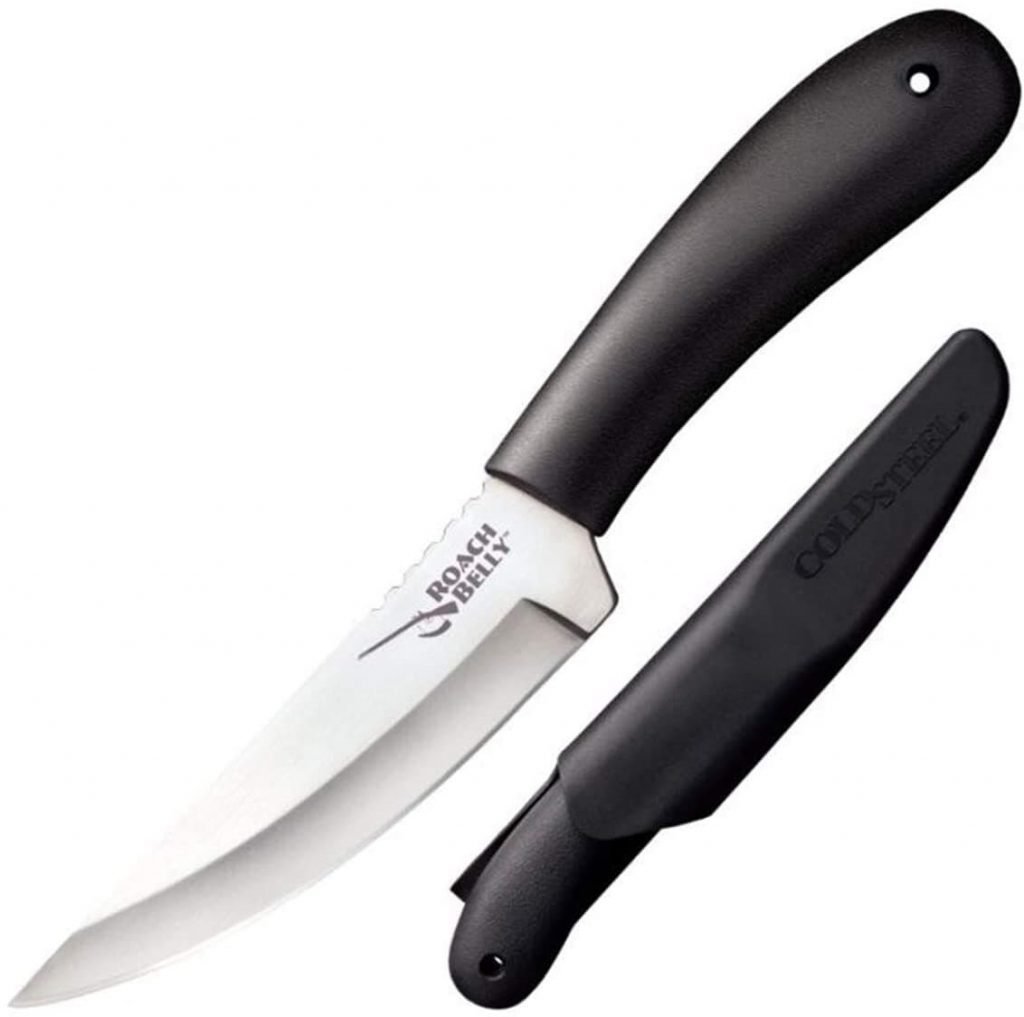 The Roach Belly from Cold Steel is the low price copy of the famous GROHMANN TROUT AND BIRD knife, and let me tell you it's a GREAT KNIFE. It comes with a 4.5″ German 4116 stainless steel offers great corrosion resistance and excellent toughness, it has a hollow ground the fit perfectly for skinning and dressing birds or fish, it comes with a nice and fat high injection moulded polymer handle for more resistance (not very my type honestly, I don't like fat handles), this Knife comes at a very low price, and it can be used for all your outdoor activities from camping to cutting cordage to food preparation, what I like about it, is that cold Steel took the good part of the GROHMANN and used the 4116 Steel, and offers us a great tough knife for dressing and skinning, I highly recommend it.
2. Cold Steel- Bird & Trout
The Bird & Trout from Cold Steel, is just the Knife we're all looking for, they made a stand for its name, this is my top choice for two main reasons, it's very cheap compared to its value, and it fits my small outdoor cutting needs perfectly, now let's talk about the Knife! It comes with a 2.25″ AUS 8 stainless steel blade, and it has great corrosion resistance, great wear resistance, and it's very sharp, for the design (my favourite part) it has this beautiful light design, thanks to the long and skinny stainless handle that has a ring at the end of it where you put your pinky, the grab on this Knife is great it's ultra-light and comfortable. Finally, it comes with a security sheath, that has multiple lashing points for all types of carrying (NackCarry, Horizontal carry, vertical carry), this sheath is a bit special it has a thumb lock that's very useful for security (You can't pull the blade out without pressing on the lock), in all this Knife is very strong and well-engineered and comes for a small price, and I highly recommend it.
3. Grohmann Trout and Bird Knife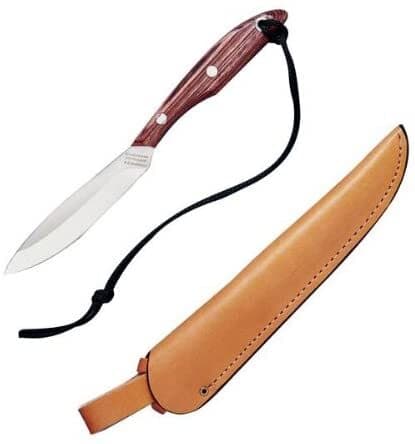 If we go back six o seven years, this would be my first pick, but today it goes to the 3rd place, force one simple reason the Price, I love the Knife, its great, the design is beautiful, and we all have much respect to  D.H. Russel/Grohmann, but today competition has grown, and new powerful steels with lower price are in the market, now let's go back to Knife! It has a beautiful hallow ground blade and comes with an offset handle makes it very comfortable and safe in your hand (compared to my first pick, the handles of the Grohmann are number 1), the ergonomics of the Knife are great, and finally, it comes with a beautiful leather sheath that can be placed on your belt, in all it' light, small, very handy and great for your outdoor activities.
I hope I helped you in the choice of your Bird and trout knife, I still have some advice to offer you about your buying decision, but first, let' us understand what a bird and trout knife is.
What is a bird and trout knife?
It's a great knife for skinning birds and fish, the qualities of this Knife is that its stainless Steel, easy to manoeuvre, light, small and tough, it' a great choice for a hunter, campers and fisherman, it can be you used for other small outdoor tasks.
What makes a good bird and trout knife?
Now the answer to this is divided into four parts. I'll talk about each one of them.
The Steel should always be stainless Steel, if you get offered a non-stainless steel bird and trout knife, just walk away, why? Because your knife tasks are 90% to 100% in a wet environment, and you really don't want to end up with rust in your blade.
Always makes sure it's pretty comfortable in your hand, you'll be dressing and cutting for minimum 10 minutes, you really don't to hurt your hands during the process, so always check the handle, the quality of the material and look for thumb ramp and finger choil first.
The bird and trout knife should be ultra light! I repeat Ultralight! And easy to carry, the weight of the Knife makes it easy to handle and manoeuvre while cutting/dressing animals.
Finally, the price, My personal price range for a bird and trout knife is in between 25-45 USD, because it's a small knife that comes with little Steel on it, so I'm not expecting to pay more than 50 dollars ( if it has a beautiful design and other extras like a leather sheath or a personalised handle).
I hope I did afford the help you need to make your buying decision, it took me some time to gather these pieces of information, but let me remind you I'm not an expert I'm a simple knife user that gives his opinion about a knife, If you feel that I was wrong valuating a knife or you would like to share an opinion about a knife, feel free to leave it in the comments below, I'll gladly discuss knives with, and don't forget to always keep your Knife SHARP!.