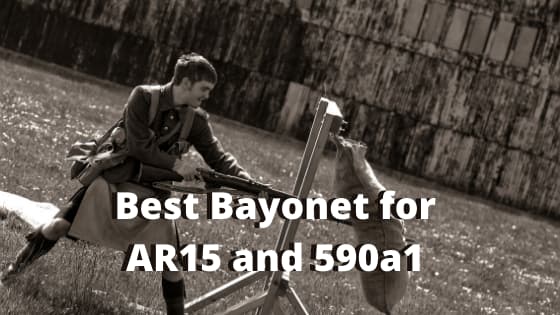 Bayonets are pointy steels with handles on them with a lot of history, they've been around for many decades, and they're still used today, and today's article is about the best Bayonet you can own today, and the best Bayonet for you AR15, and the best Bayonet for your shotgun the 590a1 in particularly, I decided to make this article because I was looking for an answer, and I found one. Therefore I decided to share my opinion with you guys, so let's jump in!.
First I'm going to list my top 5 of the best bayonets on the market, then I m going to give my best Bayonet for the AR15, and the 590a1, have a nice read!.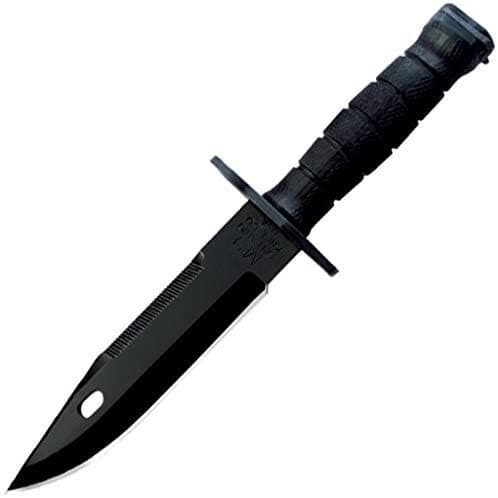 This is by far the best Bayonet, the quality and toughness of this blade are great, Ontario is great in making this strong, tactical, survival blade, the Bayonet comes with 7″ stainless steel zinc phosphate finish the plain edge, weights 16 ounces, a perfect weight for a fixed knife, it has an Alice clip so you can put it on your gun, it has a wire cutter feature which is pretty practical, it has a very tough black nylon handle.
In all Ontario Made a great hit building this one, the M9 is very hard, with great corrosion resistance and wear resistance (it doesn't mean it's unbreakable), it's currently used in the army and fits perfectly for the AR15 and the Mossberg 590a1.
2. Ontario OKC3S Marine Bayonet

This is a longer version of the M9, its 13.25″ comes with 8″ plain edge zinc phosphate coating blade and a brown modified Kraton handle, this Bayonet is built for the USA Army, the blade is built from the 1095 carbon steel with high hardness and good toughness, great for had usage, comes very sharp from the box, it has an Alice clip so you can stick in on your rifles, but it doesn't have a wire cutter like the M9, in all its an excellent fixed blade, great for tactical/survival situations, it would be my first pick, but it lacks the wire cutter features, and some users are complaining that it doesn't fit the 590a1 (it needs some adjustment), so if you look for more toughness and longer blade, this is your pick!.

The SW3B from SMITH & WESSON, is Bayonet (fixed blade) that comes with a 7.8″ 420J2 stainless steel, that offers decent edge retention, high corrosion resistance and good toughness, the blade is black oxide coated and has notched spine, and it has a black nylon fibre handle with a black rubber inlay for toughness and hand comfort, and let's not forget about the sheath that offers a wire cutter and a sharpening stone, in all is a great fixed blade for the value and the quality of the steel is decent! The only bad side of this knife, it china made, it would be my first choice if it was made in the USA and it requires a bayonet adapter.
Now, this is my list if best Bayonet in general now, let's see the best Bayonet for both AR 15 and 590a1.
Best Bayonet for the AR15
The Best Bayonet for the AR 15 is the M9 from Ontario, it fits perfectly, the OKC3S is good too, but it keeps wiggling for some reason. That's why the M9 is the choice.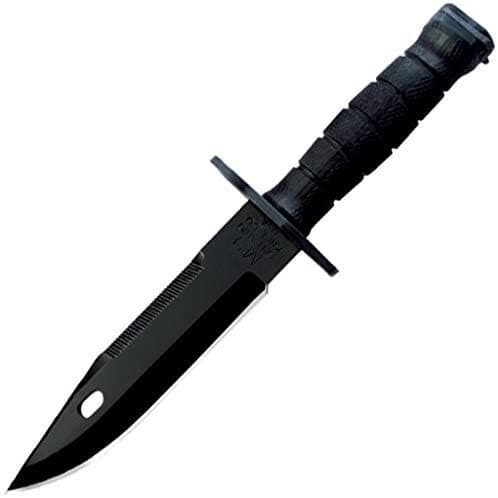 Best Bayonet for the 590a1 (The Shot gun)
One of the famous shotguns out there is the 590a1, and if you're looking for a bayonet to fit with it, the best choice for you is the M9 from Ontario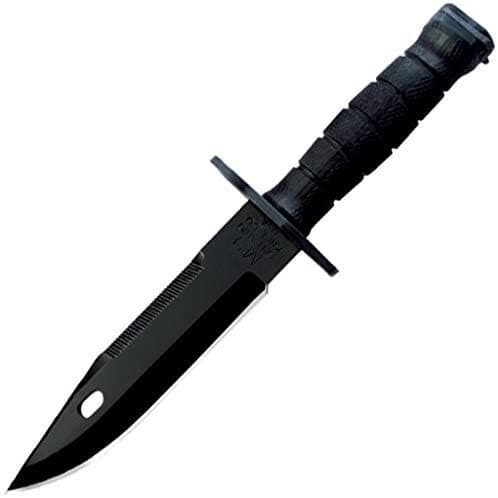 A bayonet is a great addition for your shotgun, and it comes very useful in your hog hunting, many hunters recommend having it, there I Hope I help you in your decision, and don't forget to always keep your Bayonet sharp, clean it and oil it to avoid future rust on it, and if you need to question anything about knives, feel free to leave your question in the comments.