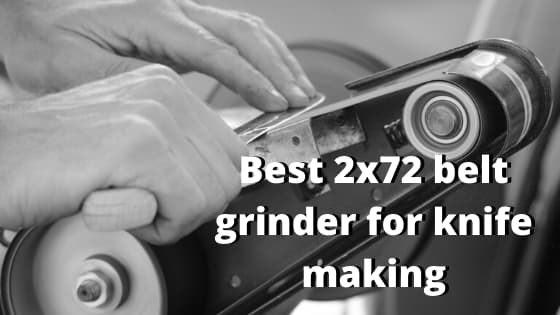 If you're a beginner knife maker and looking for a 2×72 belt grinder, I don't recommend it, and you better start with a 1×30 belt grinder, there is nothing wrong in starting small,  now if you're an amateur or a professional who's upgrading to the 2×72 belt grinder this blog post is for you, if you're looking for the best 2×72 grinder on the market, look no more, I made a list just for you, so let's dive in!.
Okey at this blog post I was going to list some 2×72 belt grinders, but at the end, the only grinder that worth to share with you is the Grizzly G1015, so I made a Grizzly G1015 Review.
Best 2x72 belt grinder for knife making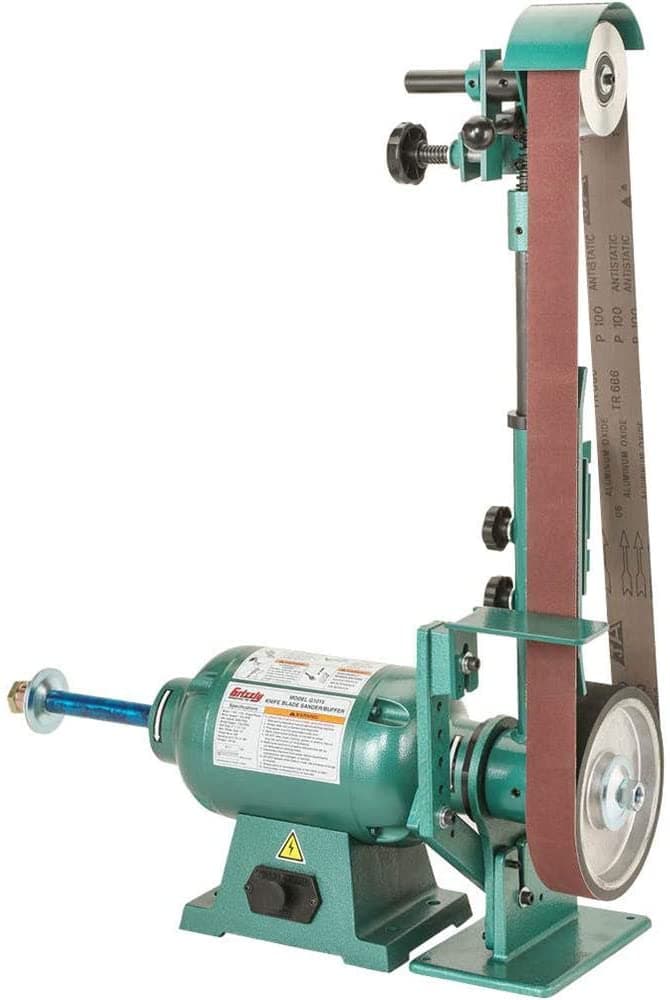 The G1015 from Grizzly, a great powerful machine comes with 1 Horsepower (uses 110V, single-phase, 14A), it's motor speed is 1725 RPM, the belt speed is 3600FPM, it has 5/8″ left arbour and 8″ Dia sanding wheel. The machine offers many interesting features; it has a ball bearing construction, a rubber aluminium roller, the belt arm can be fully tilted, the auxiliary arbour accepts buffing wheels/ Sanding Drums/ flap wheels, a quick-release belt tension.
Now, why is the Grizzly is on top of my list? I'll answer you. The assembly is pretty easy, all you have to do is to follow the instructions, the machine offers a single speed that's fast enough to grind metal so knifemakers would be satisfied, the adjustable arm is very practical even if it's time demanding to adjust it, changing belts is just smooth (you really don't wanna have a waste your time changing belts), you can mount this machine thanks to the bottom plates (you just need some screws), the buffing wheel is just great (it does the job), if you have large items you can freely manipulate them thanks to the long arm, the machine runs and spins smoothly with no vibration or wobbling.
Now let's talk about the bad sides of the machine. First, the number one problem is the tracking, and once you're going to put pressure on it, you'll notice your belt going right and left (you don't need that) apparently it needs a lot of adjustment, and if you fail at that I have a great Hack for you! You just need to use a tap! Add two full wraps of electrical tape to the centre of whatever size contact wheel you have, check the video for more clarification.
The work platform is small, again it, not a big deal, because we have our creativity, just attach a bigger one with a little ingenuity, finally keep in mind this tool isn't built for 100% knife making, so if you're a Master knifemaker you won't be able to do some plunge cuts accurately and you symmetry would be little to no existent, that's said!
Now, even if it' has those problems, I still recommend and highly do! Because it offers way better then bad, and the problems are easy to fix so it' not a big deal, this machine will make your knife making the experience easier and will improve your production, especially if you are a 1×30 belt grinder and you're looking to improve, Unless if you're willing to buy a 4000-5000Usd TW90 or KMG, the 2×72 Grizzly is a great choice that needs the experience to master, once mastered you'll enjoy every dollar you used to purchase I promise that.
The Benefits of a 2x72 belt grinder (compared to the 1x30 belt Grinder)
Anyone in the knifemaking would tell that the 2×72 is better than 1×30, and they're right, the 2×72 belt grinder is going to bring you to speed, power and save more money for you, yes you will save some money because your belts will last long, how ? simple because the longer the length, the less heat on the belt, plus of that you've got way more choice in belts compared to the 1×30 belts, again I'm not saying that the 1×30 belts grinders are bad in fact they're a great start for beginners, but once you gain some skills, I highly recommend you to move to the next level.
How to use a 2x72 belt grinder
I guess you won't be trying to learn how to use a belt grinder if you're looking for a 2×72, but still, I always like to share this video on how to use a belt grinder, check it out!
Purchasing a 2×72 belt grinder is a great Improvement for all knifemaker, if you're about to do it and you have doubts, just do it! You'll not regret this choice, but let me remind you it's a bit expensive in the same time a great investment for your shop and your hobby (you'll add more joy to your knifemaking experience that's for sure) If you can't afford it! Build it! Just look around on youtube many made their own and made a video about it and explaining the steps to follow, you can find some blog post explaining the steps too, for example, this one check it out! We reached the end of our article. I hope I brought some help to your future decisions, As always if you feel like sharing any opinion, please leave it in the comments below, and forget always keep your knife sharp!.