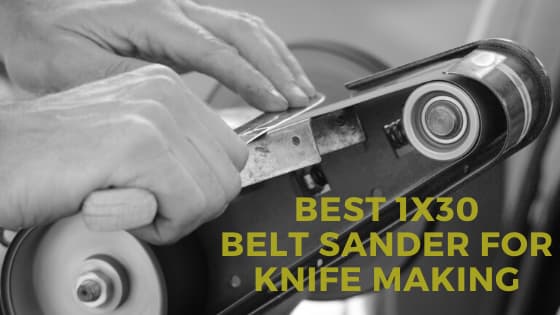 If you're a looking for a small Medium/ portable Belt sander, a 1×30 Belt sander is a great choice, many knifemakers recommend 1×30 Belts senders for beginners and those on a low budget, so I was in the same situation where I had to find portable sender to start my journey of knife making.
Therefore I decided to do some hours of research and bring out the best 1×30 belt sander for knife making, If you're interested to know more about it, keep reading this blog post, I went in details through every product. I added a great "Buyer Guide" in the end to help you in your future purchases, so let's dive in!.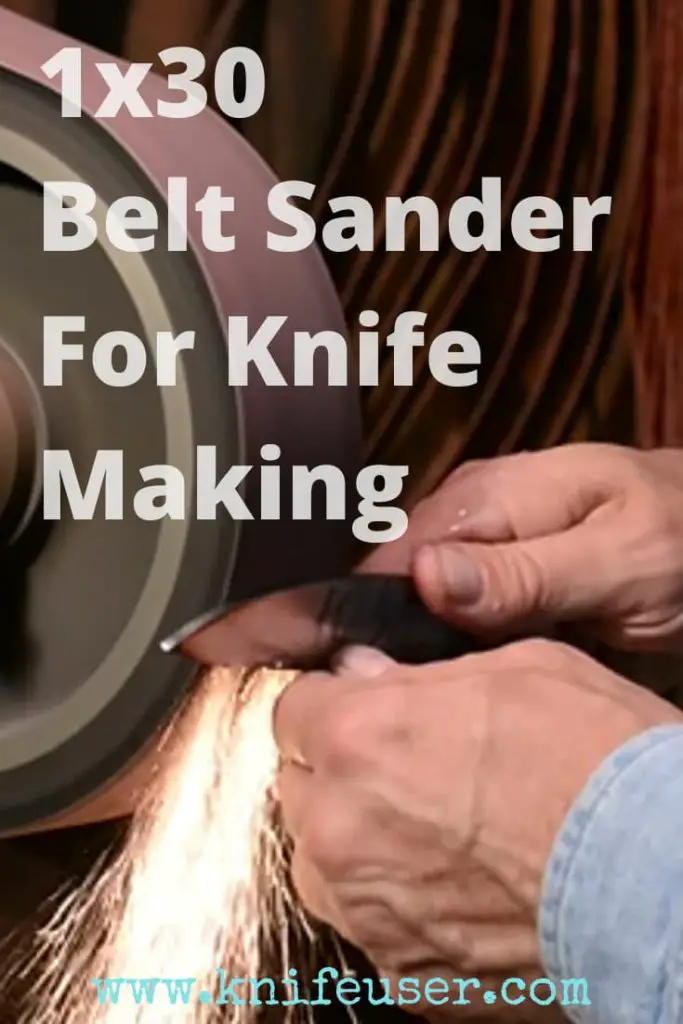 best 1x30 belt sander for knife making
1. RIKON Power Tools 50-151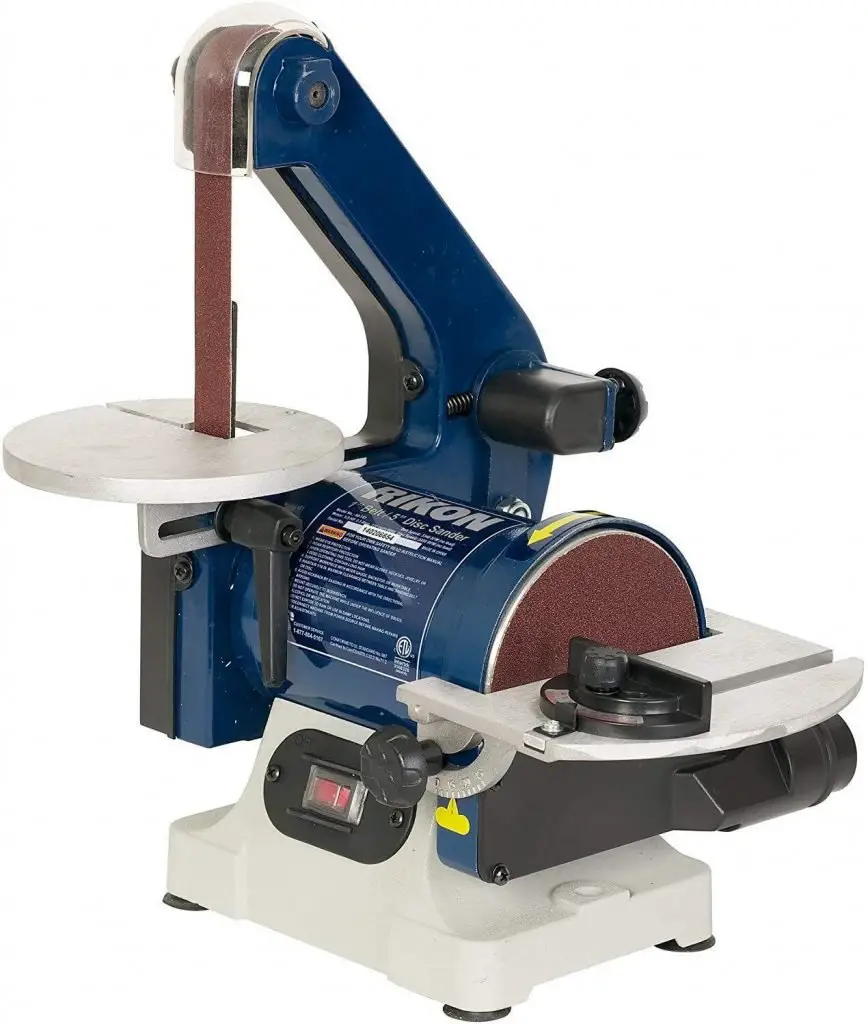 The RIKON power tools 50-151 is a great machine for small DIY projects, like knife making/sharpening, it has a motor of 1/3 hp, 2.3 amps with  3340 rpm, it's a two in one with a 1×30 Belt and a 5″ Disc (it comes with a belt and disc), both belt and disc has a tilt table that goes from 0 to 45 degree for more ease in angles.
Now let's see what the real power behind this Machine and why I find it the best, it's has a heavy-duty base joined with carbon ABS Wheels, every screw is in a metal not plastic like other 1×30 sanders, the Machine is made from a solid alloy, it has two separated dust ports for belt and Disc can be connected to a vacuum cleaner, extremely easy to adjust and most importantly it's quiet, many other sanders are load, well the RIKON will give your ears some rest.
For sharpening a knife this Machine is safe and secure, it's design makes it work-friendly, and it has a small footprint so that you can put it anywhere in your house, in all Rikon did offer good value and quality in this Machine, and I'm glad to recommend it.
2. Grizzly Industrial H6070- 1 x 30 Belt Sander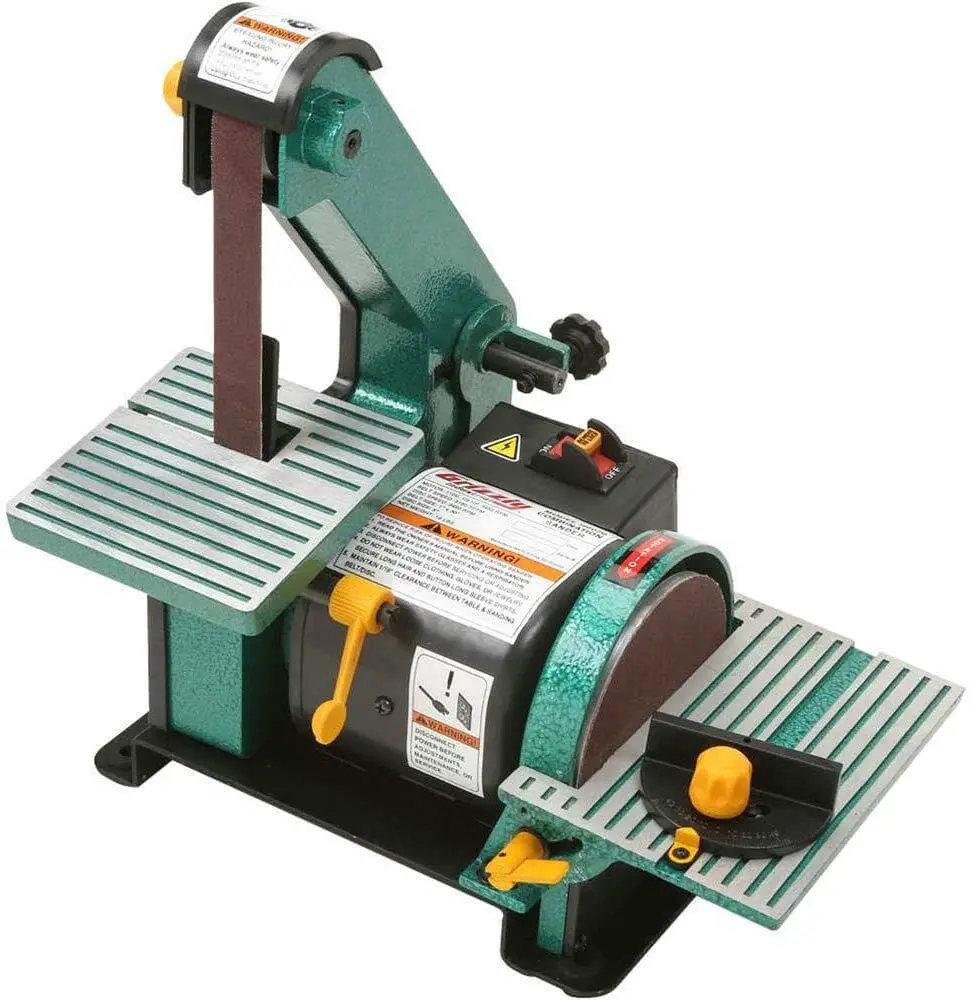 Another great Machine from Grizzly Industry, the H6070-1 a two in one sander with both a 1×30 belt and a 5″ Disc, it's a portable machine with a 1/3 Horse Power Motor 110V, that offers a maximum of 3450 RPM in both belt and Disc, it's ideal for knifemaking especially knife sharpening, it has two tables for belt and disc that tilt 45° for added versatility, two dust ports for better vacuuming.
The Grizzly H6070-1 comes with a belt and a Disc, so you can plug it immediately and try it out, and you will notice the heavy-duty base has some rubber foot mounting, that's for less loudness, but many users find this Machine a bit loud after months of usage, which is normal.
The safety key is removable, so if you're handier with sharpening knives and you need more space you can take it away, but I don't recommend it, even if you're a pro, safety is always your number 1 concern.
The clamp lever for the blet is made out of plastic, so the not force it, it may break, luckily we need it for knife making, so if you're planning to do some heavy-duty work, I won't recommend it.
3. WEN 1 X 30 Belt Sander with 5" Disc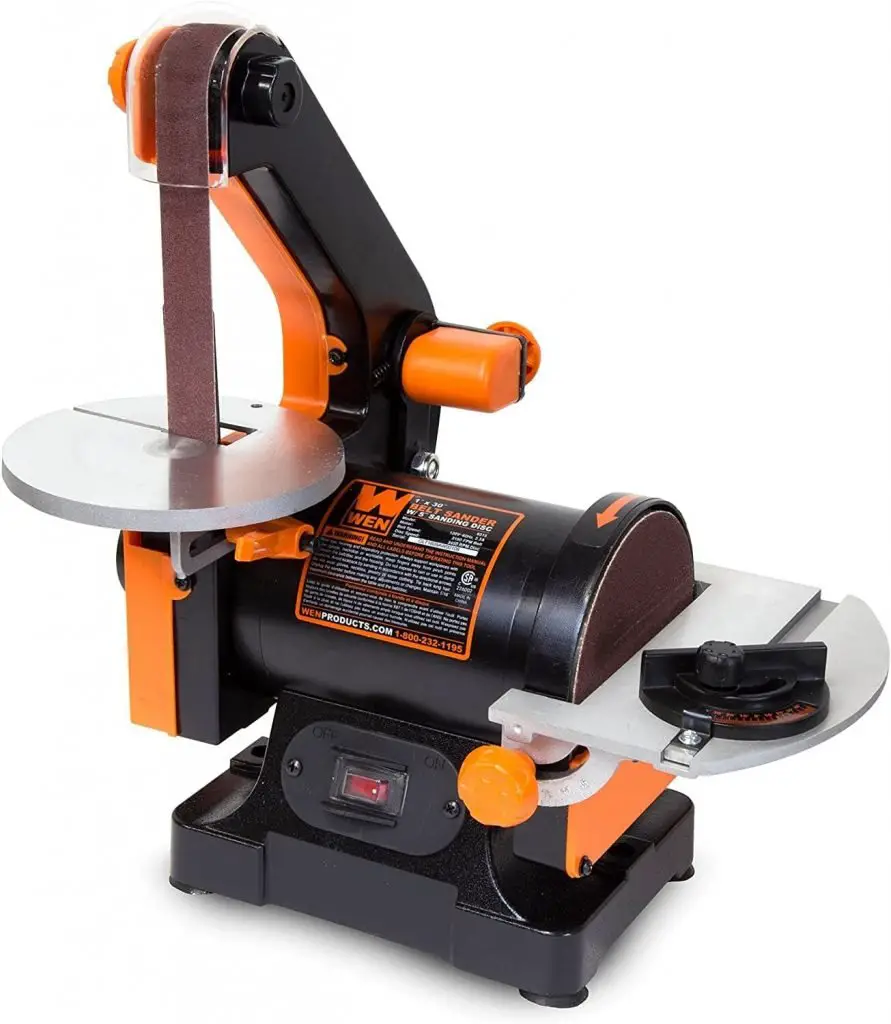 This is a great machine with Two in one (includes 1×30 belt and a 5″ disc), works on a 2.3A motor that provides 3160 RPM for the belt and up to 3450 RPM for the Disc, both Disc and belt are accompanied by a sturdy heavy-duty base that prevents walking and wobbling during work (the sender includes an 80-grit sanding disc, a 100-grit sanding belt), it has two separate dust ports (no need to worry about vacuuming your Machine), and a mitre gauge for angled workpieces.
Now let's talk about the work table, many 1×30 senders aren't great when it comes to the work table, WEN's table isn't the best, but it's good for a "small sender", it's a sturdy beveling work table used for both the belt and the Disc, bevel up to 45 degree to help sand angled workpieces.
Another great thing about the WEN products, they offer a warranty of 2 years, and it comes for a low price, so If you're looking for a 1×30 sander for knife making or sharpening, the WEN 1X30 is a great choice.
4. EX ELECTRONIX EXPRESS Mini 1 x 30 Belt Sander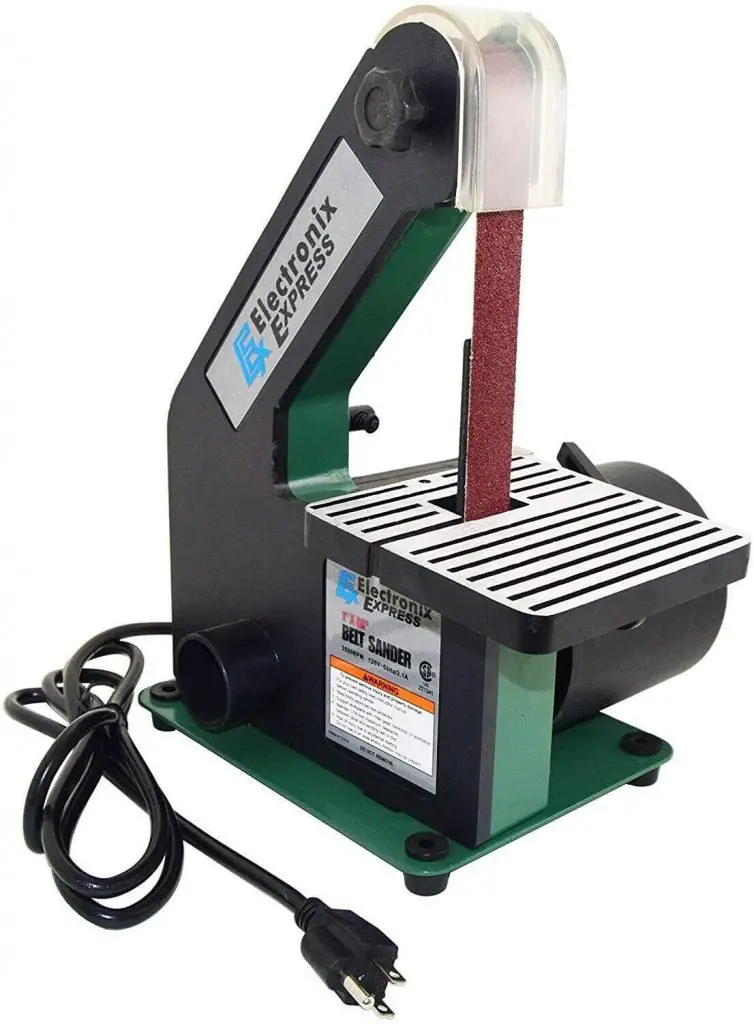 This sender by Ex Electronix is really what you need if you're in a low budget and looking for small/portable sander. It comes with a Motor that offers 3400 RPM (that's is more than enough to cut into your knives), it works on a (120 VAC, 60Hz, 3.0 AMP, 360 Watts) power, it has a 5″*5″ Table with a tilt of 0 to 45º.
This little monster offers significant results for a bit of price. My only criticism is that the table isn't that great, which is not a big problem, there's a solution, you can make your own table (I'm sure you can), once the table is adjusted, you will end up with a great sender with a much bigger/Smoother table.
The sender offers you the choice to adjust your belt tension, the belts are easy to change, and they're available in the market, you can check thid article I listed the best belts for your sender.
5. POWERTEC BD1030 1-Inch by 30-Inch Belt Sander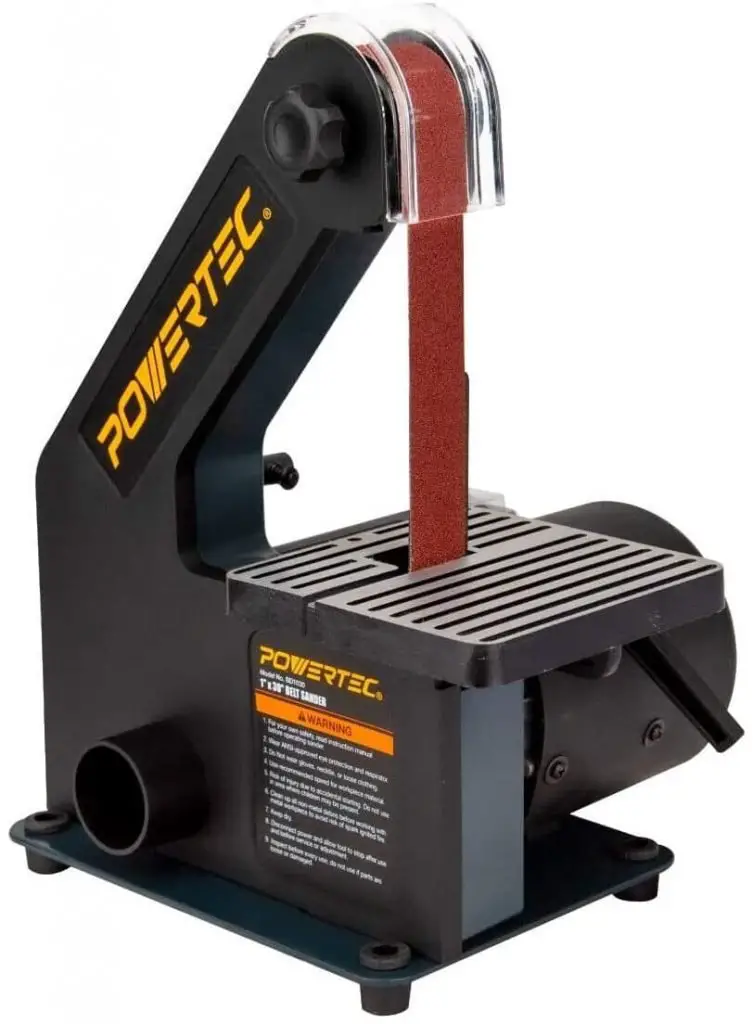 Another little monster, the POWERTEC BD1030, one of the best mini 1×30 sanders in the market, it comes with a motor of 1/3 horsepower, 3AMP with a 3260 RPM, it has a 5″ x5″ aluminium die casting table, a dust port for vacuum cleaning, and rubber feet for more stability and absorbing vibration.
This belt sander comes very handy for small DIY stuff, like sharpening a knife, it's so easy to use, With its multiple adjustment options, this versatile and customizable benchtop machine gets the job done to your desired specifications.
And for the price, it's very cheap! You will be wondering if inexpensive means bad? The answer is No, at this price you get a small handy tool, easy to use that will help you with your work, but let me remind you it's not built for heavy-duty work, so do not force it, you might end up breaking it!.
I hope I did help you with your choice; choosing a 1×30 belt sander isn't an easy task. Therefore you need to understand the features that offer every sander and try to compare it to your needs, in your case, it's for knifemaking. It's not a heavy-duty workload. Still, it needs some power, so to help you more with your choice, I made a little buyer's guide explaining the types of sanders, their features, and how to use them.
"I made a blog post about the best 1×30 belt for knifemaking, take a look and enjoy the best sander and belts!"
There're two main types of sanders, the Handheld Sander and the Stationary Sander.
The Stationary belt sanders remain fixed in one place and have a heavy-duty base, these are the best choice for knife making, if you noticed all the five picks in my list are Stationary Sanders.
The Handheld Sander is more mobile and used by the hand. This are more useful for big materials, for example, an automobile, I wouldn't recommend them for knife making.
Things to look for in a belt sander
When buying a sander or a grinder make sure to look over it features and compare them to your needs, this way you' will be able to choose the right one to do the job for you, and the features are:
Robust And Solide Fram
These machines are going to endure some heavy work, so they must be solid enough to last for long. This is basically the game changer between a Sander and another, (if you noticed the RIKON POWER TOOL comes first in my list due to it materiel, it's a 90% Alloy and that's a great thing to have in a sander).
Motor Performance
In the market you might end up with some sander with 8AMP or even 10AMP, big numbers look fantastic, but the truth is you'll only need a maximum of a 5 AMP for great motor performance, especially if you're using your sender for knife making
 SPEED or RPM SPEED of the belt
There're two types of speed Single Speed and Variable Speed, this feature is mainly related to your experience as a knifemaker and how you work, some users find a single speed a great way to sharpen a knife and save some money, compared to others who preferred to have a variety of speed that comes with a higher price, in all if you're a beginner a variable speed sander would be a great choice for you, you'll be able to learn on different speed and find the one that suits your work.
But if you're an experienced knife maker, I m sure the pressure and contact you put on the knife is enough to make your belt cut it as you desire.
Ease of changing the belt
Easy to do is always a better option, a sander with a hard belt removal is something that can ruin your knife making experience, while grinding or sharpening your knife you will be jumping from grit to grit, that jump should always feel smooth.
Dust collection
If you a find a sander without dust ports, don't buy it, simple as that, one of the greatest features in sanders are those dust ports where you can stick a vacuum cleaner, a lot of dust can ruin your motor, and I guess all knife makers agree that it's better when you work with a neat and clean machine.
Track centring system
A great feature if you're shaping or sharpening a knife, always look for sanders that offer track centring system. It will help to keep your belt centred and in one place, having a moving belt will ruin your knife, it's an essential feature, some users neglige this part saying "it's okay", in fact, it's not, make sure always to have your belt fixed and well centred.
In faulty belt sanders, it's a common issue that the belt moves from its position. This is very annoying and will hinder your work, especially if you are doing something that requires precision.
How to use a 1x30 belt sander to sharpen your knife
A great way to learn is a video that's why I'm sharing this video below with you, watch and note what you need from it!.
Okay, let's be honest about one thing, the 1×30 sanders are not the best for knife making. Still, they're not bad, they're great for the job, if search more in the internet you will find many users saying that the 1×30 sanders are a big waste of money, in my opinion, it's not, because you simply get what you pay for, if you're a knifemaker with a low budget (60-120 USD) or you don't have enough place for a big stationary sander, the 1X30 sanders are a perfect choice for you, and there is no problem in starting small, you'll get to learn some stuff that is essential in knifemaking, especially if you're a beginner, start with a 1×30 belt sander then improve to a bigger one and the 1×30 belts are affordable, and you can find them in all market, check this blog post if you wish to buy the best 1×30 belts for knife making.