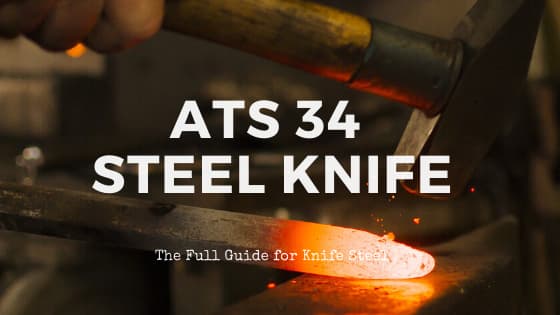 So recently I was watching some knives videos on Youtube, and I stumbled on a video about  Benchmade AFCK in ATS-34 tool steel, I noticed the steel ATS 34. Honestly, I had no idea about it. Therefore I decided to search more about it, and yes, I did make an ATS 34 Steel Review.
So if you're like I was wondering about the ATS 34, I have some good news for you I gathered all the pieces of information about it in this blog post, and answered some common questions (like What is it? What is its chemical composition? What is its hardness? How hard is it? Is it good or no ? and other questions) So let's dive in.
It's a Japanese Stainless Steel high in Carbon and Chromium for great corrosion resistance and wear resistance. It has been around since the '90s. It's a copy of the old Crucible 154CM Steel, but it didn't reach the 154CM popularity.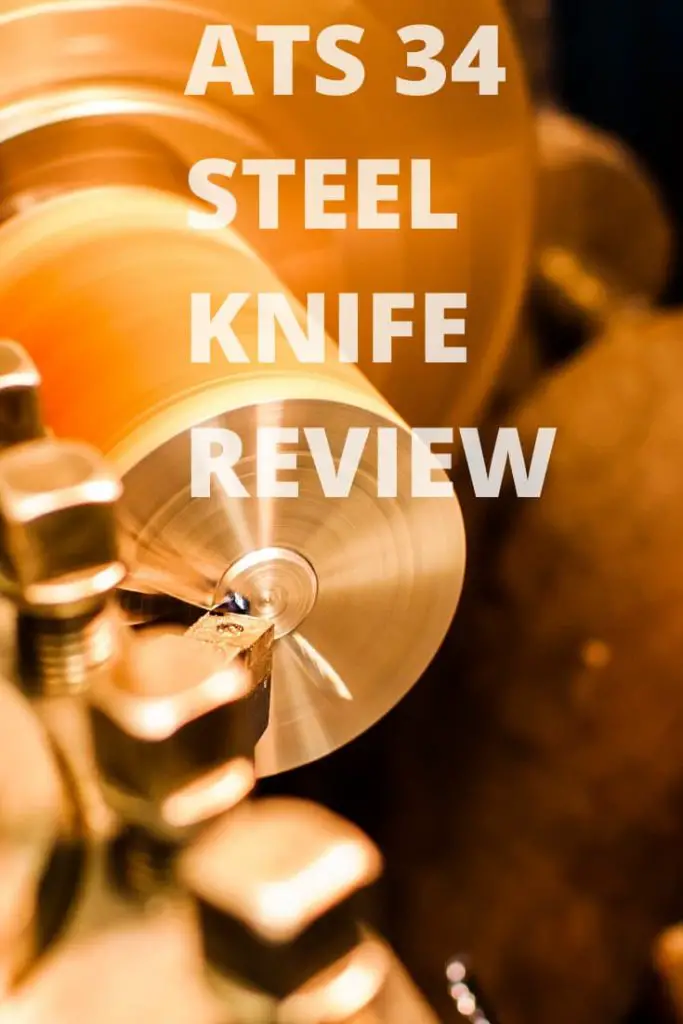 As you can see, the ATS 34 chemical composition is a mixture of high carbon (more than 1%) and high Chromium (more than 12%), which makes it stainless steel that offers corrosion resistance and wear resistance.
ATS 34 steel hardness (Rockwell Hardness)
The hardness of ATS 34 can reach a maximum of 60-61HRC.
If you find trouble understanding the terms "Rockwell Hardness" or "HRC" read this blog post, I explained it in detail.
According to the chemical composition and the HRC of the steel, the ATS 34 Steel has the following features:
ATS 34 Edge Retention: ATS 34 steel offers great edge retention, its hardness can reach 61HRC, which makes very hard steel that can hold an edge for a long time.
ATS 34 Corrosion Resistance: it has 14% of chromium, that's far enough to make the steel great for corrosion resistance, but it's not the best.
ATS 34 Wear Resistance: Great wear resistance with a high level of Carbon (More than 1%).
ATS 34 Sharpness: ATS 34 steel is hard due to the high level of carbon and chromium in it. Therefore it would be a hard task to sharpen it.
ATS 34 Toughness: The ats 34 steel offer better toughness compared to its edge retention and corrosion resistance, the alloy is more balanced toward toughness.
ATS 34 steel good for Knives?
As mid-range/high-end steel I find It very balanced steel for knives, it offers hardness, wears resistance, corrosion resistance and toughness so that it can be used for all types of knife work, in other words, it's suitable for hunting, camping, hiking, fishing, kitchen, and it can be every day carry knife, but let me remind you it's not easy to sharpen, so if you're looking for a practical steel knife that you can sharpen easily with a rock, I wouldn't recommend the ATS 34.
While searching about the ATS 34 Steel, I noticed that there 're not many knifemakers using, (found some old Benchmade knives but they're no longer produced), so I dug more and found out they're making the same knives, but with the 154CM Steel, and the only place where I found the ATS 34 is on custom knives and small knife makers and the price is between 200-400 Usd (which is understandable), in all if you are interested in owning one of the ATS 34 KNIVES, I recommend it if you're not in a limited budget situation, but if you're looking for the same specs of ATS 34  for a maximum of 200 USD, I recommend you the Benchmade Nimravus 14x Series with 154cm Steel.