If you're a knife user or a Knifemaker, you probably heard about AEB-L Steel(If not you're missing one of the greatest affordable steels). It's another steel from @Bohler that has a big appreciation from knife makers. Some users consider it as an affordable "Super Steel", and of course it grabbed my intention. Therefore I decided to make an AEB L Steel Review.
So, If you're reading this right now it means, you're looking for more pieces of information about the AEB L Steel, luckily I took some hours researching about the steel, and I answered some common questions (like What is it? What is its chemical composition? What is its hardness? How hard is it? Is it good or no ? and other questions) So let's dive in.
AEB-L is non-powder stainless steel made by the European @Bohler famous for its corrosion resistance, hardness, and ease of sharpness (And the combination of hardness and ease of sharpness that makes it special compared to other steels). It was originally made for razor blades, and today it's used in the knife industry and scalpel blades.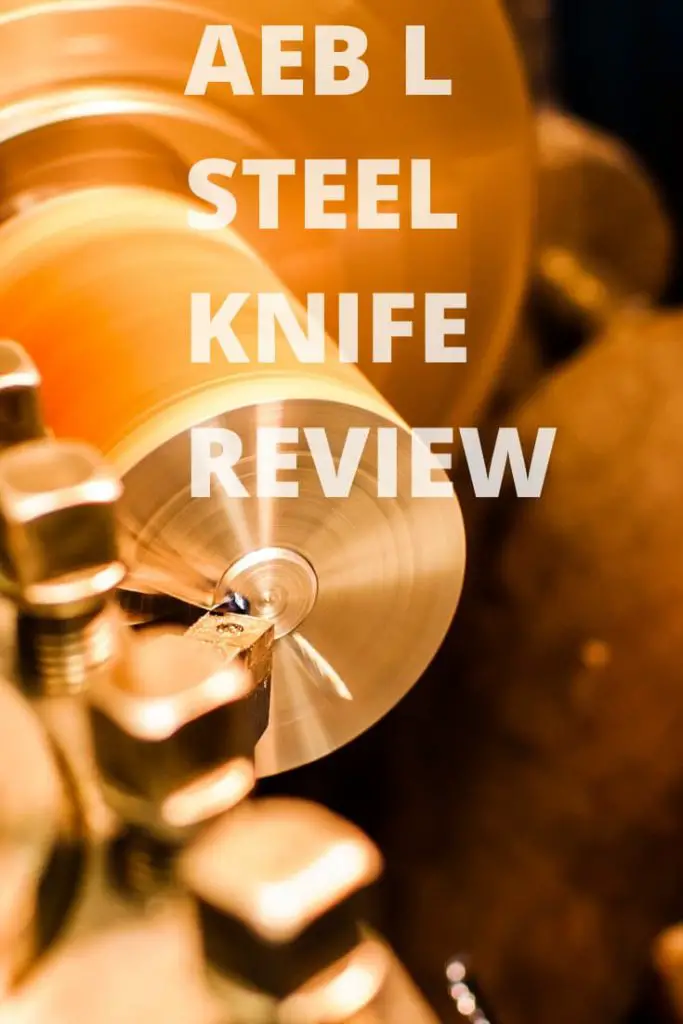 So the question now… How can steel be hard and easy to sharpen at the same time?

Quick answer: Carbide!
AEB-L forms what is called the K2 carbide, the harder of the two chromium carbides, compared to the K1 carbide, which is formed in steels such as 440C.
In other words, 12% of Chromium in the AEB-L is equivalent to 17% of Chromium in 440A or 440B, which gives great wear resistance and ease of sharpness.
So we can understand more the magic of the AEB-L Steel lets see the chemical composition!
As you can see, the chemical composition of AEB-L Steel is high in Chromium, which makes it a Stainless Steel.
AEB-L steel hardness (Rockwell Hardness)
According to Bohler, AEB-L has a maximum hardness of 65 HRC.
If you find trouble understanding terms like "Rockwell Hardness" Or "HRC", you can read this blog post where I made a clear definition of it.
According to the chemical composition and the HRC of the steel, the AEB L Steel has the following features:
AEB L Edge Retention: AEB L Steel offers great edge retention and edge stability, due to the Chromium and Carbide K2 in it.
AEB L Corrosion Resistance: With more than 12% of chromium, AEB L is just corrosion free!
AEB L Wear Resistance: Excellent Wear Resistance, the fine grain, and Carbide of the AEB L steel make it very hard steel.
AEB L Sharpness: The rule says the harder the steel, the harder to sharpen it, No this time, as we explained already, even being hard steel it very easy to sharpen.
AEB L Toughness: has great toughness, the steel is highly hard, but still far from being brittle.
AEB L is so close to the Swedish steel Sandvik 12c27, they're both appreciated by knife makers, they have a close chemical composition, and they share the same properties (Edge retention, corrosion resistance, hardness, toughness, wear-resistance, and ease of sharpness), and they fall in the same price range (3x45x250 mm steel bar for 10-12 Usd).
Is AEB L steel good for Knives?
I guess it should be obvious by now! The steel offers great edge retention, wear resistance, corrosion resistance, and toughness while being easy to sharpen so the answer is YES, it would be a great knife for outdoor activities that involve wet environments (camping, hunting or hiking) and it's practical thanks to its ease of sharpness.
While searching more about this steel, I noticed that's it's a really great/affordable steel, but the big questions Why aren't big knifemakers using it?, only small knifemakers or custom knife makers using it, while all users are satisfied and happy to use  AEB L Steel Knife but still it doesn't have much popularity, I guess AEB L  is still a hidden gem of the knife market.