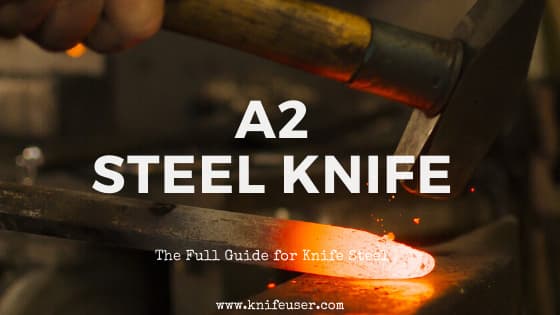 If you're interested in making knives, there is a high chance you already heard of the Air hardening tool Steel or the A Steel family (A2, A3, A4, A6, A7, A8, A9, and A10), more precisely the A2 Stee, it's one of the most common steels used to make sharp tools like knives.
Well, if you're looking for more pieces of information about it, I decided to make an A2 Steel Review, where I answered some common questions (like What is it? What is its chemical composition? What is its hardness? How hard is it? Is it good or no ? and other questions) So let's dive in.
A2 is a mid-range Air-Hardening tool steel, it's known for its good toughness (its tougher than D2 Steel or M2 Steel), and it has a wear resistance in between O1 Steel and D2, it's used for Punches and dies, chuck jaws, cutting tools for woodworking, tooling for plastic injection, dowel pins, hammers, industrial knives, and gage.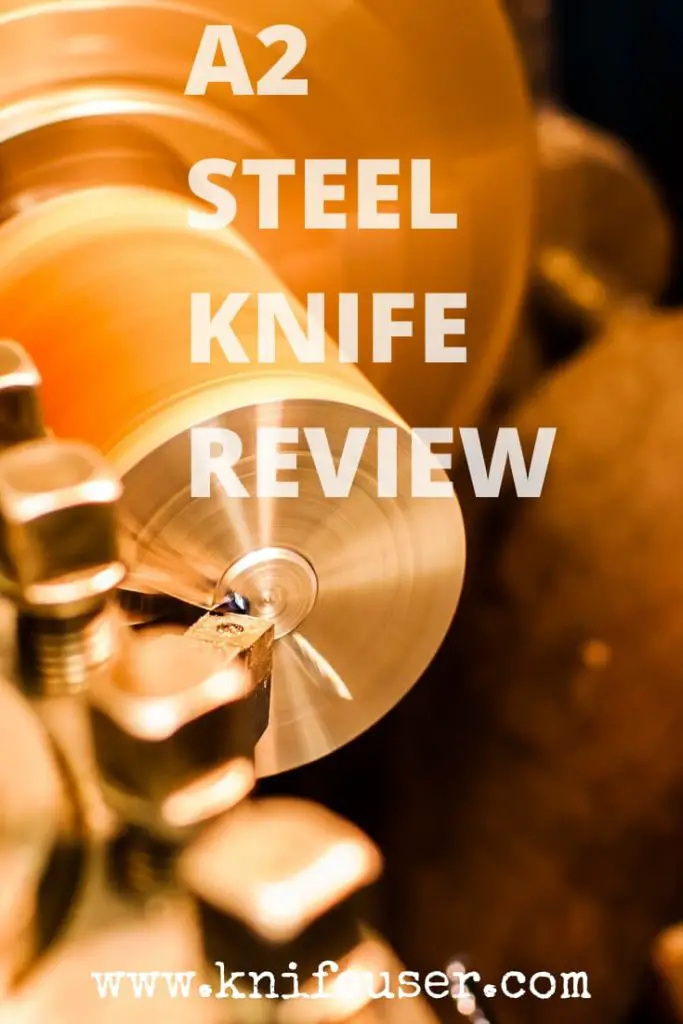 The Chemical Composition of the A2 steel is a Mixture of high carbon and Chromium, for toughness and corrosion resistance.
Yes, A2 steel composition has only 5.5% of chromium, which grants him good rust protection but it's not completely immune. It has to be taken care of (if it's an A2 knife oiling it and cleaning it after usage would be just fine).
No, it's not, A steel is considered stainless it must have a minim of 11% of Chromium in it, A2 steel has only 5.5%.
A2 steel hardness (Rockwell Hardness)
A2 offers a hardness range of 57-62 HRC.
If you wish to know more about the meaning of the terms "Rockwell hardness" or "HRC", read this blog post, it has some good Infos you might need.
According to the chemical composition and the HRC of the steel, the A2 Steel has the following features:
A2 Edge Retention: A2 has a lower level of Chromium(5.5%), it's enough for a good Edge Hold/retention.
A2 Corrosion Resistance: With 5.5% of chromium, A2 steel offers good corrosion resistance, not the best compared to other carbon Steel.
A2 Wear Resistance: A2 has a high hardness, which makes it great for wear resistance.
A2 Sharpness: Even being hard/tough steel, A2 is easy to sharpend/grind due to the low volume of chromium carbide in it.
A2 Toughness: A2 steel offers a good toughness that comes in balance with wear resistance, but it's not the best compared to other alloys with lower wear resistance and higher toughness (the rule is simple: the harder the steel, the lower its toughness).
What is a2 steel equivalent to?
A2 offers a combination of toughness and wear resistance, which is similar to the M2 Tool Steel, they both have good edge retention, great wear resistance, good toughness (M2 is better in toughness), and decent corrosion resistance, we can talk about D2 as a close equivalent to A2, D2 has the same properties but offers better corrosion resistance and lower toughness compared to A2.
Is A2 steel good for Knives?
The famous question, I think the answer is obvious by now, In general, Yes it's a good steel for knives, it offers a balanced properties between wear resistance, toughness and wear resistance, so It will be a great steel for hunting knives, hiking and camping, especially its easy to sharpen, and let's not forget about it affordable price.
In this section, we're going to compare our steel with other steels, and for this, I use four criteria; Edge Retention, Corrosion resistance, Ease of Sharpness, and Toughness, and I use a scale or note from 1 to 10.
| | A2 | D2 |
| --- | --- | --- |
| EDGE RETENTION | 6/10 | 3.5/10 |
| EASE OF SHARPNESS | 6/10 | 4/10 |
| CORROSION RESISTANCE | 3/10 | 4/10 |
| TOUGHNESS | 8/10 | 6/10 |
D2 Offers low edge retention, lower toughness and close corrosion resistance compared to the A2 Steel.
If you are a knifemaker or you wish to make one from the A2 steel, I'll highly recommend it, it will be a great experience, and the steel isn't expensive, you can use the knife for all outdoor activities that need toughness and impact resistance, A2 steel will be your guy to take care of that, and once you get your knife and experienced it don't forget to share your experience with us on the comments below!.